Morgan gets first taste of adversity in Majors
Phillies rookie not discouraged by rough start vs. Dodgers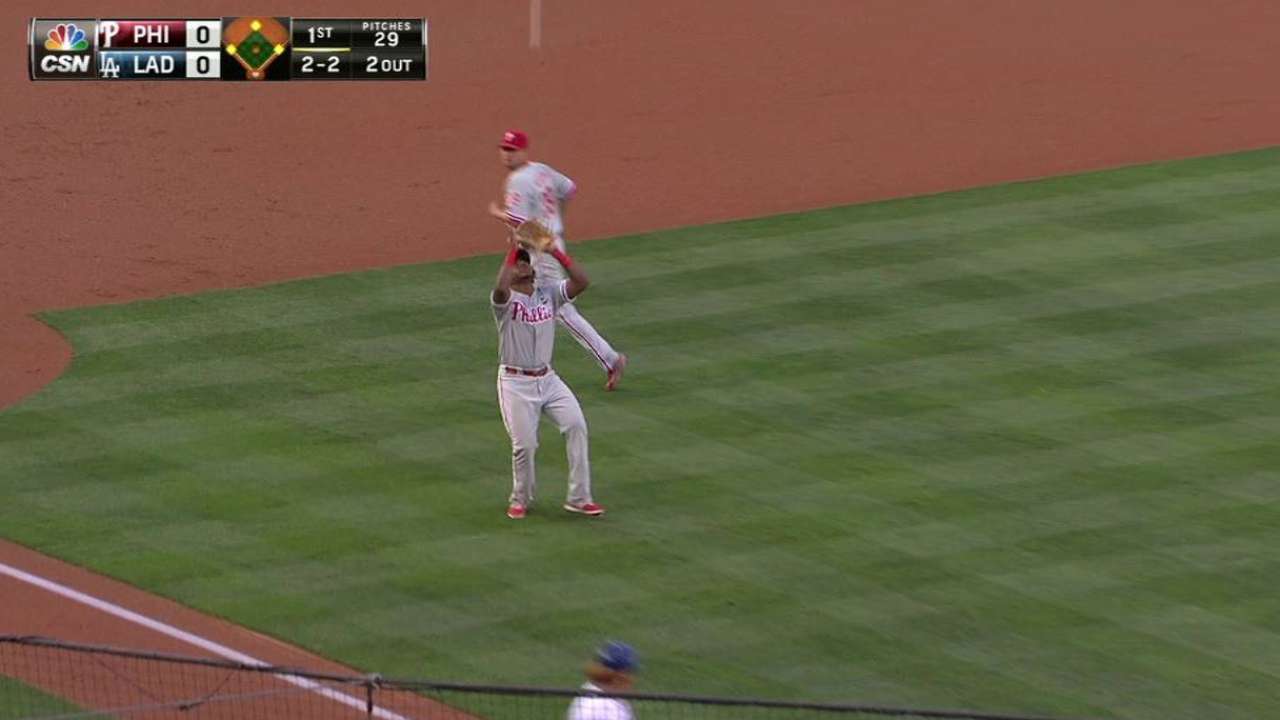 LOS ANGELES -- Adam Morgan had allowed just three runs in the first 12 2/3 innings of his Phillies career. But he had no illusions pitching in the big leagues would be so easy.
Wednesday night proved to be a reality check anyway. Morgan allowed six hits, five runs, one walk and two home runs in four innings in a 5-0 loss to the Dodgers at Dodger Stadium. It was the shortest start of his very brief, three-start career, and the 16th time in the last 22 games a Phillies starter has been unable to pitch six innings.
"I felt off a little bit," Morgan said. "The biggest mistake that I think that I made was falling behind on guys, trying to pick too much."
Morgan walked Howie Kendrick with one out in the first, then hit Justin Turner with a pitch. Freddy Galvis made an ill-advised flip to Cesar Hernandez on a ball up the middle, which loaded the bases.
Morgan worked out of the jam, but he served up a two-run home run to A.J. Ellis in the second inning to hand the Dodgers a 2-0 lead. It was Ellis' first homer of the season. Morgan then allowed a three-run homer to Jimmy Rollins in the third to make it 5-0.
Rollins has enjoyed playing against his former team. He entered the series hitting .208 with seven home runs, 24 RBIs and a .585 OPS. He is 4-for-12 with one double, one home run and five RBIs in three games against the Phillies, which includes the game-winning hit Monday night.
Morgan hit in the fifth inning, but did not pitch in the bottom of the fifth, despite throwing 88 pitches. Interim manager Pete Mackanin explained that since Morgan has dealt with shoulder problems in the past -- he had left shoulder surgery in January 2014 -- that he erred on the side of caution.
"We were careful with him," Mackanin said. "He's allowed to not be sharp once in a while, especially when you're a rookie. I think he's better than he pitched today. I think he's more like the last two starts than he was today."
That is the Phillies' hope. And that is exactly why Morgan will get more starts after the All-Star break next week.
"You pull for Adam Morgan because of the way he goes about his business," Phillies general manager Ruben Amaro Jr. said Tuesday. "The way he's handled himself so far, you have to respect that and hope that it continues."
"It's a process, but I feel great right now," Morgan said. "I still feel like there's more, so I'm just going to keep working my butt off and hopefully take the ball whenever I get the chance again."
Todd Zolecki is a reporter for MLB.com. Read his Phillies blog The Zo Zone, follow him on Twitter and listen to his podcast. This story was not subject to the approval of Major League Baseball or its clubs.