If Pederson's at bat, 1 of 3 things certain
With HRs, BBs, Ks, Dodgers' center fielder is Adam Dunn 2.0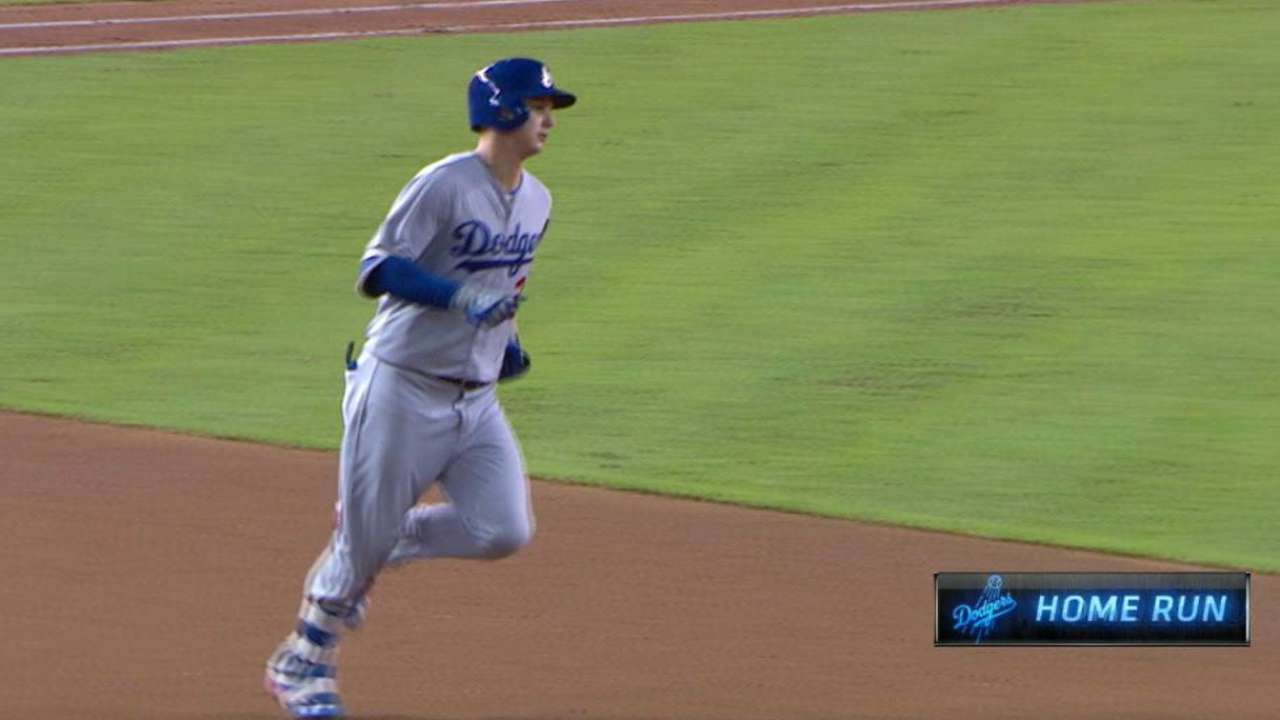 Is Joc Pederson the next Adam Dunn? In a certain sense, the answer is "yes," and that's meant as a compliment.
Picture Dunn. Imagine his massive blasts (462 in his career, 35th all-time), his scores of walks (1,317; 40th) and his even larger strikeout total (2,379; 3rd). Now add in above-average defense in center field. Seems impossible, right? Makes your brain hurt a little? Enter Pederson.
Though currently mired in a bit of a slump, the Dodgers' 23-year-old phenom will be appearing as a reserve at this year's All-Star Game presented by T-Mobile and in the Gillette Home Run Derby presented by Head & Shoulders, thanks to his unique blend of power, patience and a penchant for striking out (currently leading the National League with 101 whiffs) that you tend to only see in a hulking corner infielder or a DH. It's the classic "three true outcomes" profile popularized by the likes of Dunn, Rob Deer and Jack Cust.
Assuming Pederson's rates hold up, he would be the only player his age or younger with 450-plus plate appearances who has walked in more than 16 percent of them, struck out in more than 28 percent of them and homered in more than five percent of them.
With just a little squinting, Pederson is Dunn 2.0 -- with a lot more value in his speed on the bases, of course. After all, Pederson's .231/.367/.493 batting line this year looks awfully similar to Dunn's career mark of .237/.364/.490. And while Dunn was never impressive with his glove, he was fairly athletic when he reached the Majors, swiping 19 bases in his first full season as a 22-year-old. Heck, in 2003, then-Reds assistant GM Brad Kullman told Baseball Prospects that with some serious work, Dunn could have cut it in center. (Pederson, who is coming off back-to-back 30-steal seasons in the Minors, is a disappointing 2-for-7 on the basepaths this year.)
Pederson is also following in Dunn's footsteps as the poster child for the three true outcomes. Dunn walked, struck out or homered in 49.9 percent of his career plate appearances, while Pederson's TTO percentage is at a staggering 50.6 percent this season.
Their approaches at the plate are largely similar, too. This season, Pederson is pulling 44.9 percent of his pitches, close to Dunn's career 47.6 percent mark, while the Dodgers center fielder is also swinging at pitches near Dunn's 41 percent career rate.
Though the mere idea of a center fielder hitting 462 home runs while getting on base nearly 40 percent of the time is exciting for any GM, there is reason for caution. Pederson's high strikeout rate does leave him vulnerable to a large drop in production once a few balls fail to fly over the fence. Although we should note that Pederson also has the sixth-highest average exit velocity on his hits at 94.23 mph, sandwiched between Mike Trout and Yoenis Cespedes. It's too early in the Statcast™ era to know just how predictive that is of the future, but that's good company to keep.
The other red flag is that high-K power hitters often flame out on the early side. Once their bats slow down, the all-or-nothing approach too often comes up with nothing, and we've seen this phenomenon recently with the likes of Pat Burrell and Ryan Howard. Of course, Pederson has the type of athleticism that isn't usually associated with these types of hitters, so those aren't perfect comps.
Pederson, who was an 11th-round pick of the Dodgers in the 2010 Draft, has always been known for his makeup and is already showing an attempt to use the whole field in recent weeks, so let's not bet against him making the most of his skills for years to come. In the meantime, enjoy this rarest of sights: An athletic young player with a fantastic glove and a penchant for three true outcomes. In other words, the Adam Dunn of center field.
Michael Clair is a reporter for MLB.com. Follow @clairbearattack on Twitter. This story was not subject to the approval of Major League Baseball or its clubs.