Ahead of Classic, Tex shows full range of skill
Yanks first baseman dominates defensively during two-homer effort
NEW YORK -- Mark Teixeira produced a banner night for the highlight reel befitting his status as a member of the American League squad in next week's All-Star Game presented by T-Mobile. The Yankees slugger homered twice in Wednesday's 5-4 win over the A's, made a nifty pair of dives on the infield dirt and reached over the dugout railing to snare a foul pop.
The first baseman's favorite part of the evening? Not surprisingly, it was shaking hands in the middle of the infield after the win.
"I enjoyed the win the most," Teixeira said. "If you have a night like that and you lose, it doesn't mean much. Hitting two home runs is always nice. It's not easy to hit home runs, so getting two against a tough team is fun."
Reaching the right-field seats for two solo homers off Oakland reliever Evan Scribner, a game-tying drive in the fourth and another in the sixth, Teixeira celebrated the 39th multihomer game of his career.
Teixeira recorded his second multihomer effort of the season, having also done so on April 24 against the Mets, and the seventh by a Yankee this year. Teixeira leads the American League with 61 RBIs and has clubbed 22 homers, matching his total for all of 2014.
"Fantastic. All-Star. Comeback Player of the Year. All that," said Yankees left-hander CC Sabathia. "He's been great for us. Not just the home runs, but how many runs he saves, errors he saves with his glove. It's good to see him back and healthy and doing his thing."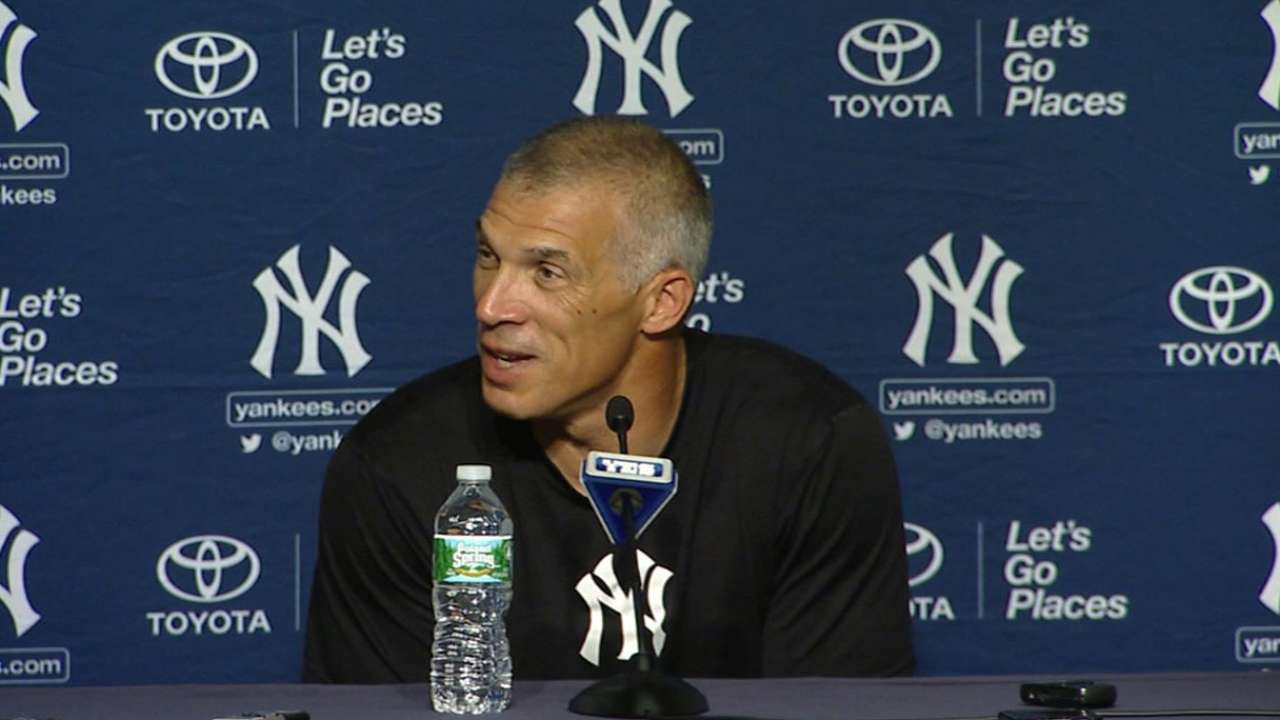 "Tremendous. Two home runs, the tremendous defensive effort on his part," Yankees manager Joe Girardi said. "I've been saying it all year long: he's a run producer and so important to us defensively. It's a great day."
Indeed, the Yanks had plenty of platitudes for Teixeira's glove work. Teixeira reached over the first-base dugout railing to snare Billy Burns' foul pop in the seventh inning, but the biggest applause was reserved for Teixeira's double dive in the eighth.
With two outs and Dellin Betances on the mound, Teixeira dove to smother a smash from A's pinch-hitter Josh Reddick, then scrambled to tag the base with his glove just in time. Teixeira said that he later asked Betances if diving was the right play; he was told that he'd chosen wisely.
"Offensively, you're not going to be able to contribute every night," Teixeira said. "You're going to have lots of bad nights where you go 0-for-4. My night last night was terrible. You just have to bring your glove every night. Tonight, it was one of those things where the bat was there, but I think the glove probably saved a few runs as well."
Bryan Hoch is a reporter for MLB.com. Follow him on Twitter @bryanhoch, on Facebook and read his MLBlog, Bombers Beat. This story was not subject to the approval of Major League Baseball or its clubs.