MLB.com Columnist
Paul Hagen
Kazmir's injury impacts A's in more ways than one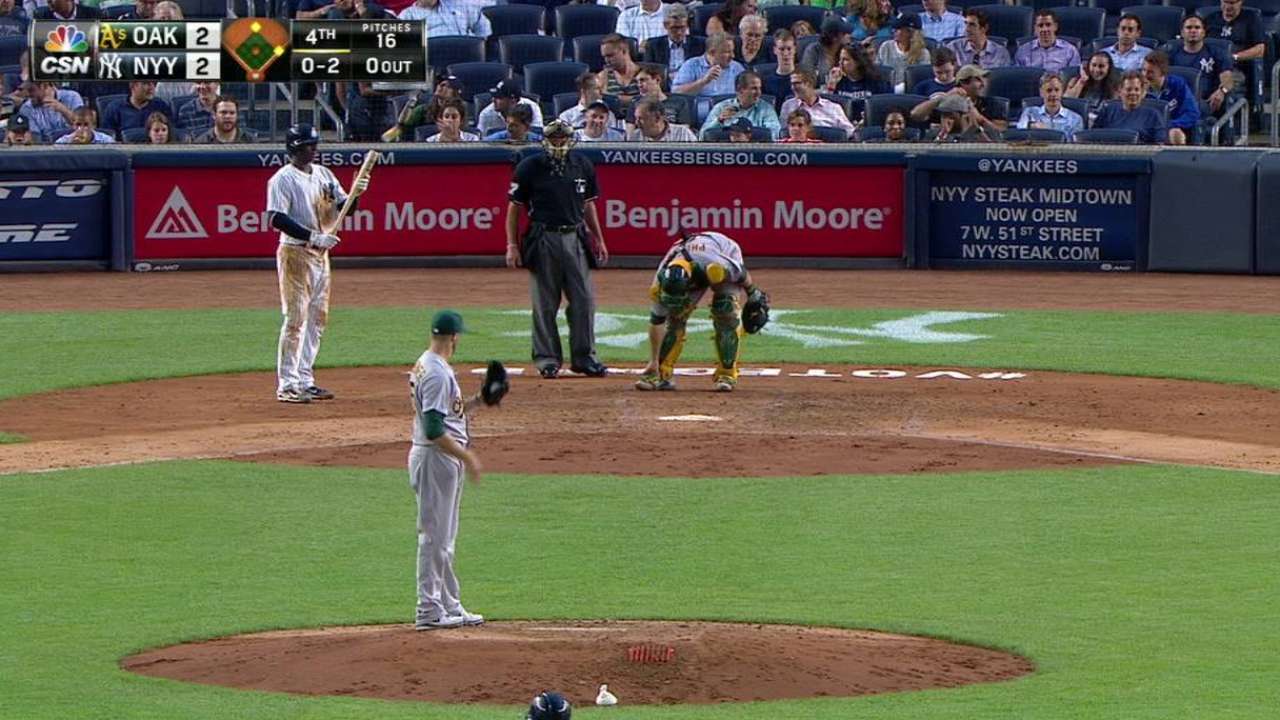 NEW YORK -- The Athletics have been one of baseball's hottest teams, and they found themselves rolling right along three innings into Wednesday night's eventual 5-4 loss at Yankee Stadium.
Sure, there was still plenty of baseball left to be played and they had just a one-run lead. But they also had Scott Kazmir on the mound, and that's been about as good as it gets lately. In his previous five starts, he had a 1.53 ERA and was holding opponents to a .172 batting average.
But then Evan Scribner came out of the bullpen to pitch the bottom of the fourth, which was followed shortly by a flat, emotionless announcement in the press box.
Scott Kazmir left the game with left triceps tightness.
Look, there's a chance that this will turn out to be nothing but a quickly forgotten scare. Sort of like the threatening storm clouds that hung over the Bronx late in the afternoon but didn't interfere with the completion of the game. Kazmir suggested as much afterward, strongly downplaying the seriousness of the injury.
• Kazmir exits with 'minor' left triceps tightness
If it had to happen, the timing couldn't have been much better, either. This would have been his last start before baseball pauses for the All-Star Game presented by T-Mobile. The soonest he could possibly pitch again anyway would be July 17, giving him a minimum of eight days of rest.
So, yeah, this may end up being much ado about nothing. Still, it sets off alarms. It has to. There's no way it can be viewed as good news for a team that has already used up much of its margin for error. Injuries are unpredictable, which means this creates the potential, at least, for a triple whammy.
First, it most likely cost the A's a game and a chance to build some momentum after their first extra-inning win of the season in Tuesday night's series opener.
Yankees first baseman Mark Teixeira hit two homers off Scribner, including one on just the fourth pitch he threw. In all, the right-hander was charged with three runs in his 2 1/3 innings. Look, you never know. The Yankees may have gotten to Kazmir as well. But he had allowed six earned runs in 35 1/3 innings in those previous five starts. The run he gave up Wednesday night was unearned and he had struck out four.
Second, this has the potential to impact their hopes of getting back into contention before the non-waiver Trade Deadline three weeks from Friday.
The Athletics have done a nice job of bouncing back after a 14-30 start. Manager Bob Melvin has talked about believing his A's are much better than that and, over the last six weeks, they've begun to prove that. They have as much top-to-bottom pitching depth as any team in baseball, which gives them a puncher's chance of getting by.
If Kazmir has to miss any time, the Athletics can turn to right-hander Chris Bassitt, who stepped in when Sonny Gray was sidelined. In seven big league games this season, the 26-year-old has a 2.95 ERA. Again, though, there's no way this can be considered a positive development.
Depending on how the next couple of games play out, there's also a possibility that having to use four relievers for five innings could impact the way Melvin deploys his bullpen for a day or two.
Finally, if the A's front office decides to sell at the Deadline, Kazmir could be expected to fetch a nice return. He could be available because he's a free agent at the end of the year. But even if he comes back and makes two or three healthy starts before the Deadline, a team giving up prospects to get him would have to at least consider the possibility of a recurrence before signing off on the deal.
In the first two innings Wednesday, his fastball was consistently 91-92 mph and topped out at 94 mph. In the third, he was in the mid-80s, although he did get it back up to 89 mph to strike out Alex Rodriguez for the final out. That's a real thing.
It was enough of a concern for Melvin, pitching coach Curt Young and bench coach Mike Aldrete to huddle and decide to take one of their best starting pitchers out of the game after three innings. That's a prudent precaution. It's also evidence that there was at least some concern, concern that will remain until he pitches again under game conditions and proves he's completely healthy.
Kazmir suggested it may have been nothing more than dehydration.
"It's just frustrating is what it is," he said. "Putting your team in a position like that where you have to come out of the game. I wanted to stay out there and they ended up pulling the plug. I felt like it was super minor and I'd be able to continue."
Except that he didn't. Until further notice, then, his condition has to be classified as a worry that looms as a threat to the team's chances of getting back into the race ... or of trading him if they don't.
Paul Hagen is a reporter for MLB.com. This story was not subject to the approval of Major League Baseball or its clubs.