Ishikawa's walk sets stage for Pirates rally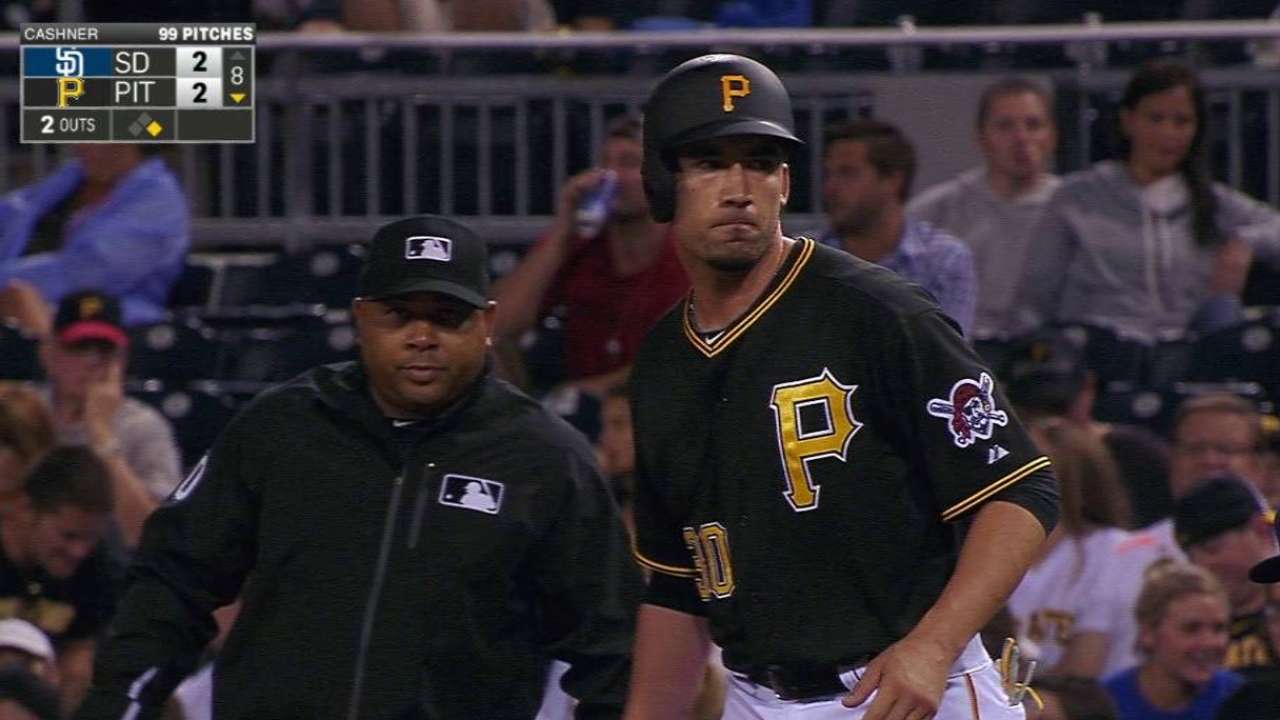 PITTSBURGH -- Padres right-hander Andrew Cashner was on his way to another quick inning, and the Pirates looked like they were headed for another long, rainy night with extra innings Wednesday at PNC Park.
Cashner silenced Pittsburgh's lineup most of the night, holding Pirates to two hits and a walk while they manufactured a pair of runs to tie the game after seven innings. Then Travis Ishikawa's two-out walk innocently sparked the game-winning rally as the Pirates beat the Padres, 5-2.
"Real big," Pirates manager Clint Hurdle said. "He got some good looks, got his swing off twice as well. He's got some experience doing that. That got us in motion."
Ishikawa, a veteran left-handed hitter claimed on waivers from the Giants this weekend, entered as a pinch-hitter after Cashner retired the inning's first two batters on just five pitches. Ishikawa saw six straight fastballs, fouling one off and missing another before taking ball four from Casher.
With that, the rally was on, and the Pirates cruised to their fifth straight win.
"I was able to look for my pitch. Didn't quite do what I wanted to do when I got it," Ishikawa said. "But being able to work out a walk is huge right there."
Right fielder Gregory Polanco played the role of hero for the second night in a row, bashing a line drive off the Clemente Wall in right field.
Ishikawa hustled around the bases, slid home safely and bounced back to his feet, clapping and pumping his fist after scoring the go-ahead run. That chased Casher from the game, and the top of the Pirates lineup took advantage.
Second baseman Neil Walker drew a walk, Andrew McCutchen extended his career-long hitting streak to 15 games with an RBI single and Jung Ho Kang punctuated the rally with a base hit to left.
By the time it was over, the Pirates had finished off their fourth straight comeback win. They've had to come from behind to earn five of their last seven victories.
"When you have all 25 guys believing that you can do it and not relying on one person," Ishikawa said. "When anybody, any one of those 25 guys can be the guy that day, you just look at how the game went."
That was how the eighth inning went Wednesday night, with the veteran plucked off the waiver wire three days ago keying the winning rally.
"A real fun inning to watch, because it was hard. Cashner was tough," Hurdle said. "We weren't getting a lot of good pitches to hit. We just took it professional. We didn't take it personal. We kept showing up and battling."
Adam Berry is a reporter for MLB.com. Follow him on Twitter at @adamdberry. This story was not subject to the approval of Major League Baseball or its clubs.