Padres looking for positives during losing skid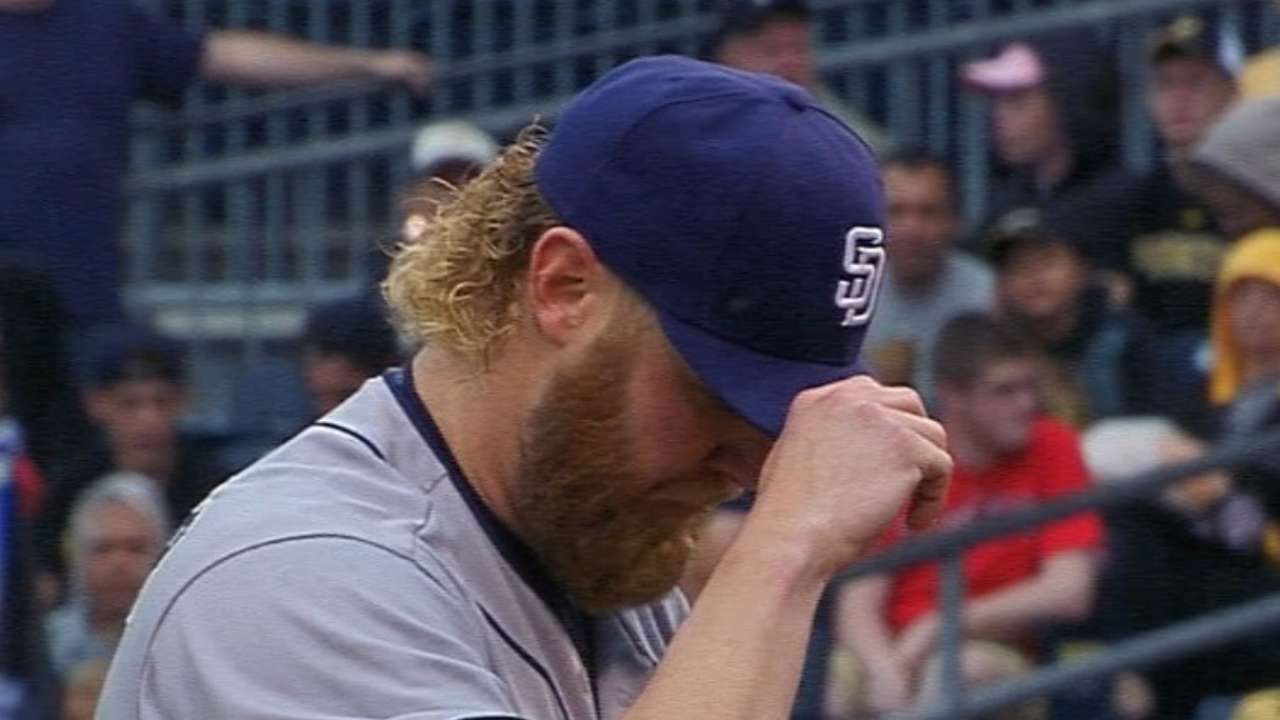 PITTSBURGH -- Andrew Cashner is well aware of how this looks from the outside -- a five-game losing skid on the road with the Padres losing leads late, fitful endings that might appear to be demoralizing to fans and other from afar.
But that's not the case, Cashner insisted after the Padres lost to the Pirates on Wednesday at PNC Park, 5-2 -- a game where San Diego held a 2-1 lead into the seventh inning.
Cashner sees something different.
"When you face good teams, when good teams are going [well], they get the breaks," Cashner said. "The numbers don't show it, but on this road trip, in my opinion, we have played the best baseball we have all season.
"We just haven't had the breaks go our way."
Nor have they hit much, scoring seven runs in the five losses.
After winning the first two games of this 10-game road trip in St. Louis, the Padres have lost the last five games, including Wednesday's game, the finishing blow in getting swept by the Pirates.
Not that there's much shame in losing to the Cardinals and Pirates, the only teams in baseball with 50 or more victories this season.
But that doesn't make losing any easier to digest for the Padres (39-48), who have dipped nine games below .500 for the first time this season.
"It's tough, there's no doubt about it," said Padres second baseman Jedd Gyorko said. "It's like the same game happened three times in a row the way it played out.
"We're a good team. We've played good baseball. Just because we haven't won these games doesn't mean we're playing bad. If we keep playing like this, the wins will start piling up."
Consider this: In four of these five losses, the Padres have taken a lead into the fifth inning.
"It's the little things we haven't done right lately and the breaks have gone the other way," Cashner said.
Cashner allowed four runs in 7 2/3 innings, though he was rolling early. He allowed a run in the second inning and then retired 15 consecutive hitters before Neil Walker doubled to start the seventh inning. His sinker was moving inside and out and he was efficient, throwing 68 pitches over the first six innings.
"The whole night, I made pitches," Cashner said.
The Pirates tied the game in the seventh inning and then pushed across three runs during the eighth inning after Cashner got two quick outs before walking Travis Ishikawa that kick started Pittsburgh's offense.
It's a tough time to be sure, said interim manager Pat Murphy, who is doing his part to help keep the morale of the team up during this trying time.
"I think all of us have that responsibility, and I think they have that responsibility to each other to know that this happens in baseball," Murphy said. "They've all been through this before. It's unfortunate. We don't want it to be happening right now.
"We have to reinforce in each other and reassure each other that we believe, so we can move forward and start winning some ballgames."
Corey Brock is a reporter for MLB.com. Keep track of @FollowThePadres on Twitter and listen to his podcast. This story was not subject to the approval of Major League Baseball or its clubs.