Youth programs make All-Star Game all-ages event
Play Ball initiative encourages kids to get involved in the greatest game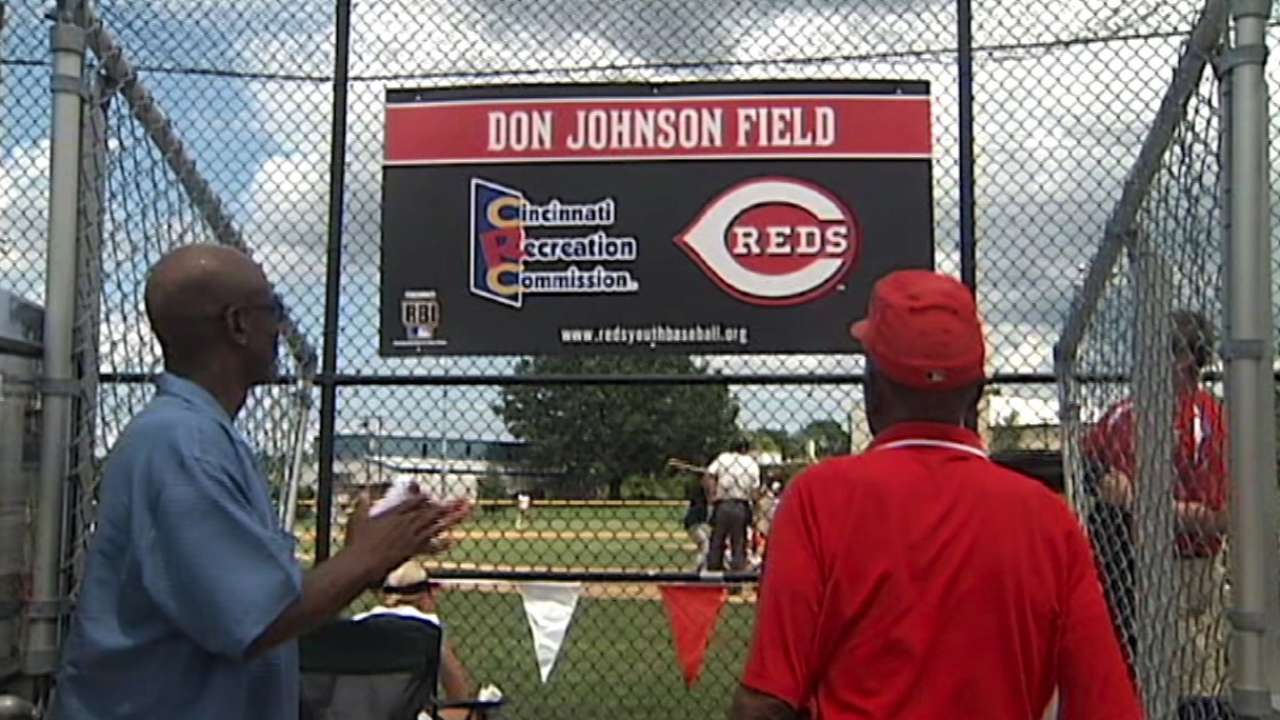 Youth participation has emerged as a priority focus during Rob Manfred's first year as Commissioner of Major League Baseball, and that will be especially apparent during All-Star Week, with several events affiliated with the new Play Ball initiative and additional youth-focused components featured at Great American Ball Park and throughout Greater Cincinnati.
"Strengthening our sport's bonds with young people is an important priority for Major League Baseball," Manfred said. "Alongside the Reds and our partners, we are proud to use the platform of the Midsummer Classic to offer a wide variety of opportunities for young fans to be a part of our game."
On June 19, MLB and USA Baseball launched Play Ball to encourage widespread participation in different forms of baseball activities among all age groups, especially youth. The program highlights the many ways baseball can be played, including outside of traditionally organized baseball leagues and tournaments, ranging from playing catch, stickball and Wiffle Ball to participating in skills competitions like "Pitch, Hit & Run."
The initiative also will provide players, parents and coaches with the information and resources to help with proper play and instruction. PlayBall.org serves as the initiative's online home and is accessible via MLB.com, USABaseball.com and other partner websites.
Four specific PLAY BALL-affiliated events will take place throughout Cincinnati during All-Star Week, including the attempt to set the Guinness World Records title for the Largest Game of Catch, the first-ever MLB All-Star Youth Hitting Challenge and the All-Star Wiffle Ball Tournament.
1. Largest Game of Catch: Thursday, 6 p.m. ET
MLB, the Reds, Chevrolet and Guinness World Records are joining together at the P&G Cincinnati MLB Urban Youth Academy. The overall event will be open to the general public, with those within the age range of 8-18 eligible to participate in the record-setting attempt.
In order for the record to be set, a minimum of 250 pairs of young people (ages 8-18) must participate in the game of catch. Additional sponsors supporting the event include Aquafina, Gatorade and Kellogg's. Immediately after the record-setting attempt, the Cal Ripken Sr. Foundation will conduct an instructional clinic. The program will consist of baseball and softball drills led by the Foundation staff for all registered attendees.
2. MLB All-Star Youth Hitting Challenge: Sunday, 9 a.m. ET
MLB and the Reds are teaming up to host this new All-Star event, which is open to participants ages 10-16 and free of charge. It will be held at Marge Schott Stadium on the campus of the University of Cincinnati.
The Hitting Challenge will consist of two scoring stations: one for bunting and one for hitting. Participants will attempt to score as many points as possible by hitting various targets laid out on a scoring grid. They will compete by age, with the two best scores in each group facing off in the finals. In each of the seven age groups, the participant with the most points will be named the winner. Winners will receive two tickets to the Gillette Home Run Derby presented by Head & Shoulders on Monday.
By registering and competing in the Hitting Challenge, all participants will receive at no charge two T-Mobile All-Star FanFest tickets, two tickets to a future Reds game and a Play Ball T-shirt.
3. All-Star Wiffle Ball Tournament: Friday through Sunday
Local Boys & Girls Clubs will participate in this first-ever event, an eight-team, single-elimination competition during All-Star Week. The participating clubs, which include U.S. Bank, LeBlong, James J. Espy, Clem & Ann Buenger, Marge Schott and West Chester/Liberty, have pre-selected club members to participate.
The tournament will be held in three different locations per round: Quarterfinals from 12-6 p.m. on Friday at the P&G Cincinnati MLB Urban Youth Academy, semifinals from 10-11 a.m. and 3-4 p.m.on Saturday at the T-Mobile All-Star FanFest Diamond, and the finals at Great American Ball Park at 2:15 p.m. on All-Star Sunday. The two final teams will receive special prizes, a meet & greet with a Reds legend and tickets to All-Star Sunday events.
4. Pitch, Hit & Run Finals: Monday, 3 p.m. ET
The final of this competition will take place at Great American Ball Park prior to the Home Run Derby. Beginning in March, about 625,000 kids participated in more than 4,400 competitions that took place across North America, with the top three boys and girls nationwide from each age group (7-8, 9-10, 11-12 and 13-14) competing at the National Finals and participating in activities during All-Star Week. Scotts, the Official Lawn Care Company of Major League Baseball, is the presenting sponsor of this official youth skills competition of MLB. Aquafina is also a supporting sponsor. Pitch, Hit & Run invites youth to demonstrate their skills by competing in pitching, hitting and running competitions.
Kellogg's is giving four fans the opportunity to have a private catch at Great American Ball Park with Hall of Famer Cal Ripken Jr., through a campaign called Play Catch with Cal. One Grand Prize winner of Kellogg's sweepstakes (which ran through June 15) will have this opportunity along with three children receiving treatment at Cincinnati Children's Hospital.
Bank of America will host a clinic for more than 100 local Boys & Girls Clubs kids at the P&G Cincinnati MLB Urban Youth Academy. Hall of Famer Johnny Bench and Reds Hall of Famer George Foster will serve as instructors in the clinic, which will be administered by the Cal Ripken Sr. Foundation and the MLB Players Alumni Association.
MLB will host the seventh annual Jr. RBI Classic, a friendly round-robin tournament, consisting of more than 100 young baseball and softball players, during All-Star Week. The event provides the kids ages 11-12, from Jr. RBI playing divisions, with the opportunity to participate in All-Star Week events and other off-field experiences, including rooming on a college campus, giving back to the community and meeting current and former Major Leaguers. The Jr. RBI Classic will be played on baseball and softball fields across Cincinnati, including Withrow High School Fields, Hirsch Fields, and the P&G Cincinnati MLB Urban Youth Academy.
As part of their All-Star experience, the young participants will give back by helping to harvest fruits and vegetables for hungry families at The Giving Fields. All participants will also have the opportunity to visit the National Underground Railroad Freedom Center.
MLB and the Reds plan to donate nearly $5 million through MLB Charities and the Reds Community Fund, a significant portion of which will help renovate nine youth baseball fields throughout Reds country in order to provide first-class facilities to an expanded range of youth and amateur players in these communities, especially to those from urban and underserved areas.
The Baseball Tomorrow Fund recently announced its SiriusXM All-Star Futures Game "BTF Kids Take the Field," featuring nine youth players from Cincinnati-based baseball and softball organizations that have been BTF grant recipients in the past. To celebrate its 16th anniversary, BTF invited children from six organizations to take the field during the pregame ceremony. The children, who will be joined by the U.S. Team players, were nominated for participation by their youth organization.
Additionally, Pitch In For Baseball will announce the winner of an All-Star equipment collection contest on Tuesday. The contest, which was held in conjunction with BTF, the Reds Community Fund and One Team, One Community, invited local organizations to compete for prizes by collecting new and used baseball and softball equipment that will be shared with young players in need.
In conjunction with the equipment drive, BTF will award a $5,000 grant to Activities Beyond the Classroom, or ABC Cincinnati, to be used for the purchase of additional equipment. ABC Cincinnati provides extracurricular activities to 30,000 students in Cincinnati public schools. A ceremonial check will be presented to ABC Cincinnati on Saturday at T-Mobile All-Star FanFest.
Voting is open now at MLB.com to select the final player for each League's 34-man roster via the 2015 Esurance MLB All-Star Game Final Vote. Fans can cast their votes from a list of five players from each League until 4 p.m. ET on Friday.
During the All-Star Game presented by T-Mobile in Cincinnati on Tuesday, July 14, fans can once again visit MLB.com to submit their choice for the Ted Williams Most Valuable Player Award presented by Chevrolet. Voting exclusively at MLB.com, online and via their mobile devices in the 2015 All-Star Game MVP Vote presented by Chevrolet, the fans' collective voice will represent 20 percent of the overall vote that determines the recipient of the Arch Ward Trophy.
MLB.TV Premium subscribers will be able to live stream the All-Star Game via MLB.TV through FOX's participating video providers. Access will be available across more than 400 supported MLB.TV platforms, including the award-winning MLB.com At Bat app. MLB.com will provide extensive online coverage of the All-Star Week festivities, including the 2015 Gillette Home Run Derby presented by Head & Shoulders, part of Gatorade All-Star Workout Day on Monday, July 13. The Derby will feature a new format with brackets and timed rounds and will be broadcast live by ESPN and MLB.com beginning at 8 p.m. ET.
The 86th Midsummer Classic will be televised nationally by FOX Sports (coverage begins at 7 p.m. ET), in Canada by Rogers Sportsnet and RDS, and worldwide by partners in more than 160 countries. ESPN Radio and ESPN Radio Deportes will provide exclusive national radio coverage of the All-Star Game. MLB Network and SiriusXM will also provide comprehensive All-Star Week coverage. For more information, please visit allstargame.com.
Mark Newman is enterprise editor of MLB.com. Read and join other baseball fans on his MLB.com community blog. This story was not subject to the approval of Major League Baseball or its clubs.