Molina, Matheny ejected in one fell swoop
Cards catcher, manager upset with home-plate umpire Hoberg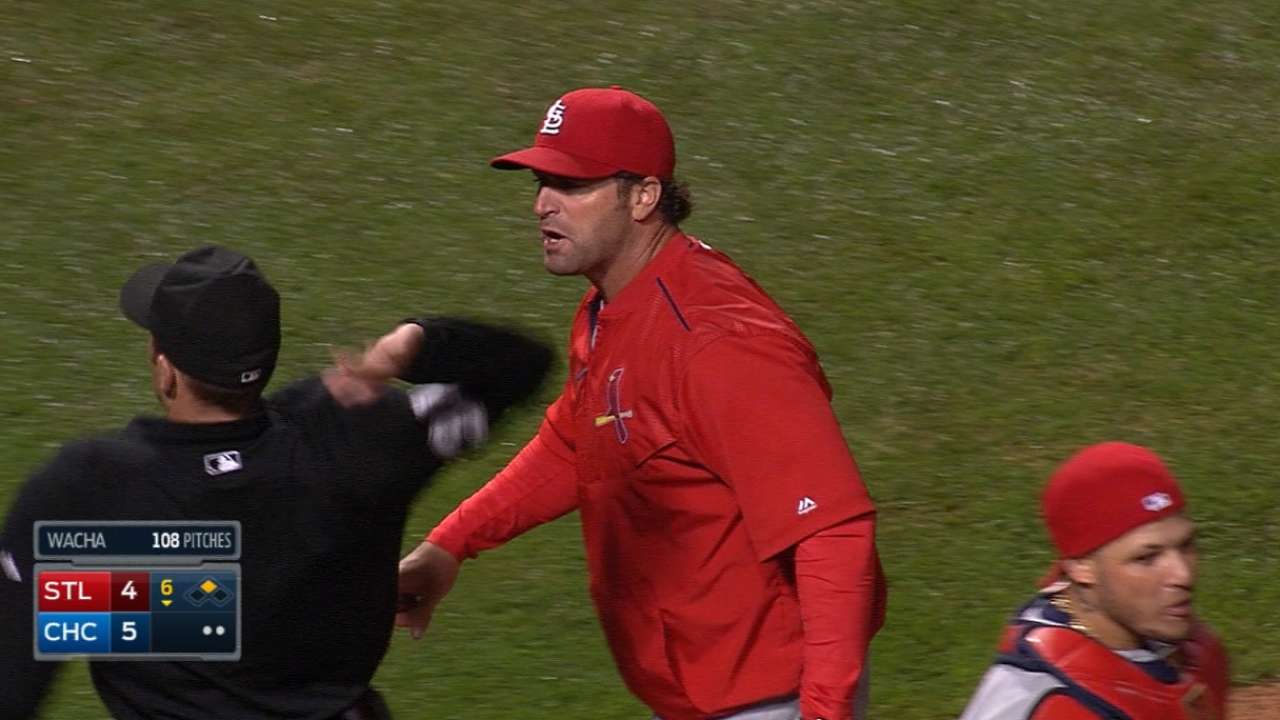 CHICAGO -- Several innings of frustration over home-plate umpire Pat Hoberg's strike zone boiled over in a sixth inning that saw Cardinals catcher Yadier Molina and manager Mike Matheny ejected following Miguel Montero's go-ahead, bases-clearing double on Wednesday night at Wrigley Field.
Both Molina and starting pitcher Michael Wacha said it only took three pitches to realize they might be dealing with a tight strike zone from Hoberg, a Triple-A umpire who began working occasional games in the Majors last season.
"I felt like I had to throw it over the middle of the plate and hope they swung and missed or else it wasn't going to be called a strike," said Wacha, who was eventually spared his fourth season loss by the Cardinals' come-from-behind, 6-5 win. "I felt really good. I felt like I was hitting my spots for most of the night, just wasn't getting the calls unless they swung at it."
Molina said he talked back-and-forth with Hoberg throughout much of the first five innings in attempt to get Wacha an expanded zone. It never came, and Molina eventually lost his temper when, after Wacha's 2-2 pitch on the outside corner was not called an inning-ending strike three, Montero flipped a two-run Cubs deficit into a one-run Chicago lead, 5-4.
"Michael was pitching well. That's the sad part," said Molina. "[The strike zone] was like that all night. He's a young umpire, and he needs to figure out a better strike zone. That's it."
The pitch f/x tracker on MLB Advanced Media's Gameday feature showed the 2-2 pitch catching the outside corner of the plate.
Before right fielder Jason Heyward had even thrown the ball back into the infield, Molina was already in Hoberg's face. He was promptly ejected.
"I didn't really know what was going on," Wacha said. "I was watching the ball. He was just fighting for me back there, and you love to see that as a pitcher from your catcher."
Matheny was then tossed after racing onto the field to continue the argument. It was Matheny's second ejection of the season and the fourth time Molina has been tossed in his career.
"I anticipated it was going to happen to Yadi because once the ball was going in the air, I don't know why, I was watching Yadi instead of what the ball was doing," Matheny said. "And I was trying to figure out how to get out there and not be standing around home plate in case the ball got in there. But I knew he was going to have a short shelf life the way he was going at it. He just takes so much pride in what he does behind the plate, seeing the ball, and walking his pitchers through tough situations like that one. And when he felt he got slighted I knew it wasn't going to end well."
The Cardinals were already irritated with Hoberg after the fair call he made while serving as the first-base umpire in Game 2 of Tuesday's doubleheader. Hoberg ejected Seth Maness in that game for Maness' reaction to the call, which came on Addison Russell's chopper down the first-base line. The hit was not reviewable, though Maness and first baseman Mark Reynolds were adamant that the ball skipped down the line foul.
Replays did not show a clear angle of where the ball was when it passed by first base, though they did show that the ball bounced in foul territory on its way toward the bag. Russell's RBI single tied the game in an eventual 5-3 Chicago win.
Jenifer Langosch is a reporter for MLB.com. Read her blog, By Gosh, It's Langosch, follow her on Twitter @LangoschMLB, like her Facebook page Jenifer Langosch for Cardinals.com and listen to her podcast. This story was not subject to the approval of Major League Baseball or its clubs.