Brown feeling better but will proceed with caution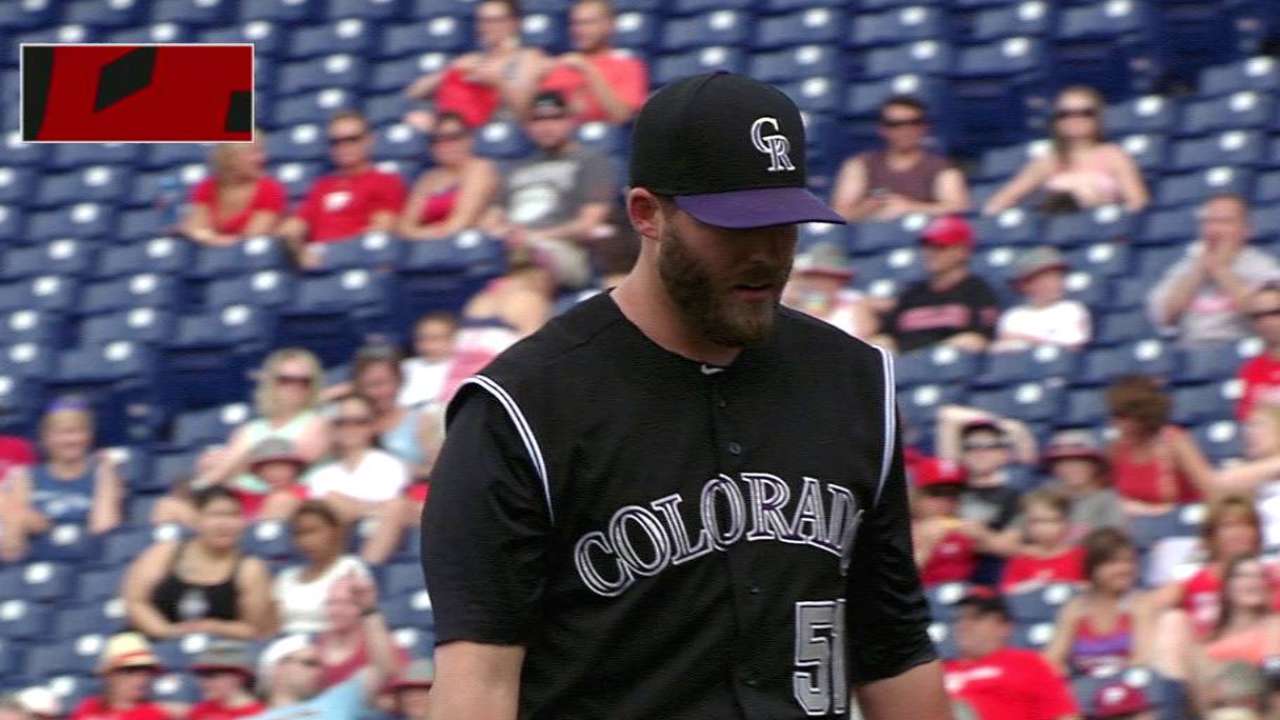 DENVER -- In the midst of his second disabled list trip this season due to right-shoulder inflammation, reliever Brooks Brown began playing catch again on Tuesday and said his arm is "definitely starting to feel better."
His caution level, however, is still rather high.
"Being that this is the second time on the DL, you just don't want to rush it," Brown said. "Make sure we get it right this time because this is not where I want to be. I'd much rather be pitching.
"I don't want to have to repeat this again."
Brown hasn't pitched since June 16 at Houston, when he served up a solo homer to Hank Conger and needed 30 pitches to get through just one inning. Rockies manager Walt Weiss said afterwards that Brown "didn't look like himself" and that his initial symptoms had returned.
That has made Weiss extra careful as well.
"We're not going to rush him back," he said. "I don't feel like we tried to rush him back the first time either. He felt really strong when he came back, but we will be very cautious because it's happened twice. We'll make sure that he's strong before we activate him."
Brown said he'll likely play catch for "a week or so" before hopping on a mound for additional work. Barring any setbacks, the right-hander expects to head to the Minor Leagues for a few rehab games before returning.
"Definitely throw a couple bullpens -- maybe throw to some hitters -- and then I'll definitively go out on a rehab assignment since I've missed so much time now," Brown said. "I threw in three [rehab] games last time, and I was ready to come off."
"But it just came back, so I think that's the whole process this time. No wanting to rush it."
Worth noting:
• Stuck on the DL because of an ongoing case of plantar fasciitis, outfielder Corey Dickerson has been forced to watch a good chunk of this season from the bench. Although Weiss acknowledged that disappointment, he didn't hold back when asked what could be in store for Dickerson down the road.
"I feel like he's a guy offensively that could finish in the top-10 in the three major categories [average, home runs and RBIs]," Weiss said. "I think he's that type of guy -- just a dangerous hitter who can hit for a high average and have a ton of extra-base hits.
"It's unfortunate that his season got disrupted by the injury, but he's got a lot of career left."
• On Wednesday, catching prospect Tom Murphy had two doubles and a pair of RBIs for the U.S. Pan American Team in its 6-1 win over the USA Collegiate National Team in Cary, N.C. Murphy was the Rockies' third-round pick in 2012 and has 13 homers and 44 RBIs for Double-A New Britain this season.
Dargan Southard is an associate reporter for MLB.com. This story was not subject to the approval of Major League Baseball or its clubs.