Gordon to DL, Yost hoping for best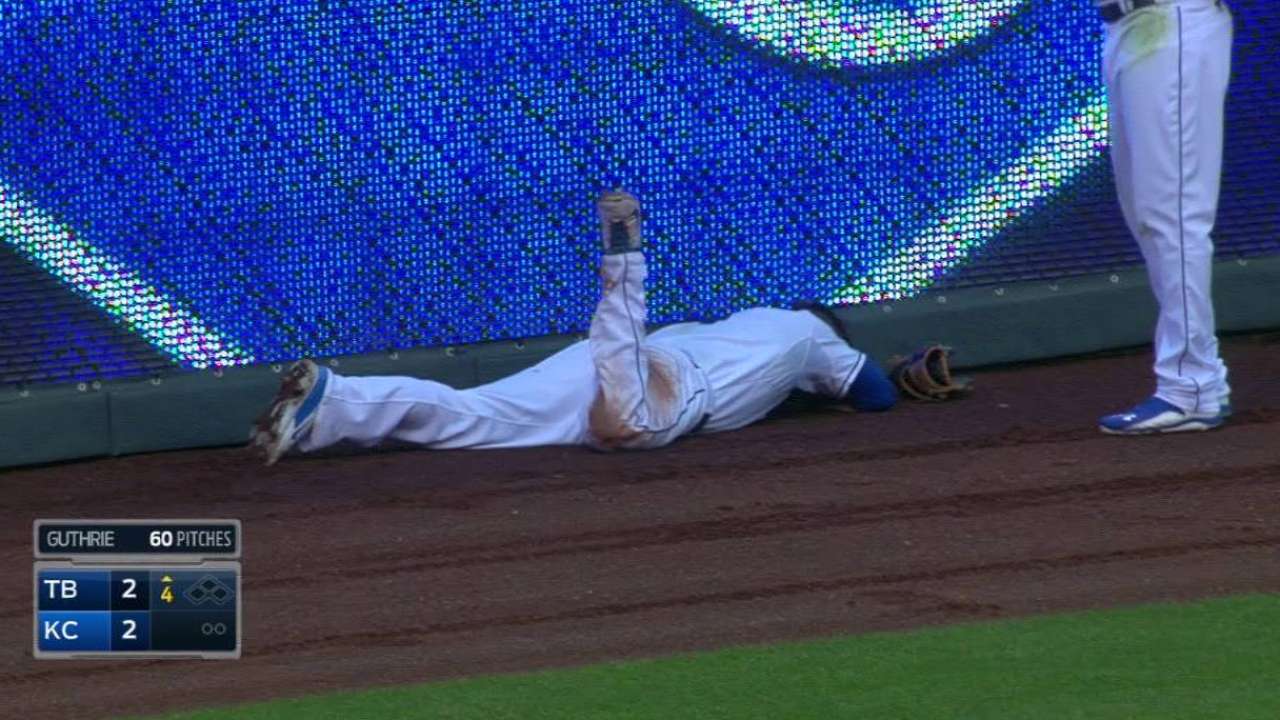 KANSAS CITY -- Royals All-Star left fielder Alex Gordon left Wednesday night's 9-7 win on a cart due to a left groin strain, according to the club.
The Royals said that Gordon was having an MRI to determine severity of the strain. He was placed on the 15-day disabled list on Thursday.
"I'm hopeful that it's not an extremely long term thing, and I mean extremely long term, I'm talking months," manager Ned Yost said after Wednesday's game. "Could be, though. We've got to see. He's getting an MRI right now and we'll find out."
Replays showed Gordon's left knee or ankle buckle as he raced toward the wall to retrieve a line drive by the Rays' Logan Forsythe.
Gordon immediately fell to the ground as Forsythe circled the bases to complete an inside-the-park home run in the top of the fourth inning, tying the score at 2.
Gordon appeared in agony as he lay face down and was kicking the ground with his right foot.
Yost and trainer Nick Kenney raced to Gordon's aid.
"[Gordon] wasn't communicating much," Yost said "I didn't know what had happened. I saw the ball bounce off the wall and I'm thinking, 'OK, there's the double.' And then I'm like what happened? I didn't know if he fell on his shoulder, I didn't know if it was his knee or his ankle, and when we got out there, he said it was his groin. He heard it pop, which isn't a good thing. I don't think ... the doctors didn't feel like it was detached from the bone, which is a good thing, so we'll just have to wait and see."
Yost also indicated that the fact it wasn't a knee injury, such as an ACL tear, could be good news, since that injury would have put Gordon out for the year.
"Well, it depends on how bad it's pulled, but yeah, it's a better outlook, yeah," Yost said. "But it's still going to be awhile."
Inside the Royals' clubhouse, players obviously were greatly concerned.
"It's a devastating moment, to see that," said Jarrod Dyson, who replaced Gordon in left and threw out a runner at home, and hit an inside-the-park homer.
"Alex gets up when he crashes into the wall," said reliever Luke Hochevar, who lockers next to Gordon. "He gets up from everything. So when he didn't get up, you knew it was serious."
Added shortstop Alcides Escobar, "He plays so hard. We all look up to him."
Gordon's injury happened in the same vicinity of the Kauffman Stadium warning track where Yankees legend Mariano Rivera tore a ligament in his knee in 2012.
"It's a weird track there, because I remember the Mariano injury, too," first baseman Eric Hosmer said.
Gordon almost surely won't play in Tuesday's All-Star Game presented by T-Mobile, the second straight one he will miss. Gordon missed last year's Midsummer Classic because of an injured right wrist. If Gordon can't play, the rules stipulate that he be replaced in the starting lineup by the outfielder who received the next most votes on the Player Ballot, which in this case is Adam Jones. As for replacing Gordon on the roster, that would be a decision made by Yost in conjunction with the Commissioner's Office.
Of far greater concern to Yost, also the AL All-Star manager, is how Gordon will be replaced in the Royals' lineup.
"We'll have to go with Dyson and Paulo [Orlando] for now," Yost said. "And just hope for the best for Alex."
Jeffrey Flanagan is a reporter for MLB.com. This story was not subject to the approval of Major League Baseball or its clubs.