Kazmir exits with 'minor' left triceps tightness
With extra rest from All-Star break, southpaw expects to make next start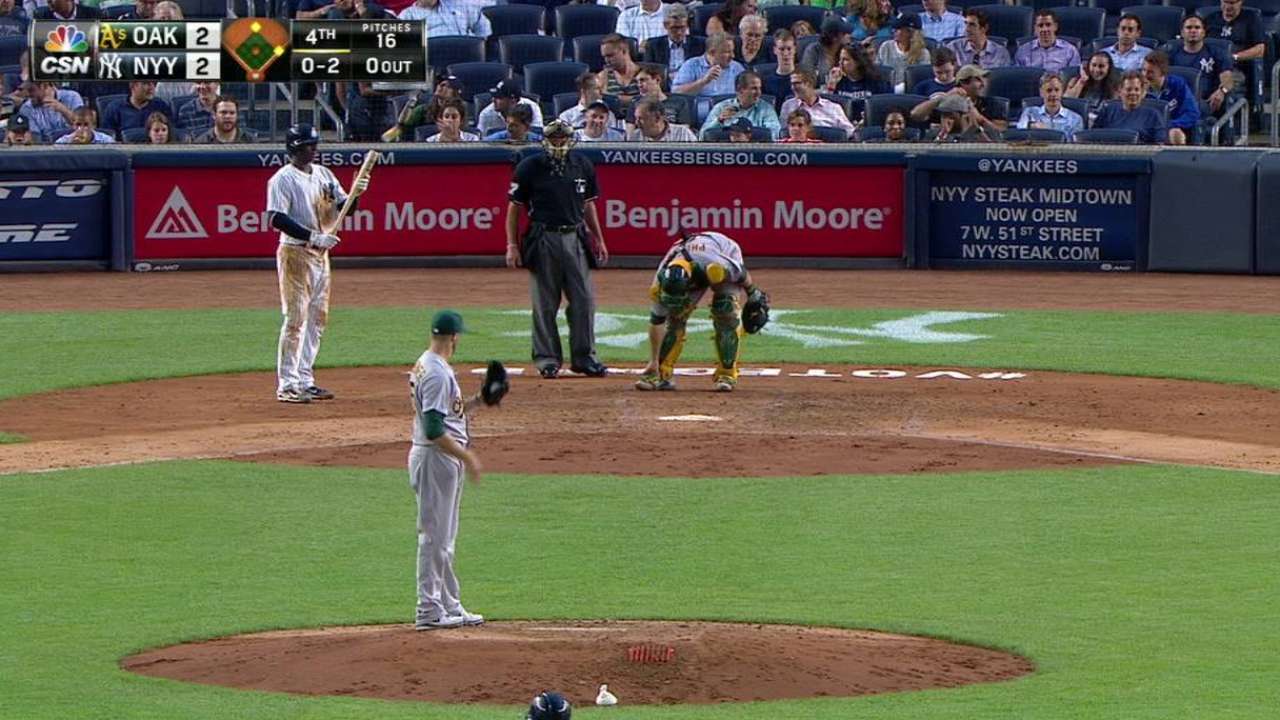 NEW YORK -- A's lefty Scott Kazmir exited his start in Wednesday night's 5-4 loss to the Yankees after three innings with left triceps tightness, but he considers the injury "super-minor."
Kazmir first felt discomfort in the second inning but returned for the third and struck out two in the frame, albeit with diminished velocity, and wanted to continue pitching.
The A's decided to play it safe with the veteran lefty, who has a 2.49 ERA in 17 starts this season.
"It loosened up a little bit on him after he got in the training room, but it was obviously significant enough to take him out," A's manager Bob Melvin said. "We didn't feel like it was worth taking a chance by sending him back out."
If not for the All-Star break, Kazmir is confident he would be able to start again in five days.
"I felt like all my pitches were playing at the time," Kazmir said. "It's just frustrating to put your team in a situation like that, where you end up coming out of the game after the third. I wanted to stay out there. They ended up pulling the plug. I felt like it was super-minor and I'd be able to continue."
Kazmir held New York to one unearned run on two hits and struck out four, walking one in the 50-pitch outing. Right-hander Evan Scribner relieved Kazmir in the fourth and gave up three runs on four hits, including a pair of Mark Teixeira home runs, over 2 1/3 innings.
One of Kazmir's first starts as a member of the Athletics last year was cut short for precautionary reasons because of left triceps tightness, and he believed dehydration to be the cause of it at the time. Asked if that could be the case again, he said, "It might've been."
"It was muggy out there," Kazmir said. "It's kind of what it felt like. Just a little bit of tightness, but maybe it was cramping or something like that. But it definitely felt very minor."
The left-hander will have at least eight days off before his next start -- perhaps more, depending on how the A's align their rotation after the break.
"To have all of these extra days to recover is nice," Kazmir said, "but I honestly feel like if my start was in five days, it wouldn't be a problem."
Jane Lee is a reporter for MLB.com. This story was not subject to the approval of Major League Baseball or its clubs.