Despite soreness, Hahn on track for Saturday
A's righty plans to avoid using slider in return to mound against Indians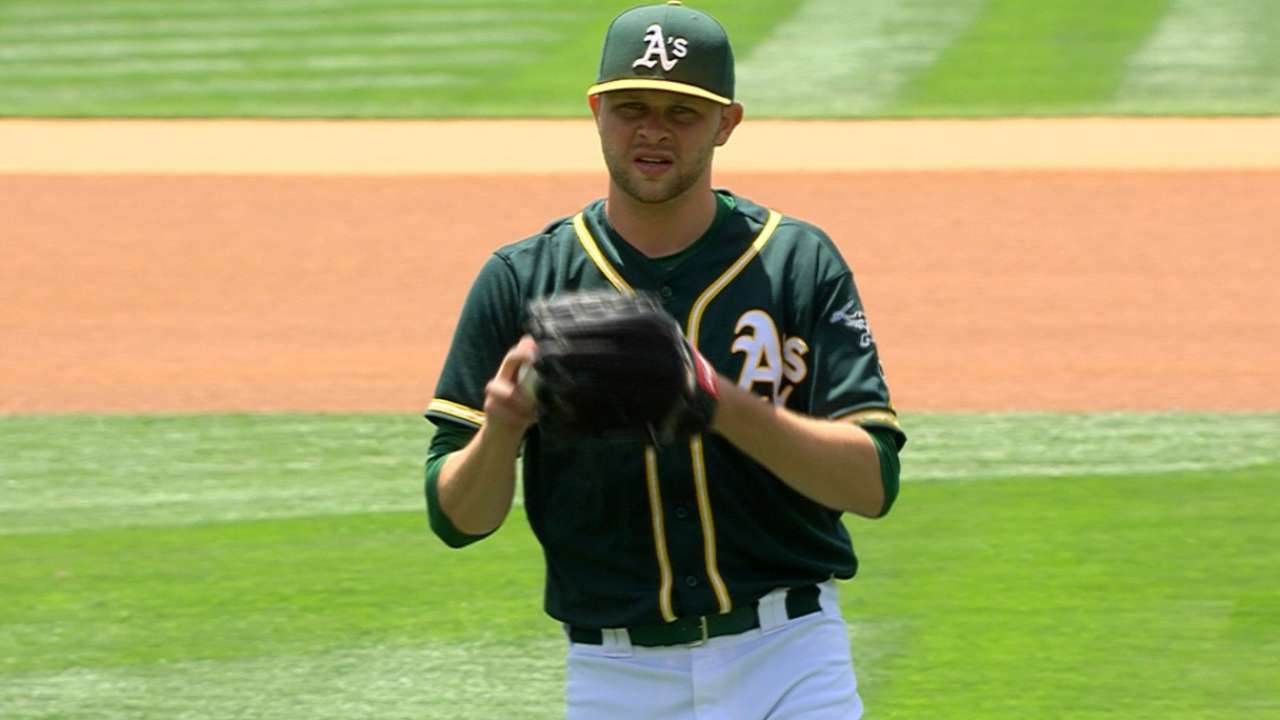 NEW YORK -- A's right-hander Jesse Hahn plans to make his next start, scheduled for Saturday in Cleveland, on nine days' rest after nursing right elbow soreness.
"Just a little tightness and discomfort in there," Hahn said on Wednesday. "We've been treating it for about two weeks now. It hasn't gotten any worse, so that's good news."
Hahn completed a full bullpen session and threw long toss at Yankee Stadium on Wednesday, and he was highly encouraged by the results.
"I'm ready to make that start Saturday," Hahn said.
When he does, Hahn will likely stay away from his slider, the pitch that has given him the most discomfort. He threw just three sliders in his June 26 start and ditched the pitch altogether in his last outing, against the Rockies, whom he held to one run in six innings.
It's the first time Hahn has experienced anything abnormal with his elbow since he underwent Tommy John surgery in 2010.
"It's just been a gradual thing," Hahn said. "I'll make this last start, and the All-Star break will be huge for all of us, just getting that extra rest. If it's feeling good at that point, that's good news. If it's not, we'll have to take a step back and take a look at it."
Worth noting
• Left-hander Sean Doolittle (strained left shoulder) "felt great" after playing catch on Tuesday for the first time since going on the disabled list, according to manager Bob Melvin.
• Right-hander Taylor Thompson, also working his way back from a strained shoulder, is scheduled to throw 20 pitches in batting practice on Thursday.
Jane Lee is a reporter for MLB.com. This story was not subject to the approval of Major League Baseball or its clubs.