'Superfan' was early on Dozier bandwagon
This is the unlikely story of how an Arizona Diamondbacks supporter who once lived in Mississippi has likely become a Minnesota Twins fanatic.
Shawn Miller -- it's a common name. But if you frequented University of Southern Mississippi baseball games in the late 2000s, you know that "Superfan" and his family were anything but common fans of the Golden Eagles and star shortstop Brian Dozier, now an Esurance MLB All-Star Game 2015 Final Vote candidate for the Twins.
I have not thought much about Superfan in recent years and haven't heard from him in longer, but I couldn't help but picture the smile on his face when this week, the Twins released a promotional video and accompanying images featuring a bulldozer in support of Dozier's All-Star candidacy.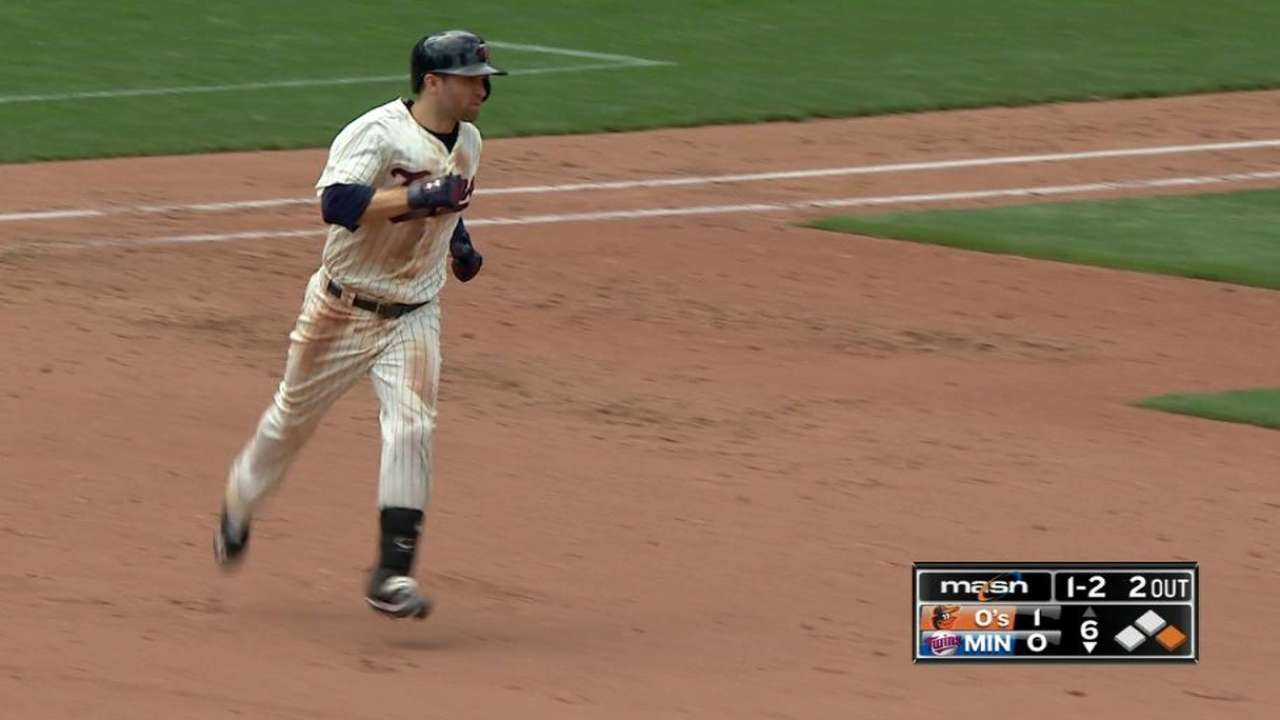 The story goes that Miller and his family, including wife Teresa, son Matt and daughter Michelle, were Arizona natives who moved to South Mississippi, where Shawn had received a job offer. In 2006, for no particular known reason, Superfan and family became fans of a little-known freshman shortstop from Fulton, Miss. The Millers were huge D-backs supporters, even painting the family car in the team's colors, but they often rode their bicycles to Southern Miss baseball games at Pete Taylor Park with a homemade drum and shakers in tow.
If they were out of your line of vision among the thousands of fans at The Pete, you still couldn't miss their somewhat rhythmic, slightly annoying, but always enthusiastic chant to the beat of the drum, "Here comes the Bull. Here comes the Dozier. Here comes the BullDozier." For hours. Every game. Little did they know at the time that the lightly recruited Dozier would go on to lead Southern Miss to a berth in the College World Series a few years later and become one of Major League Baseball's best second basemen.
Prior to this season, I sat down with Dozier, one of five American League finalists in a fan vote to determine that league's final All-Star selection, to talk about some of his Southern Miss memories -- including those of Superfan. Brian indicated that for a few years after he was picked in the 2009 MLB Draft by the Twins, he heard from Superfan, getting periodic updates on where the family was living and working at the time. He hadn't heard from Superfan for a few years, but he mentioned that some players in the Majors who were once Southern Miss opponents still ask him about Superfan, inquiring if the Millers were a group of relatives, among many other questions.
I'm not sure what the former D-backs fan is doing these days, but it's not outside of the realm of possibility that he's dusting off an old drum, donning a Twins hat, and making plans if Dozier is selected for the All-Star Game.
If that happens, get ready Cincinnati, because here comes the bull. Here comes the Dozier. Here comes the BullDozier -- and a Superfan.
Jim Coll is the chief communication officer for the University of Southern Mississippi in Hattiesburg, Miss. This story was not subject to the approval of Major League Baseball or its clubs.