MLB.com Columnist
Barry M. Bloom
Peavy, Cain hold keys to Giants' success
SAN FRANCISCO -- Jake Peavy and the defending World Series-champion Giants lost, 4-1, to Jacob deGrom and the Mets on Wednesday in a battle of attrition between an old-school veteran right-hander and one of the great young studs of New York's starting rotation.
Peavy's performance came a day after Matt Cain beat the Mets with six innings of scoreless, two-hit ball on Tuesday night at AT&T Park.
That's good news for the Giants to have those guys back from their respective injuries. And as manager Bruce Bochy so aptly put it about his club's run of three World Series titles in five seasons, it's nice to have Hunter Pence return from a wrist injury, "but we'll go as far as our pitching will take us -- that's how we've won, with our pitching."
"Peavy and Cain, they're going to be so critical for us in the second half," Bochy said. "These are experienced guys who have been through it. They're fresh. It's allowed us to freshen up a couple of other guys. The fact that they're back, I think their presence, they should give us a chance to win."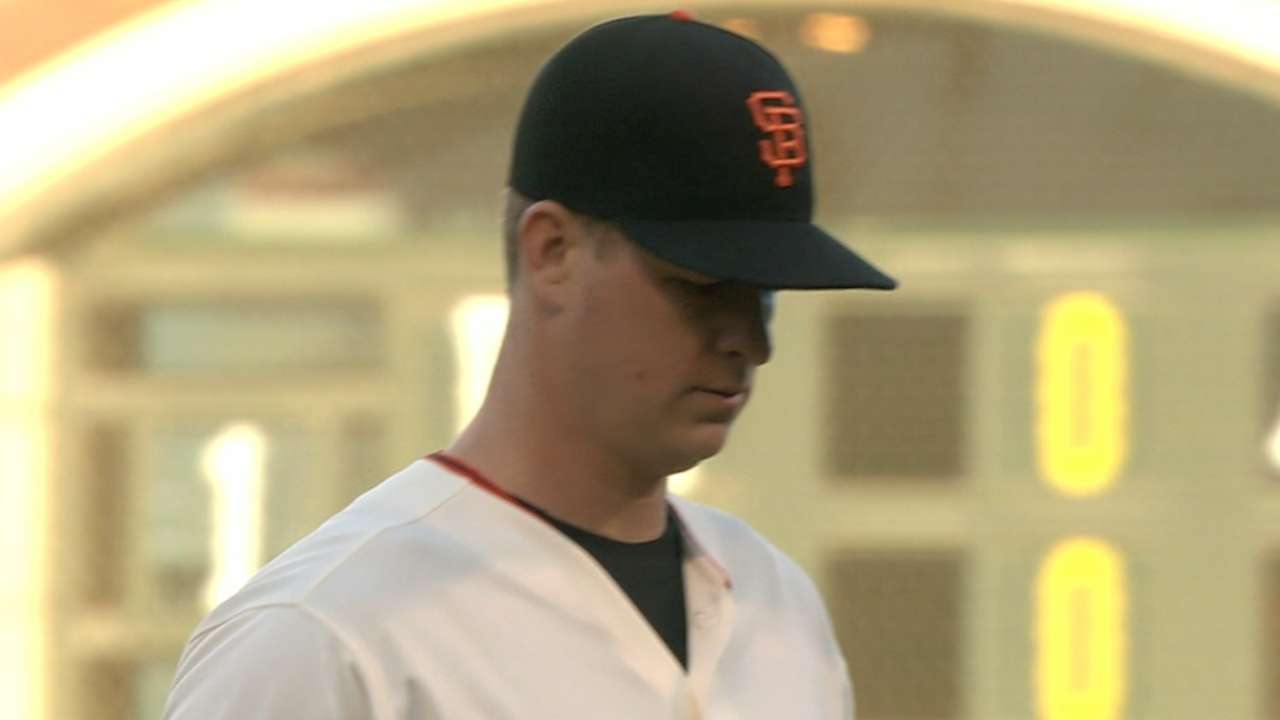 That didn't happen on Wednesday largely because deGrom pitched eight innings of scoreless two-hit ball, striking out 10 with Buster Posey out of the San Francisco lineup for the second game in a row, nursing a sore hamstring. It was more of the same for deGrom, who won for the ninth time and was picked by the players as the Mets' rep for the All-Star Game presented by T-Mobile next Tuesday at Cincinnati's Great American Ball Park.
Peavy, limited to four starts this season because of a back injury, allowed six hits and two runs (one earned) over seven innings, and his fate might have been better if deGrom hadn't retired the final 13 batters he faced.
"We can sit around and cry about the first two months and [how] it hasn't been easy for me or Matt," Peavy said after the game. "You saw what I was like when I was out there at the beginning of the season and you know I wasn't that guy. We hope we can be a big shot in the arm. Me and Cainer have obviously been a big help for ballclubs at numerous times in our careers and we expect to be a big help, be fresh for that stretch run, like I was last year."
Peavy (0-4) hasn't won a regular-season game since last Sept. 16 when he concluded a streak of four wins in a row and six in his final seven decisions that helped nudge the Giants into the second National League Wild Card berth. He did defeat the Nationals in Game 1 of the NL Division Series, but didn't actually shine in two World Series starts, losing twice to the Royals while allowing nine runs on 12 hits in 6 1/3 innings.
Cain hadn't won since July 9, 2014, his last game before right elbow surgery and soreness in the same forearm kept him out for almost a year.
"You take being healthy for granted," Cain said. "To have a surgery that should have been resolved through the offseason but takes you almost a full year to get back on the field, you appreciate being out there more. And it's sad to say, you definitely take it for granted going out there every fifth day."
The fact is that when Cain and Peavy came off the disabled list, Tim Hudson (sore right shoulder) and Tim Lincecum (contusion on his right forearm) went on it. Both right-handers say they will be back after the All-Star break, an assumption Bochy corroborated.
Lincecum said his forearm feels fine. Ditto for Hudson, who said he was just dealing with a little tenderness in the shoulder.
"Old-initis," quipped Hudson, who will turn 40 on Tuesday, the day of the All-Star Game.
Lincecum has struggled at times, but still has seven wins. Hudson is 5-7. How the rotation sets up after the break when the Giants return on July 17 for a three-game series against the D-backs at Chase Field is still to be determined.
It starts with All-Star Madison Bumgarner, who is 8-5 with a 3.34 ERA in 17 starts. Chris Heston should also be safe. The rookie, who came up from the Minors to replace Peavy, is 8-5 with 3.51 ERA, and pitched a no-hitter against the Mets at Citi Field on June 9. Cain and Peavy are definitely in, leaving one spot remaining in the rotation.
Bochy said he doesn't expect to go a six-man rotation -- a la the Mets, who are starting deGrom, Noah Syndergaard, Matt Harvey, Steven Matz, Jon Niese and Bartolo Colon at this point.
"Not right now, no," Bochy said. "I can't rule it out completely, but that's not the plan."
Asked what he anticipated doing when Hudson and Lincecum are again available, Bochy demurred.
"We'll cross that bridge when we come to it," he said.
The Giants rely heavily on their pitching, it is true. But right now the starters have a 3.96 ERA, 13th-best in the Major Leagues. Because the usually reliable bullpen has been erratic, the staff ERA of 3.85 ranks 15th overall. And that's just not going to cut it. Jeremy Affeldt, who is on the DL with a sore left shoulder, is also expected back after the break and that should help.
Comparatively, the Cardinals (2.62 ERA), Pirates (2.87), Mets (3.26), Cubs (3.33) and Dodgers (3.36) have the top five ERAs in baseball, and not so incidentally these are all the teams the Giants must beat if they expect to again make the postseason.
It's a daunting task, but not impossible.
"Well, it always comes down to pitching," Bochy said. "Look what Peavy did for us last year when we acquired him. We've missed Mattie for a while. It's going to be critical that they do give us as many quality starts as possible. And not just those two, but everybody. We have a little surplus. Huddy is going to be back soon, Timmy. We'll get this figured out, but it's going to be important from this point on that we pitch well."
Barry M. Bloom is a national reporter for MLB.com and writes an MLBlog, Boomskie on Baseball. Follow @boomskie on Twitter. This story was not subject to the approval of Major League Baseball or its clubs.