deGrom ties bow on sensational first half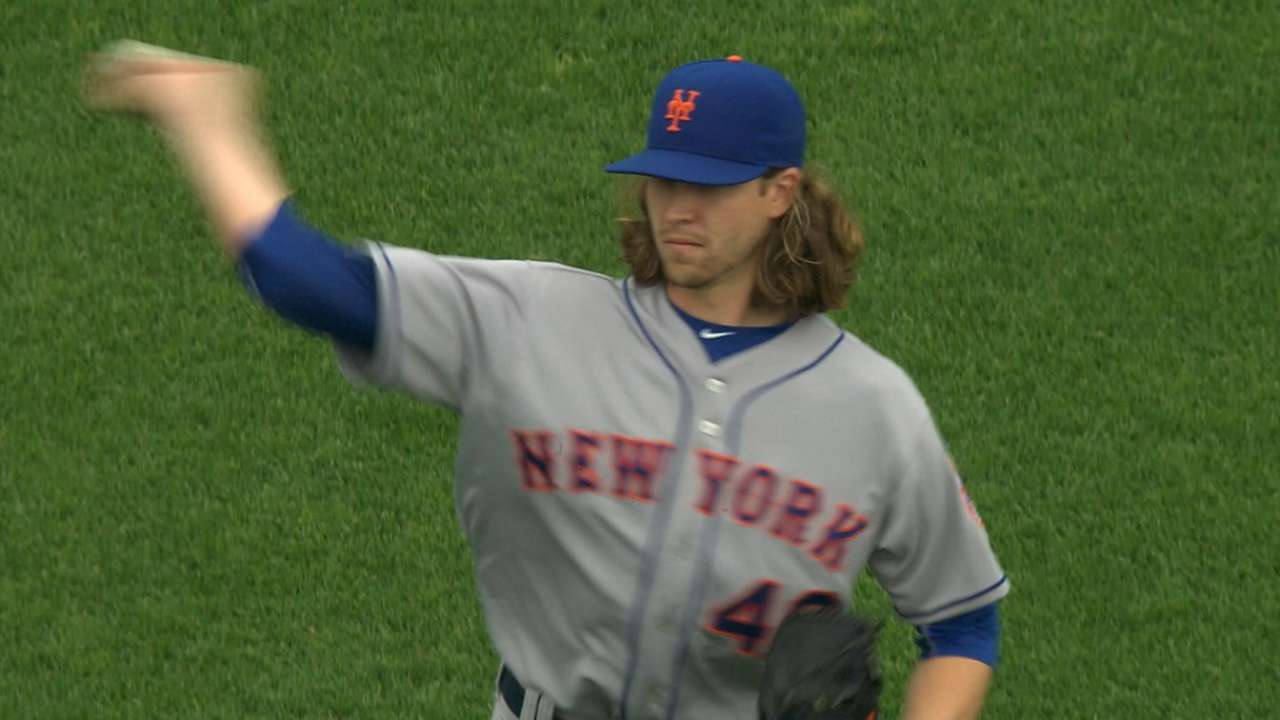 SAN FRANCISCO -- What's truly scary about reigning National League Rookie of the Year and newly-minted All-Star Jacob deGrom is that he appears, on a near-weekly basis, only to be improving.
In Wednesday's 4-1 Mets win over the Giants, deGrom slimmed his career ERA to 2.44. Yet since last year's All-Star break, it's 2.15, second in baseball behind only Zack Greinke. For the season, deGrom owns a 2.14 ERA, thanks to his 7-3 record and 1.71 ERA since the start of May -- also second behind Greinke. His velocity is trending upward, from around 94 mph early on to something closer to 96. And his results are following suit.
"It's like a video game out there with him," Mets catcher Kevin Plawecki said.
True to form, deGrom only improved as Wednesday's breezy outing progressed. After giving up a leadoff double to Hunter Pence in the second inning, the Mets' lone All-Star struck out three consecutive batters to dissolve any rally that may have formed. After allowing a two-out single to Brandon Belt in the second, deGrom retired 13 straight batters to end his day.
His 99th and final pitch was a 96-mph fastball, two ticks hotter than his first offering of the day. But manager Terry Collins, citing a desire to "protect these guys," told deGrom he was not going to let him pursue the Mets' first shutout by a starting pitcher since Zack Wheeler last June.
"It's all right," Collins said. "We won the game."
That was thanks almost exclusively to deGrom, whose next outing comes Tuesday in Cincinnati -- not for the Mets, but for the NL All-Stars. Given his performance in front of Senior Circuit manager Bruce Bochy, it's even possible deGrom could receive some consideration to start the game.
He's been that good.
"Today was just another one of those games for him," Plawecki said.
If this wasn't deGrom's best -- his eight-inning, one-hit, 11-strikeout performance on May 21 against the Cardinals deserves your consideration -- it was close. As usual, deGrom walked only one batter, also allowing just two hits. The Mets even provided him with a rare four-run output, taking advantage of a defensive mistake early and an Eric Campbell two-run homer late. deGrom added to that by executing a textbook hit-and-run in the seventh inning, singling to move the Mets' second run into scoring position.
"I felt really good today," deGrom said when asked if this was his best start of the year. "I think this was one of them."
It was, of course. Yet if history is any guide, his best may be yet to come.
"That's all I want to do, put zeros on the board and give us a chance to win," deGrom said. "I felt like it was going to be a close game, and I tried to go out there and put zeros up."
Anthony DiComo is a reporter for MLB.com. Follow him on Twitter @AnthonyDiComo and Facebook, and listen to his podcast. This story was not subject to the approval of Major League Baseball or its clubs.