Rangers' skid tied to lack of clutch hits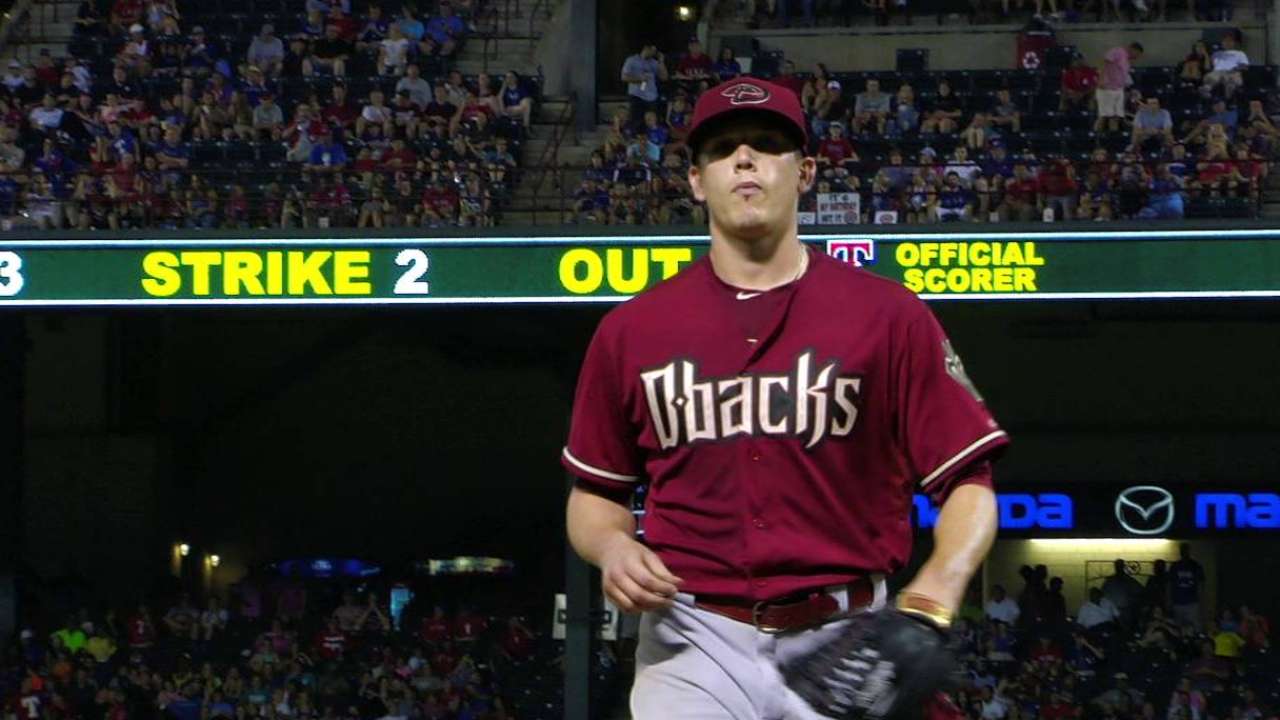 ARLINGTON -- Getting runners on base wasn't the trouble for the Rangers on Wednesday night. The problem was getting them home.
The Rangers went 1-for-15 with runners in scoring position in a 7-4 loss to the D-backs at Globe Life Park. Texas outhit Arizona, 11-9, but stranded 11 runners on base.
"That was a little challenging for us tonight," manager Jeff Banister said. "To leave 11 really has not been characteristic of this ballclub, especially not during stretches when we were playing well."
The loss was the Rangers' eighth in a row at home, and their inability to drive in runs dropped their average with runners in scoring position to .173 (19-for-110) over the past 18 games. Texas hasn't hit a home run with a runner in scoring position since June 13.
Banister pointed to those at-bats with runners on as the biggest difference between the Rangers' hot June and where they stand now.
"We were driving those balls in the gap, we were getting some home runs," he said. "More than anything else, it's the quality at-bats. It's a tough game, but these guys need to tighten it up, put together some quality at-bats and some good offense."
Texas scored two runs in the second inning, but had Adrian Beltre on second and Prince Fielder on third when Josh Hamilton struck out swinging to end the inning. In the fourth, the Rangers loaded the bases with nobody out, but they couldn't take advantage. Robinson Chirinos struck out swinging. Delino DeShields struck out looking on a close call. Shin-Soo Choo flied out to center. Inning over.
"We had a lot of opportunities tonight, especially with bases loaded," Choo said. "At least a couple could have scored. … We had so many opportunities tonight and can't make those opportunities matter. That's the whole game."
Beltre was a bright spot with three hits, and Choo had two RBIs, on a groundout and a sacrifice fly. But the rest of the Rangers weren't so productive in finding ways to get runners home. It resulted in the Rangers' overall losing streak extending to five games, just one shy of their longest this season.
Hamilton admitted that coming up empty has been frustrating, but the only solution is to do better next time.
"Yes, yes, yes [it's frustrating]," Hamilton said. "Every player is different. The more times it happens, the easier it is to do it. Sometimes you go through spurts during the season. Sometimes guys get the job done, sometimes they struggle. We'll keep trying to make that adjustment."
Cody Stavenhagen is an associate reporter for MLB.com. This story was not subject to the approval of Major League Baseball or its clubs.