Red Sox team with Dodgers to back Bogaerts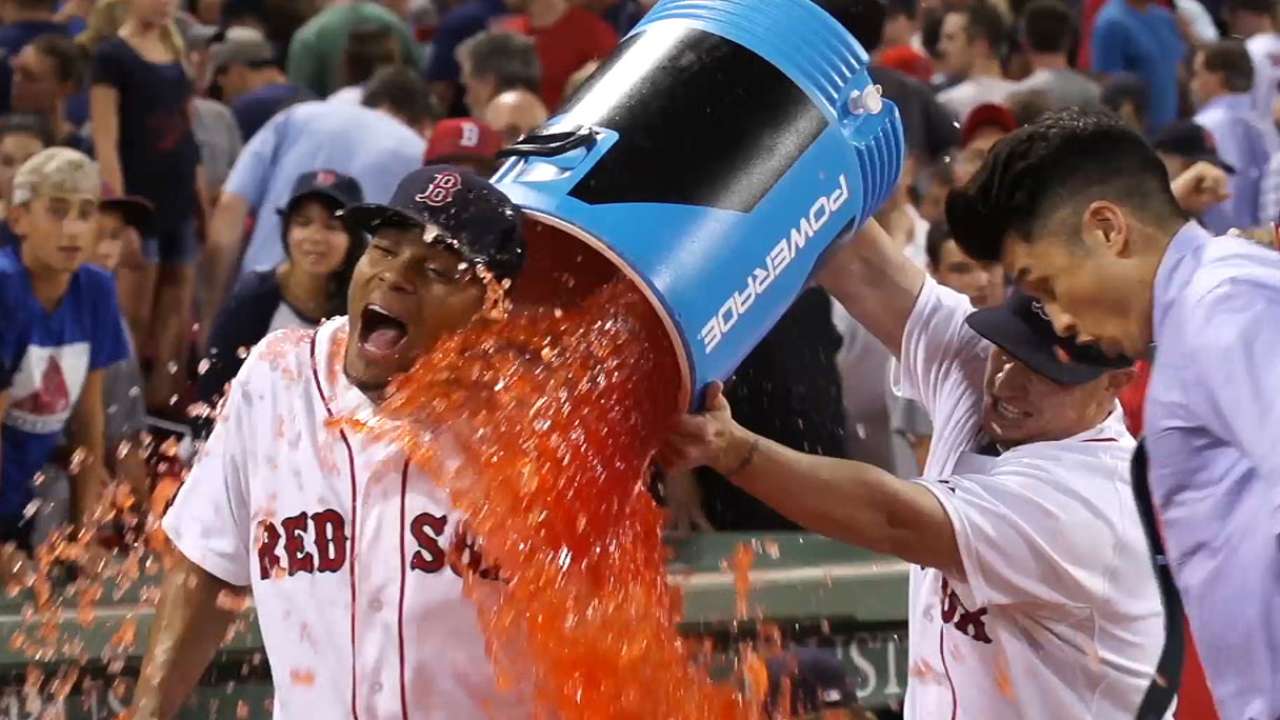 BOSTON -- The Red Sox have increased their efforts to help Xander Bogaerts win the 2015 Esurance MLB All-Star Game Final Vote by forming an alliance with Clayton Kershaw and the Dodgers.
Backed by two tradition-laden franchises with big fan bases, perhaps Bogaerts and Kershaw (a Final Vote candidate in the National League) will both get an increase in support while being packaged as a team.
After Thursday's ballot update, Bogaerts remained in fifth place. The four players ahead of him are Mike Moustakas (Royals), Brian Dozier (Twins), Yoenis Cespedes (Tigers) and Brett Gardner (Yankees).
Red Sox players are also doing their part to help Bogaerts get to the All-Star Game presented by T-Mobile.
Hanley Ramirez and Dustin Pedroia both made video messages asking for fans to support Bogaerts, that the Red Sox posted on their Twitter account.
If this doesn't make you want to vote #XforASG... Unlimited voting on http://t.co/i0p8ncZzvo or text A1 to 89269. pic.twitter.com/4A3RgXcSt8

— #XforASG (@RedSox) July 8, 2015
Brock Holt, Boston's lone All-Star thus far, posed with a sign expressing support for Bogaerts.
For the entirety of batting practice on Wednesday, there was a big message on the scoreboard at Fenway Park that said, "#XFORASG" VOTE XANDER ONLINE AT MLB.Com TEXT "A1" to 89269". The Red Sox also put down chalk reading, "#XforASG", behind home plate.
Voting is open now at MLB.com to select the final player for each League's 34-man roster via the 2015 Esurance MLB All-Star Game Final Vote. Fans can cast their votes from a list of five players from each League until 4 p.m ET on Friday.
To receive the 2015 Esurance MLB All-Star Game Final Vote mobile ballot, text the word VOTE to 89269 (USA) or 101010 (Canada). Message and data rates may apply. Up to five messages may be received following your vote. Text STOP to opt-out at any time. For help, text HELP.
To cast your mobile vote for Bogaerts, text A1 to 89269.
The 2015 Esurance MLB All-Star Game Final Vote (#FinalVote) will include a social balloting element as Twitter support from candidates' fans over the last six hours of balloting will count toward such candidates' final vote totals. From 10 a.m. to 4 p.m. on Friday, any public tweet that includes a hashtag designated for a candidate will be tabulated as part of that candidates' overall Final Vote total used to determine the AL and NL winners.
During the Midsummer Classic in Cincinnati on Tuesday, fans can once again visit MLB.com to submit their choice for the Ted Williams Most Valuable Player Award presented by Chevrolet. Voting exclusively at MLB.com, online and via their mobile devices in the 2015 All-Star Game MVP Vote presented by Chevrolet, the fans' collective voice will represent 20 percent of the overall vote that determines the recipient of the Arch Ward Trophy.
MLB.TV Premium subscribers will be able to live stream the All-Star Game via MLB.TV through FOX's participating video providers. Access will be available across more than 400 supported MLB.TV platforms, including the award-winning MLB.com At Bat app. MLB.com will provide extensive online coverage of the All-Star Week festivities, including the 2015 Gillette Home Run Derby presented by Head & Shoulders, part of Gatorade All-Star Workout Day on Monday. The Derby will feature a new format with brackets and timed rounds and will be broadcast live by ESPN and MLB.com beginning at 8 p.m.
The 86th All-Star Game will be televised nationally by FOX Sports (7 p.m. air time, 8:15 first pitch), in Canada by Rogers Sportsnet and RDS, and worldwide by partners in more than 160 countries. ESPN Radio and ESPN Radio Deportes will provide exclusive national radio coverage of the All-Star Game. MLB Network and SiriusXM will also provide comprehensive All-Star Week coverage. For more information, please visit allstargame.com.
Ian Browne is a reporter for MLB.com. This story was not subject to the approval of Major League Baseball or its clubs.