Despite no-decision, Teheran sharp on road
Braves righty puts together satisfying start to carry him into All-Star break
MILWAUKEE -- Julio Teheran concluded the first half of this season with two encouraging starts. But given how frustrating these past three months have been for the right-hander, it might have been fitting that his latest effort went unrewarded during Wednesday afternoon's 6-5 loss to the Brewers at Miller Park.
Carlos Gomez's three-run home run in the eighth inning off Luis Avilan denied Teheran what would have been a much-deserved win, but it did not weaken the confidence the Braves hurler has regained while looking more like himself during his past two starts.
"It has been a rough up-and-down first half, and it's nice to have the last two [starts] before the break," Teheran said. "It's nice to have a good one so that you can take that into the next half."
When Teheran limited the Phillies to one unearned run over seven innings last Friday, it was easy to think he simply extended his success at Turner Field by taking advantage of a weak lineup. But as he spent Wednesday limiting a recently productive Brewers offense to two hits (both homers) and three runs over seven innings, he halted his maddening road woes and more importantly proved he is still willing to fight to regain the successful form he had before this season.
"I think there has been some progress there," Braves manager Fredi Gonzalez said. "It has been nice to see."
As Teheran heads into the All-Star break with a 4.56 ERA, there are still some concerns about his delivery, which seemed to bother him as he issued consecutive one-out walks in the first inning and again in the fourth, just before he surrendered a monstrous Khris Davis two-run homer that fueled the Brewers' comeback.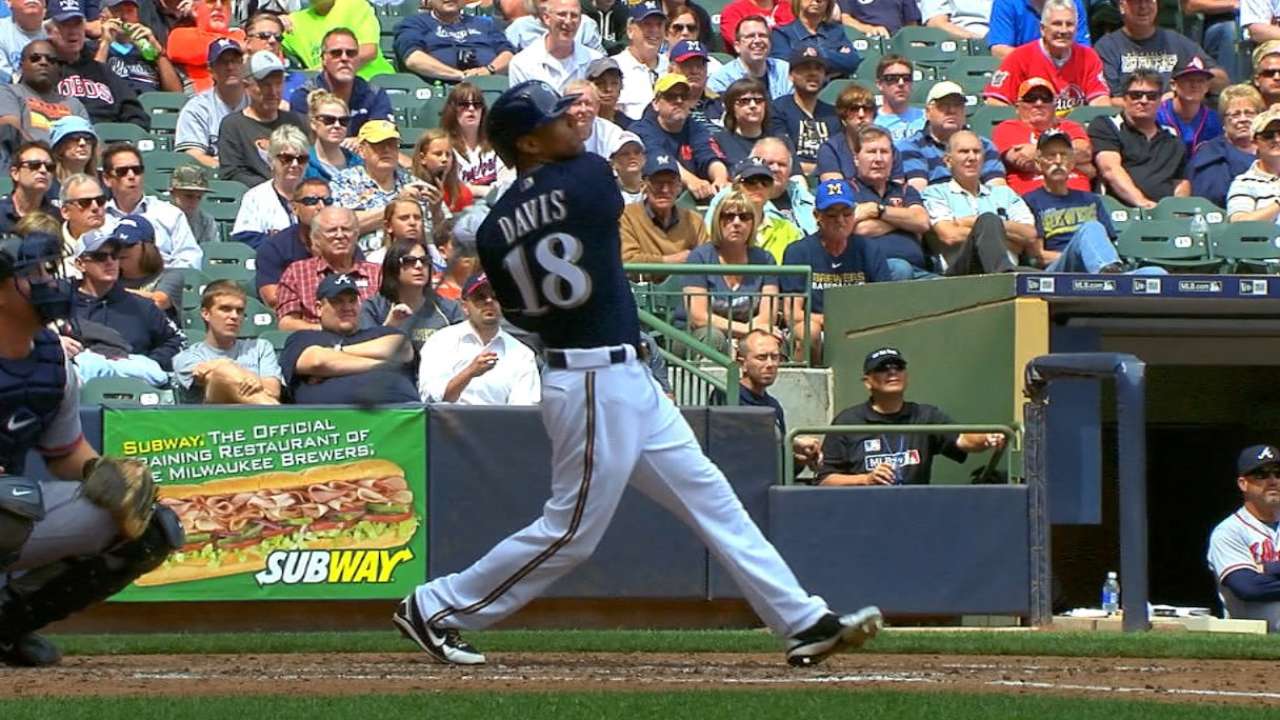 Teheran's only other costly mistake was committed in the sixth, when he surrendered a solo shot to Gomez who, like Davis, hit his home run on a 2-0 pitch.
"Sometimes, it takes a little kick in the pants for him to flip the switch and get angry and get real competitive," Braves catcher Ryan Lavarnway said.
After issuing the two walks in the first inning, it looked like Teheran might extend the woes that had led him to produce a 7.40 ERA in his previous nine road starts. But he showed some of that anger as he escaped this threat and also bucked the trend that had led him to enter Wednesday with the alarming reality that left-handed hitters were batting .313 with a .393 on-base percentage against him.
Teheran quieted the first-inning threat by retiring Adam Lind, one of Milwaukee's three lefties who went hitless in eight at-bats against the Braves righty. While focusing on not allowing his two-seam fastball to drift back over the middle of the plate like it frequently had the past few months, Teheran limited left-handed hitters to four hits in 28 at-bats over his past two starts.
"I've been working really hard [on my approach] against left-handers," Teheran said. "Everything I've been doing is working."
Mark Bowman is a reporter for MLB.com. This story was not subject to the approval of Major League Baseball or its clubs.