Marte's injury complicating things for Pirates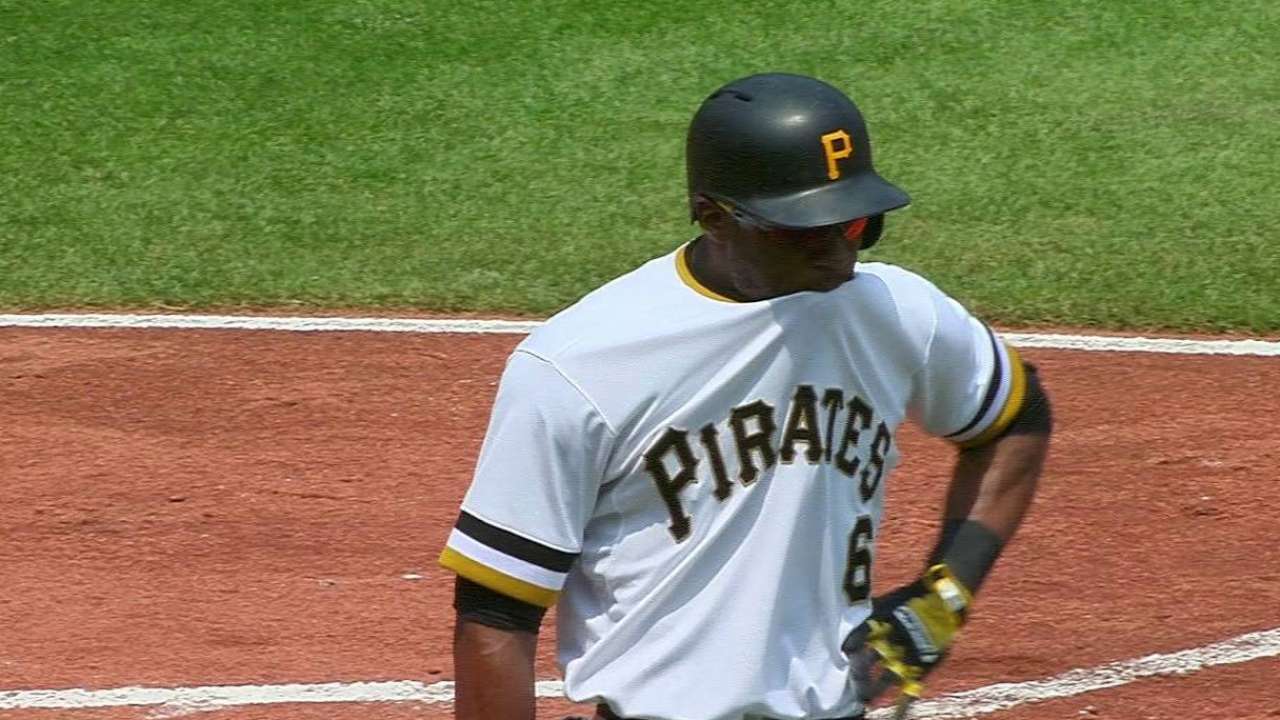 PITTSBURGH -- Pirates left fielder Starling Marte is feeling better after three days of rest and treatment, but it still could be a while before he returns to the Bucs' starting lineup.
Marte said the pain in his left side is subsiding somewhat, enough so that it doesn't hurt when he breathes anymore. But as of Wednesday afternoon, he hasn't taken part in any on-field activities, hitting or running since leaving Sunday's game in the middle of an at-bat.
"I want to make sure everything, how I feel is comfortable," Marte said. "If we can play, I'll play. If we need one more day, I'll wait for it. ... It's hard right now, because I know the team needs me on the field. But I need to be OK."
Marte indicated that he'd been playing with some pain in the area for a few weeks, but one swing Sunday made the pain significantly worse.
The pain and tightness Marte is feeling between his ribs and his left oblique no longer reminds him of the injury he experienced three years ago, when he went to the disabled list with a strained right oblique.
"It's pretty different, but I still feel this," Marte said. "Everybody knows I can play with some [pain] in my body. But this is very different. ... But now I feel better."
With Marte sidelined but not disabled, and Josh Harrison on the DL with a left thumb injury, Pirates manager Clint Hurdle has to make due as he fills out his lineup card each day.
The Pirates have started the same group of players in each of the past three games, with the lone exception of subbing in Chris Stewart for Francisco Cervelli behind the plate Tuesday night.
Versatile utility man Sean Rodriguez has served as Marte's immediate replacement in left field, allowing Hurdle to keep Gregory Polanco in right field.
"Rodriguez makes plays," Hurdle said.
The Pirates' current situation has Hurdle recalling his days as a Minor League manager, when he might have had only nine hitters available for a game. And that's not necessarily a bad thing for Pittsburgh.
"In my mind, it's going to simplify things for a while. Just let 'em play, see where it takes us," Hurdle said. "If we have to adjust off this because of lack of production in certain areas, we will. I kind of looked at it that way.
"Sometimes that's when teams will go on their best runs because you can't get in the way. They get to actually play and not be managed for two weeks. Sometimes teams get incredibly hot when they can eliminate the manager."
Adam Berry is a reporter for MLB.com. Follow him on Twitter at @adamdberry. This story was not subject to the approval of Major League Baseball or its clubs.