Myers talks celebrity encounters, returning to field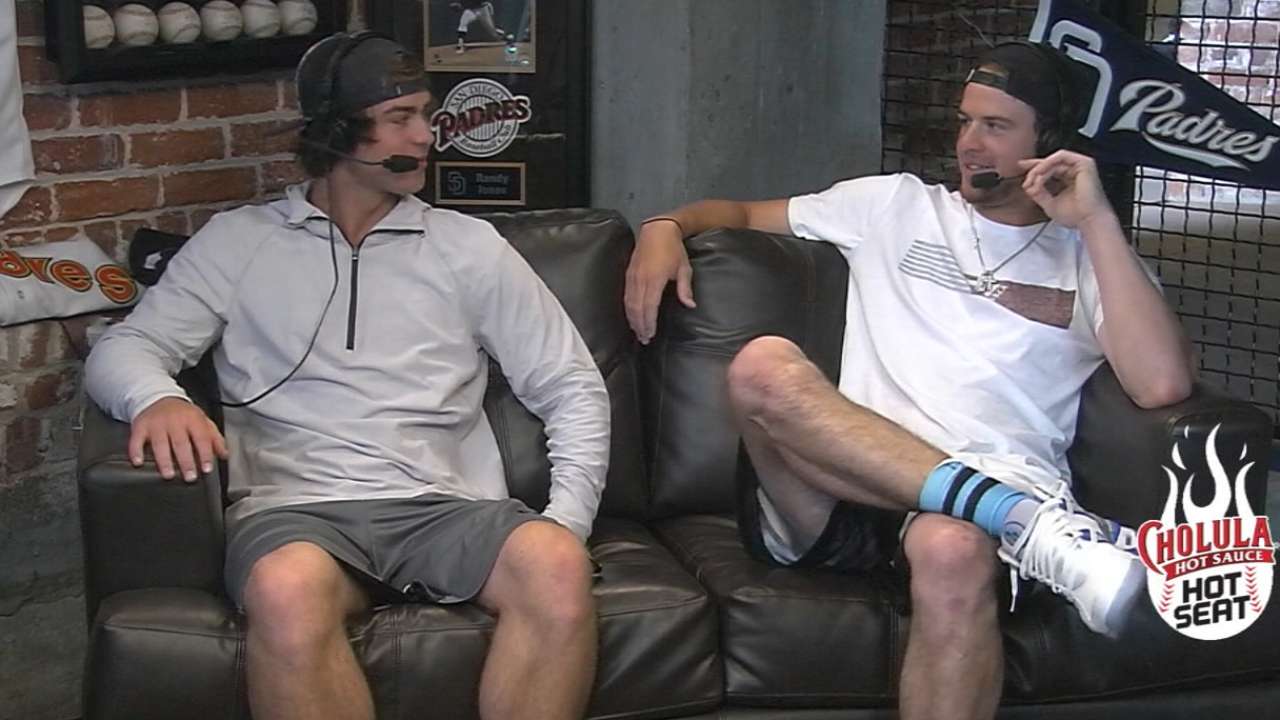 Padres outfielder Wil Myers and his brother, Beau, stopped by Padres Social Hour on Tuesday to discuss their recent encounter with comedian Conan O'Brien and some of the ongoing events in the outfielder/first baseman's life since hitting the DL with tendinitis of the wrist. When asked about playing a round of MarioKart with Conan at the downtown "Conan-Con HQ," Myers was pleased to share his thoughts on meeting with the famous late night comic. "It was pretty cool," said Myers. "We weren't sure if Conan was actually going to come, but it was a lot of fun. He was a great dude and we had a great time - Beau had a fun time too and we took some pictures to send to our parents."
Myers, who has already had the opportunity to meet another well-known comedian during Spring Training, was asked which encounter was his favorite: playing video games with Conan O'Brien or playing baseball with Will Ferrell? "Oh definitely playing in the outfield with Will Ferrell. If there was anyone I'd want to meet, it would be him. I got to spend like ten minutes one-on-one talking to him for an HBO show… it was really cool."
Fortunately for Myers and the Padres, his life isn't just filled with celebrity appearances and video games as he has already started the careful process of returning to the lineup after undergoing wrist surgery. Myers actually got the go-ahead to start working his way back earlier this week and so far all signs point in a positive direction. "Everything feels good right now," said a smiling Myers. "I just started strengthening on (Monday) for the first time, and I'm going to Arizona before the All-Star Break ends to see a doctor and get the OK to take some light swinging and get back into some baseball activity."
To find out more about Myers' thoughts about life on the DL, his quest to find the perfect Mexican food in San Diego and his thoughts on the comic book world as Comic-Con approaches San Diego, then be sure to watch the entire interview! And for more interviews, highlights and Padres content just like this, be sure to check out padres.com/socialhour.