Bench leads youth clinic at Cincinnati UYA
Hall of Famer teams with fellow MLB alums to help teach kids baseball skills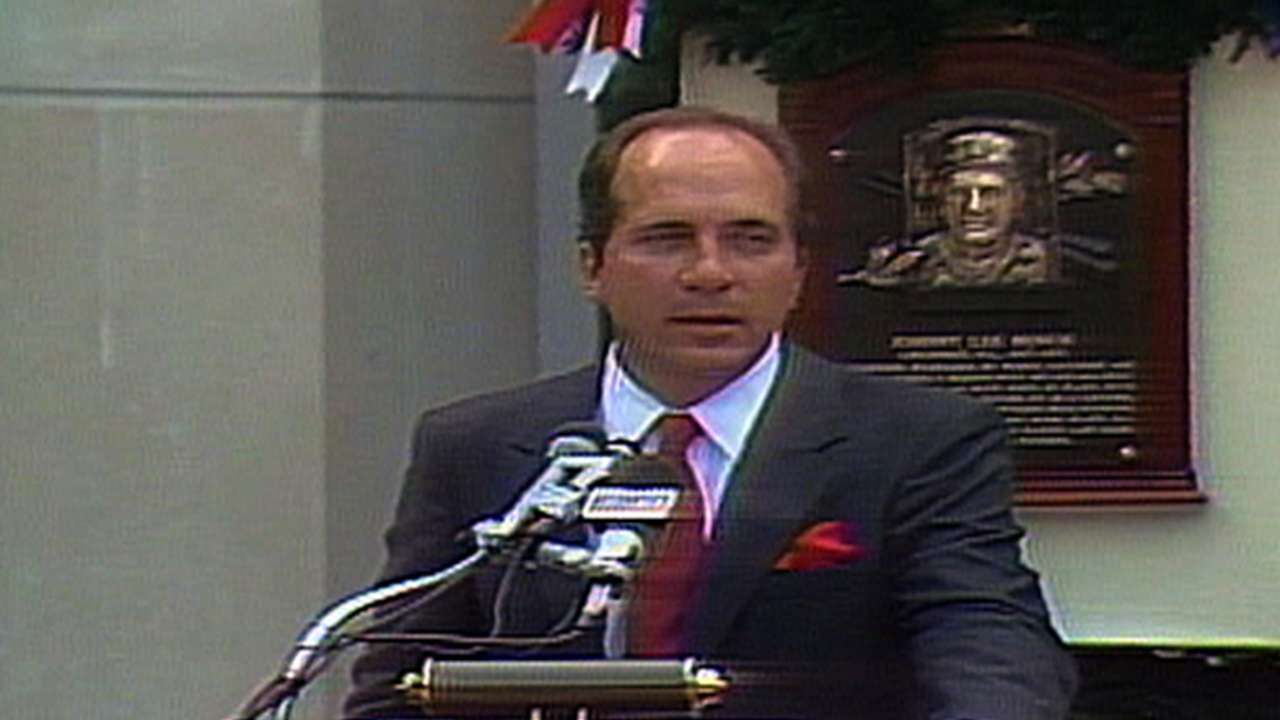 CINCINNATI -- Hall of Famer Johnny Bench made a name for himself in the Queen City, and he was back in town Wednesday to help lead a youth clinic for members of the Boys & Girls Club of Greater Cincinnati.
"You need communities to wrap themselves around, and they always do wrap themselves around the kids," Bench said. "The Boys & Girls Club is just an ideal place to do that, so when you start getting clinics that will actually teach kids positions, teach kids techniques, teach those young kids respect for the game and the integrity of what it means to play for a team and play together, that's the one thing. It won't happen for everybody today, but hopefully it will grab some of those kids."
Bench, along with other Major League Baseball Players Alumni Association members such as Reds Hall of Famer George Foster, were instructors for the Cal Ripken Sr. Foundation clinic. The event featured baseball drills, including throwing, hitting, fielding and pitching.
Approximately 125 members of the Boys & Girls Club of Greater Cincinnati participated in the clinich at the P&G Cincinnati MLB Urban Youth Academy. The clinic, which was sponsored by Bank of America, also provided participants with a free lunch, gift bags and baseball equipment.
Brent Seelmeyer, president of the Boys & Girls Club of Greater Cincinnati, was excited about the children learning from former Major League players, who may have came from similar backgrounds. Seelmeyer said he hoped the event would inspire the children and give them the ability to set goals.
"What I think our kids are going to take away from this event is, No. 1, being inspired," Seelmeyer said. "The things that I've learned about our kids [is they] are incredibly resilient. Our kids, by and large, are coming from disadvantaged circumstances. They live in our most vulnerable neighborhoods. That's why Boys & Girls Clubs are in those neighborhoods, and this helps teach them to strive for things, to set goals."
Dante Davis, 15, was one of the many children who participated on Wednesday. Davis said he had never played baseball before, but he enjoyed playing the game throughout the event.
"I thought it was fun," Davis said. "It was a good experience for young children and inspired young people to play baseball."
Bench hopes the event will leave a lasting impact on the children who participated and that it will inspire them to one day give back to their communities.
"There's [30] teams now, so we're going to wind up to be lucky in 33 years to have [the All-Star Game] again," Bench said. "So a lot of these kids will be my age -- well not my age, [but] maybe 33 years from now they'll say, 'You know what? We need to do something, because somebody did something for us.'"
Robert Bondy is a reporter for MLB.com. This story was not subject to the approval of Major League Baseball or its clubs.