ASG hopeful Dozier shows off speed, power
After two steals in first inning, Final Vote candidate homers in sixth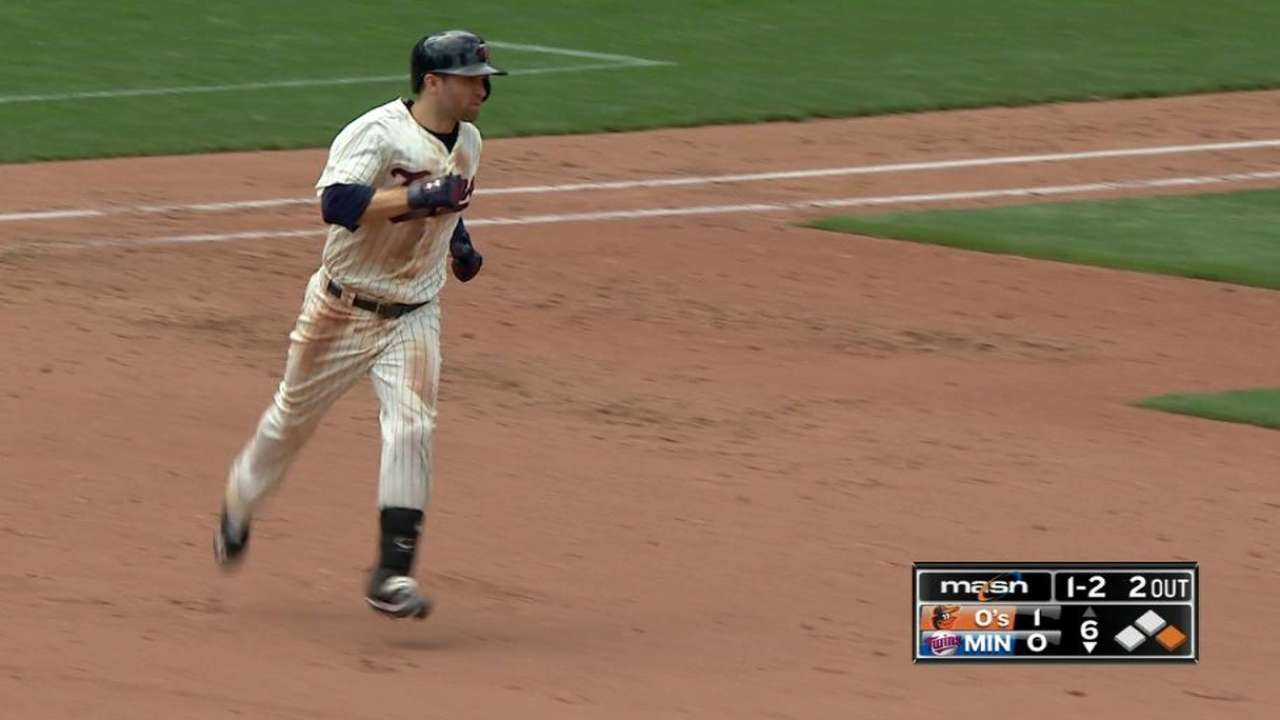 MINNEAPOLIS -- After hitting a walk-off two-run homer on the same day he was named an Esurance MLB All-Star Game Final Vote candidate, Brian Dozier made another statement Wednesday, crushing a go-ahead two-run homer in the sixth inning of a 5-3 win over the Orioles.
With Minnesota trailing by a run and Eric Fryer on first base, Dozier hit a 2-2 fastball from Baltimore reliever Bud Norris over the left-field wall for his team-leading 18th homer. The long ball, which gave the Twins a 2-1 lead, was his American League-leading 47th extra-base hit.
"I hope people pay attention," Twins manager Paul Molitor said. "Sometimes it's more of a popular vote than a performance vote. The other candidates are certainly worthy, and that's why they're there. For his leadoff position, the numbers he has, and defensively, you couldn't ask for more for a first-half performance. I hope he gets rewarded with a chance to go to Cincinnati. We can't control that other than that I have my vote in. So we'll see what happens."
MLB announced on Wednesday morning that Kansas City's Mike Moustakas is in first place among the five AL candidates with 7.5 million votes, with Dozier closely behind him. The Twins sparkplug ranks ahead of Detroit's Yoenis Cespedes, the Yankees' Brett Gardner and Boston's Xander Bogaerts.
Dozier's homer was followed by a solo shot from Joe Mauer, giving the Twins back-to-back homers for the first time this season. The last time it happened was Aug. 22, 2014, when Oswaldo Arcia and Trevor Plouffe did the honors in a 20-6 win over the Tigers.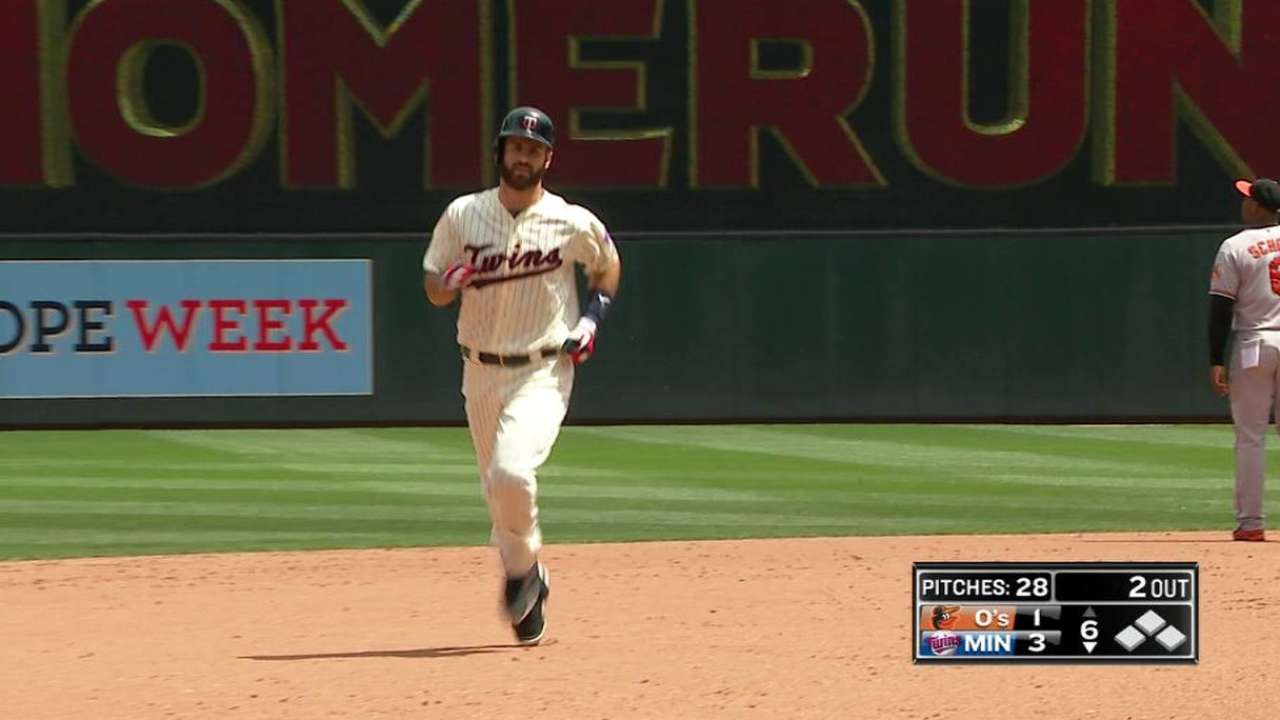 Dozier earlier singled in the first inning and stole second and third base, giving him nine steals on the season. He said Orioles right-hander Ubaldo Jimenez was slow to home plate, giving him a chance to steal both bases.
"He's about a 1.3 or 1.4 [seconds to home plate], and if you have a guy who is about a 1.3, you get the green light to run every time," Dozier said. "So I saw a couple things when he came set and some tendencies, and decided to take off."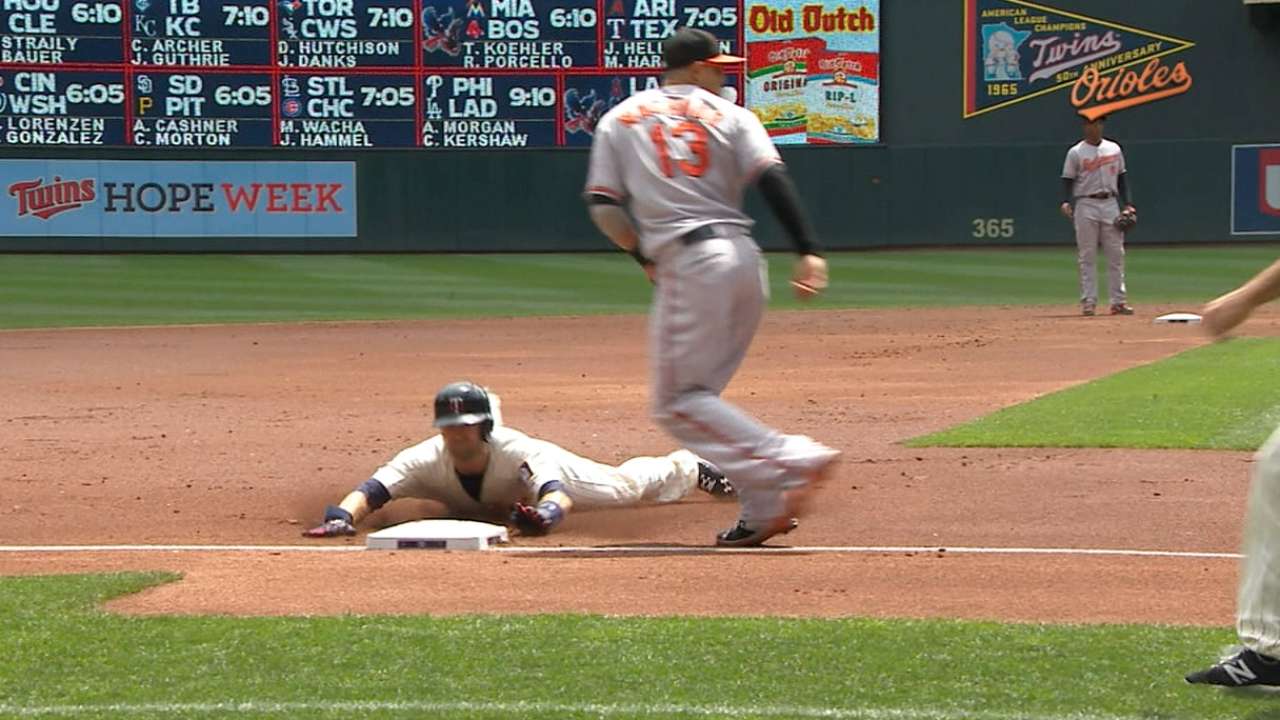 Dozier went 2-for-5 at the plate and helped the Twins to a three-game sweep that included his walk-off blast on Monday. It caused Orioles manager Buck Showalter to joke he wished Dozier wasn't trying to make his case at the moment.
"I'll be glad when the voting's over," Showalter said. "I wish the voting was over before we got here."
Rhett Bollinger is a reporter for MLB.com. Read his blog, Bollinger Beat, follow him on Twitter @RhettBollinger and listen to his podcast. This story was not subject to the approval of Major League Baseball or its clubs.