No. 3 prospect Walker gets shot for Orioles
DH has hit lefties well in Minors; Gausman to keep up routine at Triple-A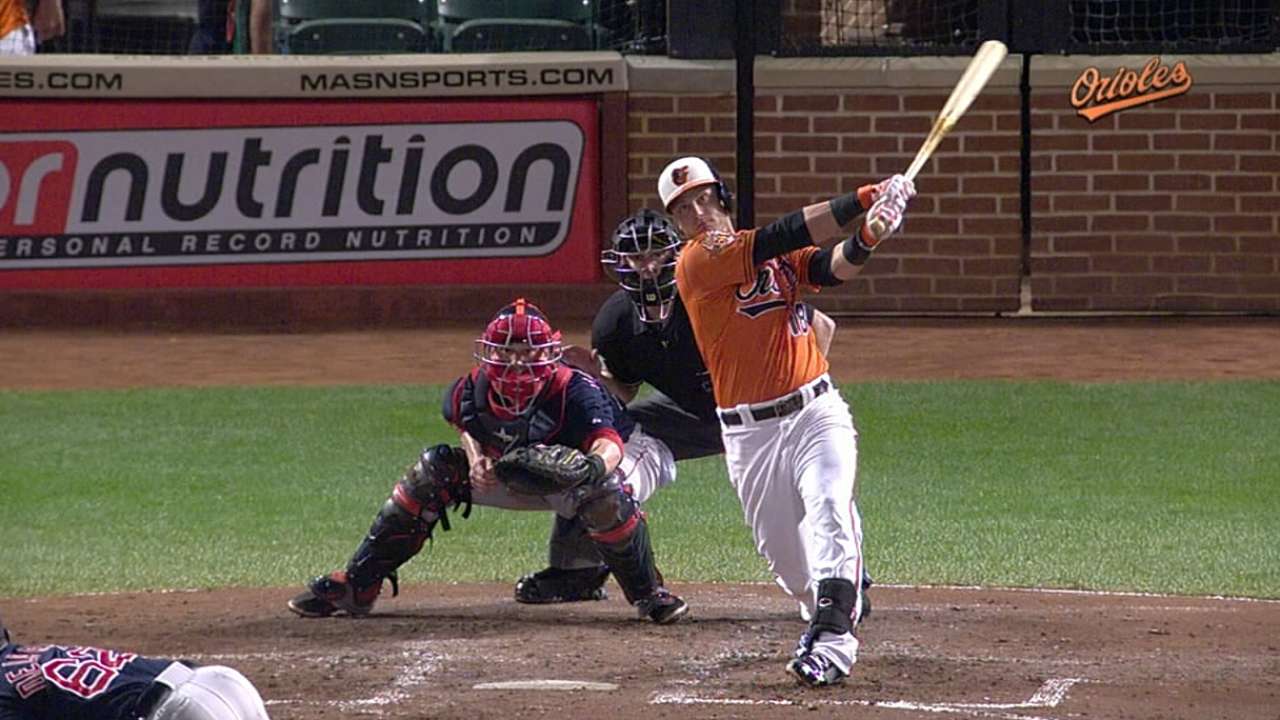 MINNEAPOLIS -- In an effort to keep him in a routine, the Orioles optioned starter Kevin Gausman to Triple-A Norfolk after Tuesday's start. The player who replaced him is No. 3 prospect Christian Walker, who started on Wednesday as Baltimore's designated hitter.
Walker went 1-for-2 with a single and a walk in Baltimore's 5-3 loss to Minnesota. After the game, he was optioned back to Norfolk. The O's will activate Nolan Reimold from the paternity list on Friday
Gausman will start for Norfolk on Sunday, and O's manager Buck Showalter expects him back after the All-Star break.
"[Gausman] and we wanted him to stay on his turn, and it wouldn't be very smart if we didn't get a player for a day," Showalter said. "Every day counts."
Walker, who made his Major League debut last September, is hitting .266 with five homers and 28 RBIs in 78 games at Triple-A Norfolk.
"It's never a surprise," Walker said of his callup. "It's always a goal. That's the whole motivation for us there in Triple-A. You try to stay positive all the time regardless of what's happening on the field, and fortunately some good things have happened."
Walker, who batted fifth against Twins lefty Tommy Milone, has a .310/.351/.494 slash line against southpaws.
"The roster really didn't figure into it. It never does for us. We're going to take the best guy," Showalter said. "Once in a while, you bring in a guy for just one game. … I think it's good to kind of throw them a bone, but we're also doing it because we think it gives us a better chance to win today's game."
Showalter said Gausman brought the idea to pitching coach Dave Wallace that he would like to keep working through the break.
"We thought that one of our starting pitchers would go out during the break," Showalter said. "We've done that every year to make our team better before and after the break."
Gausman leaves the Orioles after the shortest start of his young career. Though he threw just 3 2/3 innings Wednesday, Showalter said they didn't consider bringing up a bullpen arm. The decision had already been made to bring up Walker, and with an off-day Thursday and Bud Norris in the 'pen, another pitcher wasn't necessary.
This season, Gausman is 1-1 with a 5.00 ERA in 11 games, including three starts.
"It's what's best for Kevin, No. 1, which is what's best for the Orioles," Showalter said. "Just keep the ball in his hand every fifth day."
Betsy Helfand is an associate reporter for MLB.com. This story was not subject to the approval of Major League Baseball or its clubs.