Rookie Sano plays third after 6 games at DH
Twins intend to enhance young slugger's versatility in the field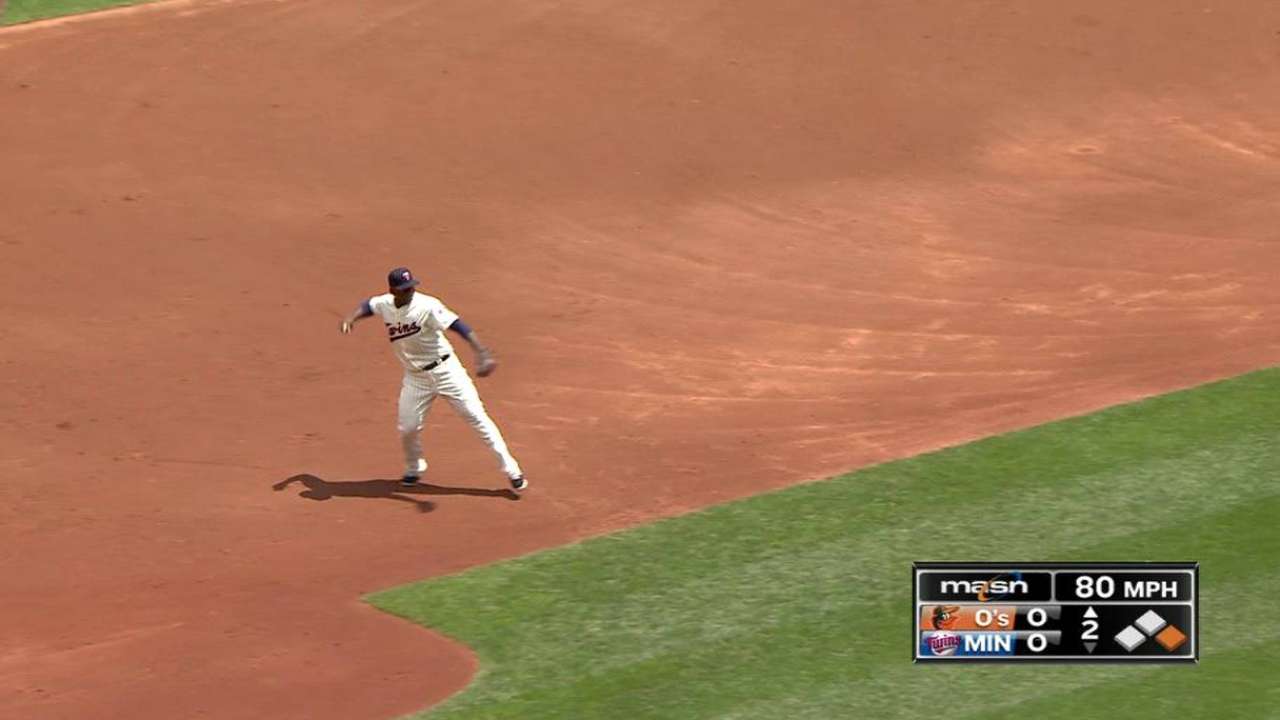 MINNEAPOLIS -- After six games at designated hitter to open his MLB career, No. 2 prospect Miguel Sano made his first start at third base in Wednesday's 5-3 win over the Orioles.
Batting cleanup, Sano went 1-for-2 with two walks, raising his average to .455. Sano now has hits in all seven of his MLB games. He also fielded all three chances at third base without any issues.

"He had three chances, and it was pretty seamless," Twins manager Paul Molitor said. "He didn't rush and he didn't panic. He was looking in to get help positioning, which is the right thing. Everything went well for him, and he had another good day with the bat again. He took a couple walks, lined the ball to center and had a base hit to right."
The Twins shuffled their infield to get Sano his first defensive action, as Trevor Plouffe moved across the diamond to first base and Joe Mauer started at designated hitter. Molitor said he plans to mix Sano in at third base here and there.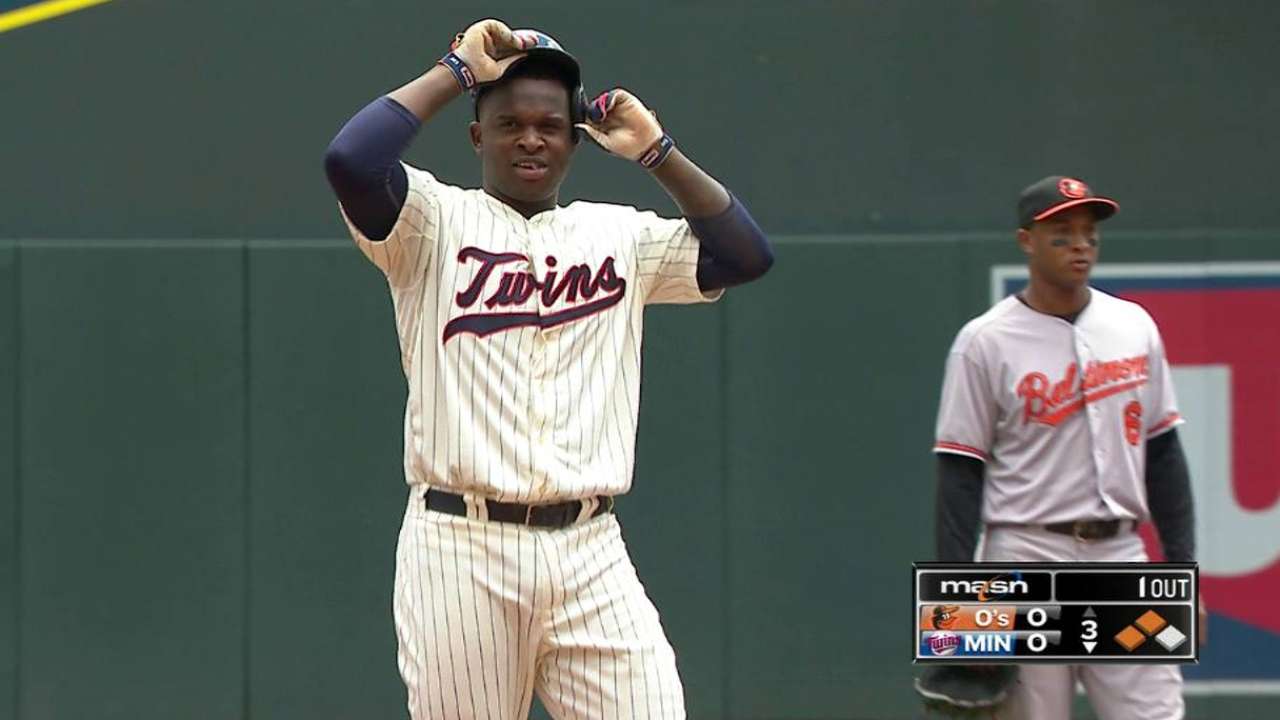 "We told him initially that most of his at-bats were going to be in the DH spot because of our personnel, so that's why we're trying to expand what he can do in the field," Molitor said. "But we want to get him out there now and then. We talked about how, in this stretch of 17 games, about how we can get guys a break in that regard."
While serving as DH, Sano has worked before every game on his third-base positioning and footwork with the coaching staff. He's also getting reps at first base, and he is expected to start taking fly balls in the outfield to increase his versatility.
Sano, 22, started 63 games at third base with Double-A Chattanooga this season. He has only seen action at first base once in his career, back in 2012.
Sano made 15 errors in 169 chances at third base with Chattanooga, but most of those came early in the season, when he was still shaking off the rust after missing last season following Tommy John surgery on his right elbow. Molitor said he's worked with Sano on his defense in his former role as a Minor League instructor, and he believes Sano has the tools to stick at the position.
"I've seen him at third base to know he's plenty athletic over there," Molitor said. "Like a lot of guys in the infield up here, the pace of the game gets fast. So we'll just have to keep slowing him down and get him in the right spot to make the plays."
• Catcher Eric Fryer, who was recalled from Triple-A Rochester after Tuesday night's game, was thrown right into the fire on Wednesday, starting behind the plate and batting eighth. Fryer, 29, is known for his defense, but he was also having a nice year offensively, batting .299/.385/.354 with a homer, six doubles and 16 RBIs in 51 games. Chris Herrmann was optioned to Rochester to make room for Fryer on the roster.
"I like Eric Fryer a lot," Molitor said. "He's a talented player and a hard worker. His last day of professional baseball, he'll have no regrets, because he doesn't let any stones go unturned. He's had a nice year down there. We've always had a lot of confidence in his defensive game with his pitch blocking, calling and throwing, but offensively, he's worked hard at becoming a better hitter."
Rhett Bollinger is a reporter for MLB.com. Read his blog, Bollinger Beat, follow him on Twitter @RhettBollinger and listen to his podcast. This story was not subject to the approval of Major League Baseball or its clubs.