Dozier the catalyst as Twins sweep O's
Final Vote candidate's go-ahead homer backs Milone's solid outing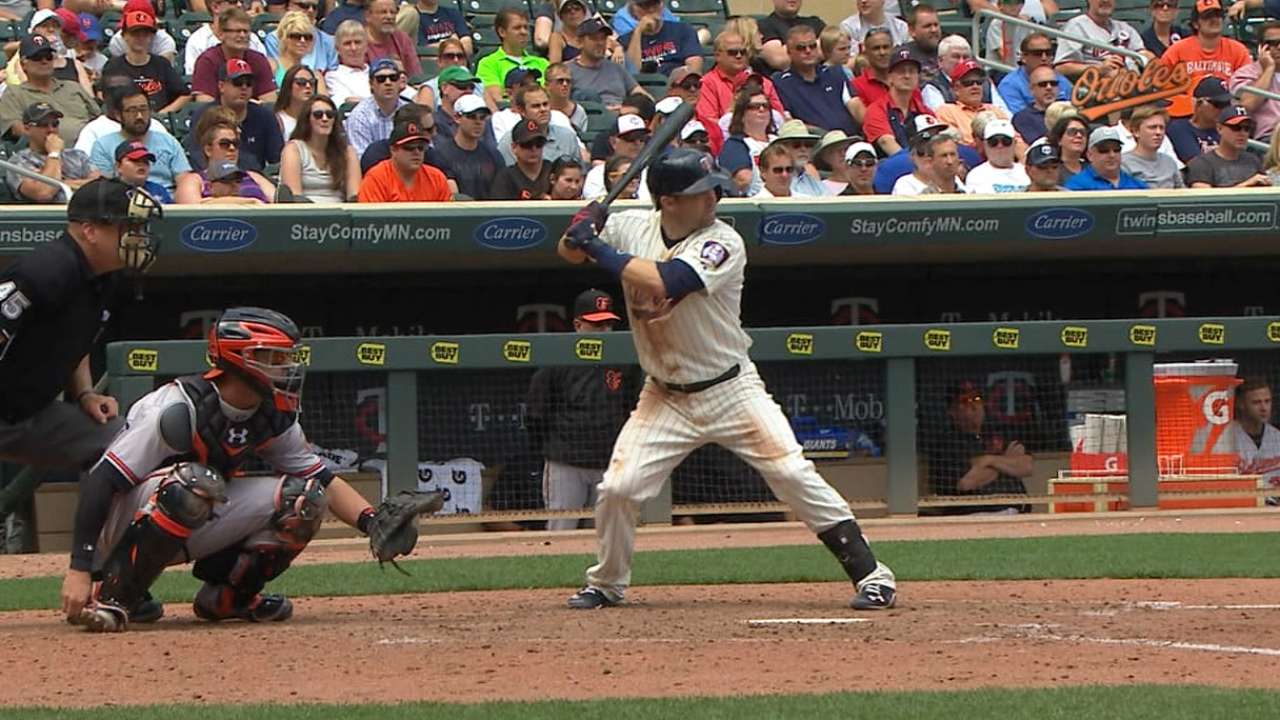 MINNEAPOLIS -- Left-hander Tommy Milone turned in his sixth straight quality start and was backed by back-to-back homers from Brian Dozier and Joe Mauer, helping the Twins complete a three-game sweep over the Orioles with a 5-3 win on Wednesday afternoon at Target Field.
Orioles right-hander Ubaldo Jimenez pitched his way out of several jams whlie tossing five scoreless innings, but he did not factor into the decision. Bud Norris relieved him in the sixth, and gave up a go-ahead two-run blast to Dozier, who is second in the Esurance MLB All-Star Game Final Vote standings. Dozier also had a pair of steals in the first inning.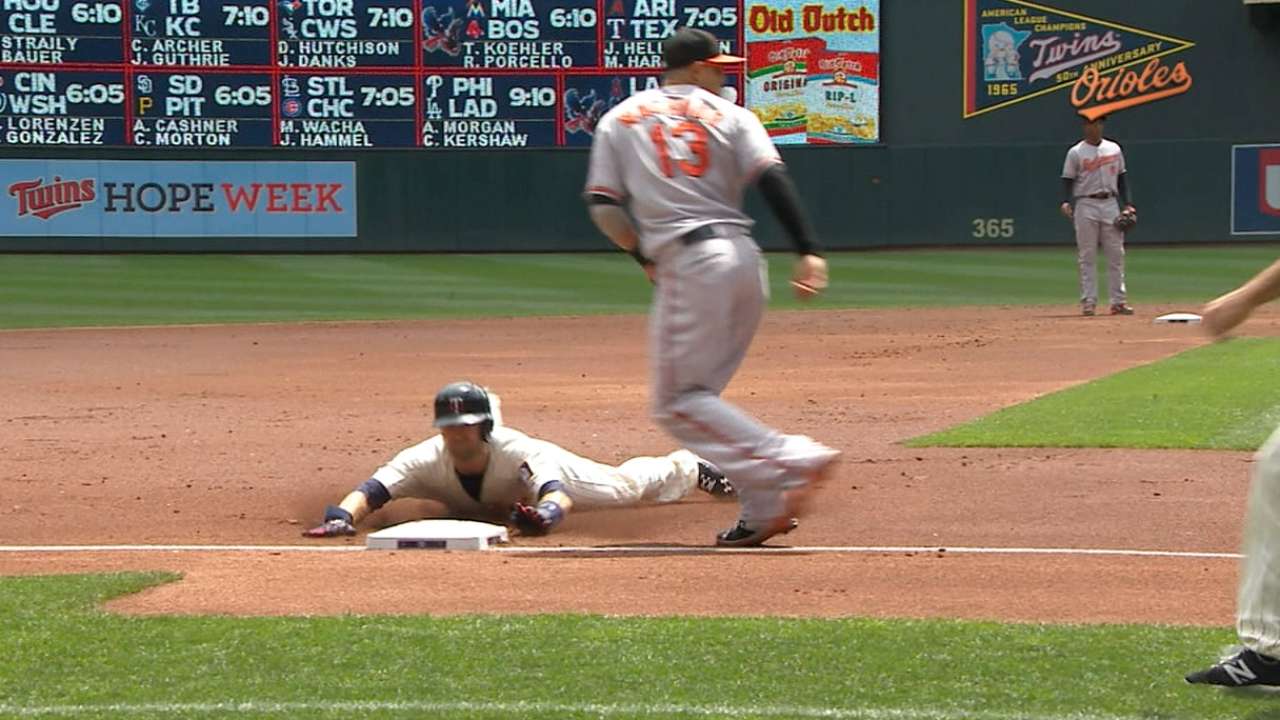 "Dozier's been swinging a real hot bat. It was a mistake he hit," Norris said. "Still, I had two strikes in the count. ... Unfortunately, he punished a mistake I made."
Mauer followed with a solo blast to give the Twins back-to-back homers for the first time this season.
Milone has been on a roll since replacing Ricky Nolasco in the rotation, and he kept it going against the Orioles. The southpaw gave up just one run on five hits and two walks over seven innings. That run scored on a double-play grounder by J.J. Hardy in the fourth.
Eric Fryer, who was recalled from Triple-A Rochester to make his season debut, gave Minnesota two more insurance runs with a two-run double off Chaz Roe in the seventh. It turned out to be important, as reliever Casey Fien served up back-to-back solo shots to Manny Machado and Chris Davis to open the eighth.
Glen Perkins closed it out for the Twins with his 28th save of the season.
"Overall, it was a good game and we pitched well enough," Twins manager Paul Molitor said. "It was great having Glen there at the end, continuing what he's been doing. But it was a good way to start our homestand by beating a pretty good team over there three times."
MOMENTS THAT MATTERED
Dozier, Mauer go back-to-back: The Twins entered the sixth without having scored a run, but Dozier came through with on a two-run homer off Norris. Mauer followed with a solo shot to left-center. It was the first time the Twins had back-to-back homers since Aug. 22, 2014, when Oswaldo Arcia and Trevor Plouffe did the honors in a 20-6 win over the Tigers.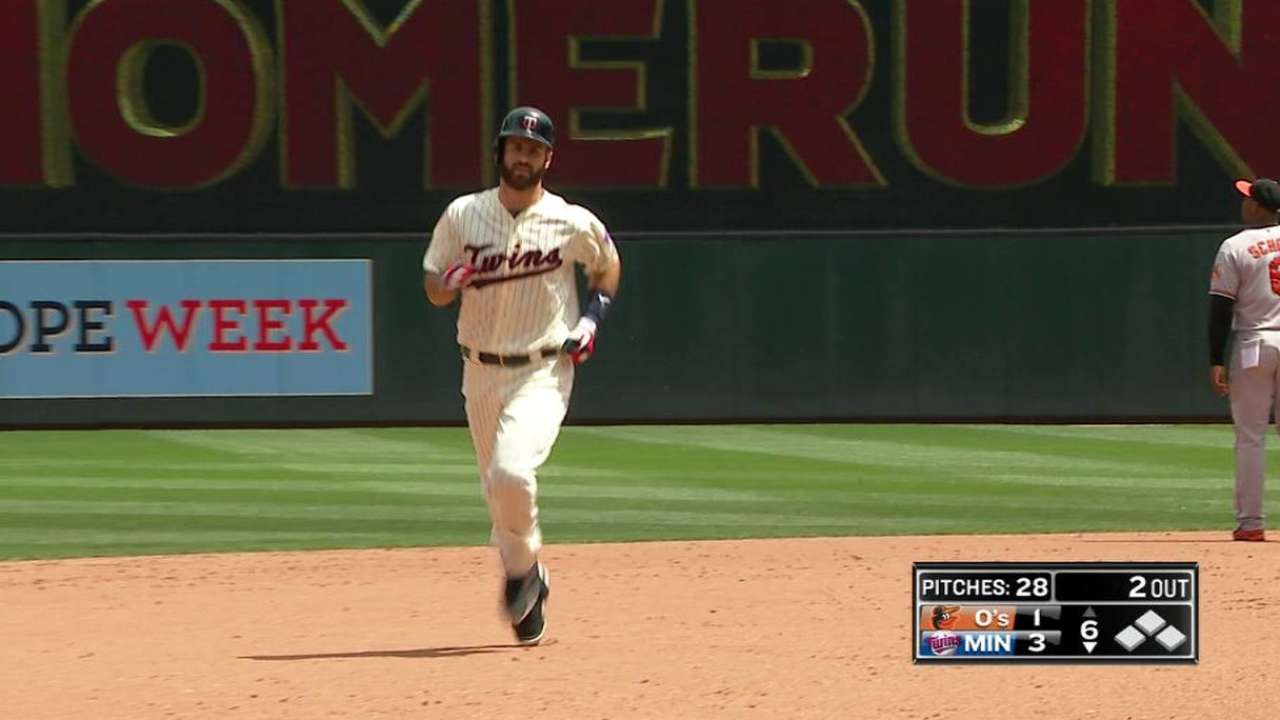 "We left a lot of runners on early in the game and got Jimenez's pitch count up there, but we couldn't get any runs off him," Molitor said. "But it can change in a heartbeat. We put together some good at-bats. Dozier got us the lead, and Joe followed it up." More >
Ubaldo pitches out of trouble: Jimenez worked through five innings, pitching into and out of jams. The Twins loaded the bases in the first inning, but the Orioles' starter struck outTorii Hunter and Eddie Rosario to end the threat. Minnesota was unable to muster a hit off him with runners in scoring position, going 0-for-10, but he was finished after 110 pitches.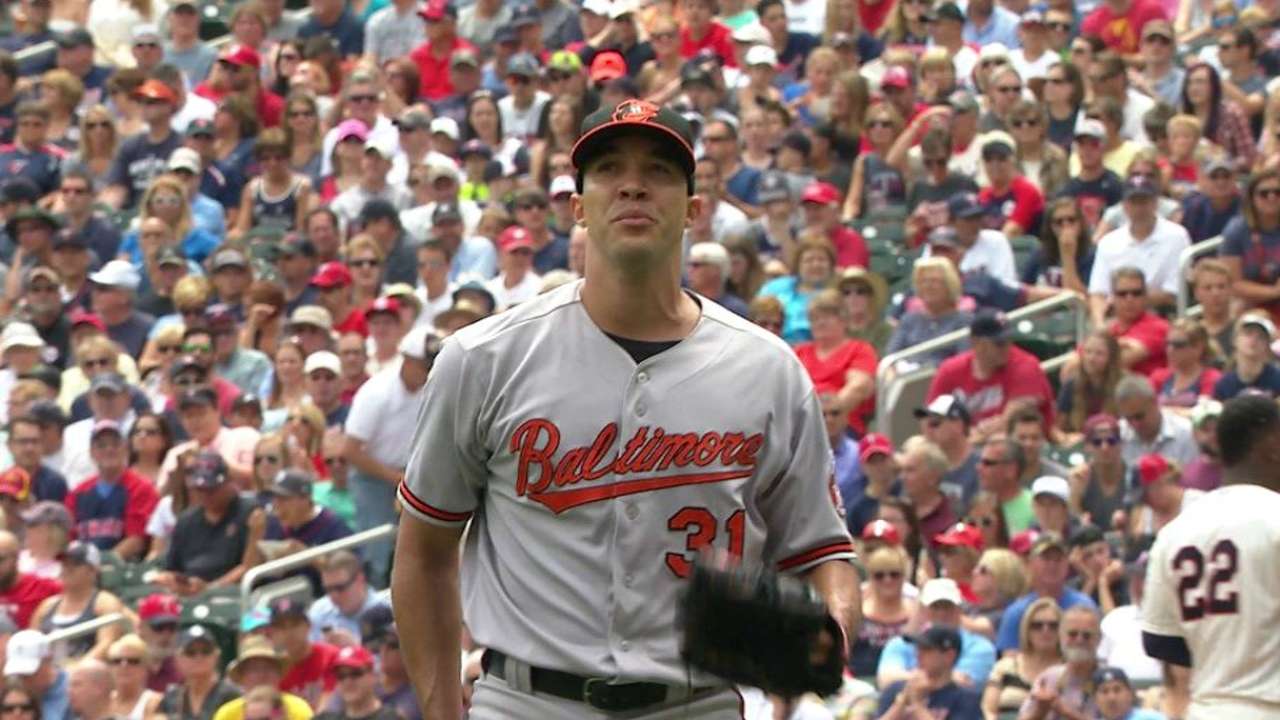 "Since the leadoff guy, it was really hard because they got on base," Jimenez said. "They find a way to get on base. It doesn't matter how. They work the count a lot. It seems like I [had] a 3-2 count on most of the hitters, and then I didn't have my breaking ball." More >
Milone quality once again: Milone continued his impressive run of pitching against the Orioles, allowing just one run over seven innings. The lefty has a 1.61 ERA over his past six starts and hasn't lost since April 27. Milone was visited by Molitor after a two-out walk put two runners on in the seventh, but he stayed in to face Caleb Joseph, who lined out to left field to end the inning.
"It was basically him coming out and having confidence in me," Milone said. "He asked if I wanted to stay in and face the last guy, and obviously I said, 'Yeah.'" More >
O's go back-to-back off Fien: Fien entered for Milone in the eighth and promptly surrendered back-to-back jacks to Machado and Davis -- for both, homer No. 19 -- to cut Minnesota's lead to two. But Fien didn't let Baltimore get any closer than that, shutting down the next three hitters in order.
QUOTABLE
"I'll be glad when the voting's over. I wish the voting was over before we got here."
-- Showalter on Dozier being a Final Vote candidate
"He's been doing that all year. He's already deserving enough to not only be on the [Final Vote] ballot, but to be a regular [All-Star]. It's exciting to watch. He's a good player, and he's been doing it for years now."
-- Milone on Dozier
SOUND SMART WITH YOUR FRIENDS
The Twins' sweep was their first over the Orioles since a four-game set on Aug. 23-26, 2007, at Camden Yards. It was their first three-game sweep over Baltimore since April 2-4, 2007, at the Metrodome.
WHAT'S NEXT
Orioles: The Orioles have a day off before starting a rivalry series with the Nationals at 7:05 p.m. ET on Friday. Chris Tillman is expected to get the start for Baltimore. After posting a 3.34 ERA last year, Tillman is 6-7 with a 5.57 ERA this season.
Twins: The Twins open a four-game series against the Tigers on Thursday at 7:10 p.m. CT. Right-hander Mike Pelfrey, who starts the series opener, has an 8.51 ERA over his last five starts.
Watch every out-of-market regular season game live on MLB.TV.
Rhett Bollinger is a reporter for MLB.com. Read his blog, Bollinger Beat, follow him on Twitter @RhettBollinger and listen to his podcast. Betsy Helfand is an associate reporter for MLB.com. This story was not subject to the approval of Major League Baseball or its clubs.