Tigers get uneven effort from bullpen
SEATTLE -- Ian Krol has a love-hate relationship with his cutter that might well represent the Tigers' bullpen as a whole.
When he needed to make a pitch on Kyle Seager, having just missed the outside corner on a fastball to run the count full with a runner on first base in the 10th inning, he went to his cutter and threw one of his nastiest pitches of the season. It acted like an 89-mph slider, and it sent Seager flailing at it as he fell off the plate.
That's the pitch he needed to make against Robinson Cano an inning later with runners at first and second. Instead, his cutter fluttered, and Cano blasted it off the right-field wall for a walk-off hit in a 7-6 Tigers loss.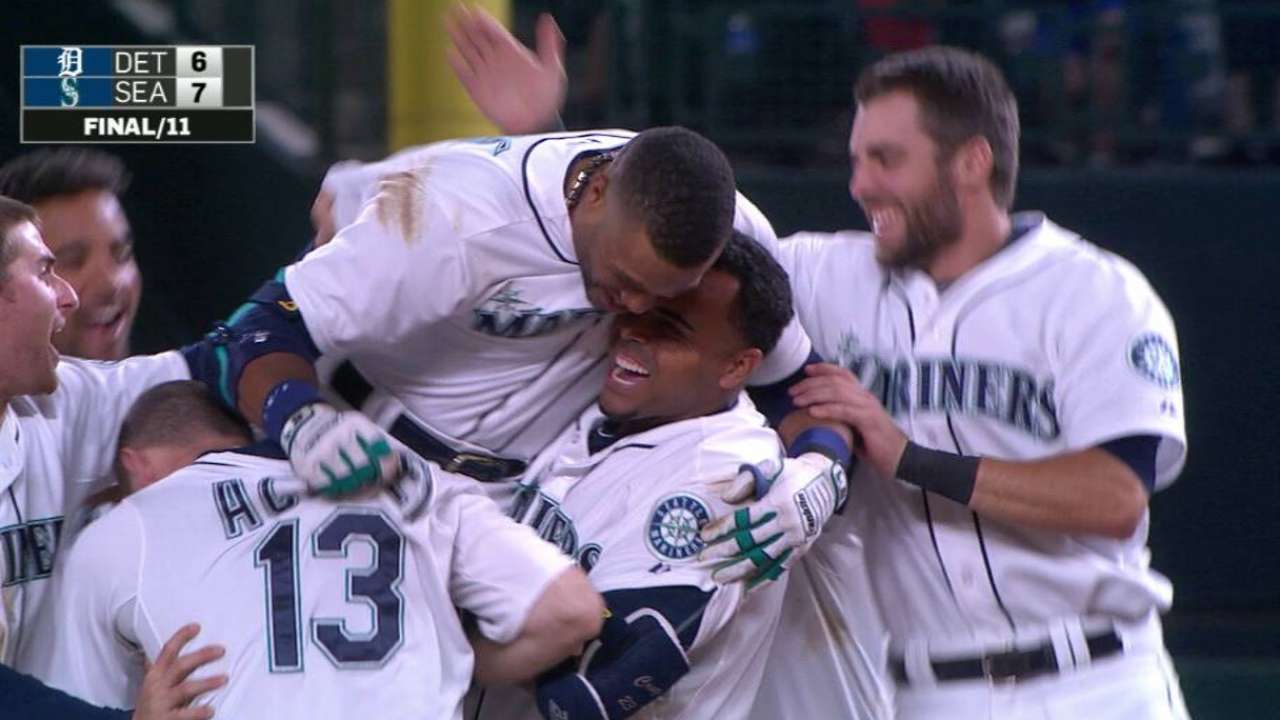 "It's always inconsistent," Krol shrugged. "Sometimes it acts like the pitch I threw to Robbie, and then sometimes it acts like the pitch I threw to Seager. … If it's in the right spot, [Cano] swings right over it. …
"It's something I've got to work on. I think the biggest thing for that pitch is just location. If I locate it, it's a great pitch."
It was the 140th and final pitch thrown by a Tigers reliever on Tuesday night, 99 more than starter Kyle Ryan tossed in his 2 2/3 innings of five-run ball. Detroit's bullpen threw 7 2/3 innings, allowing two runs while striking out seven, an effort equivelent to a quality start. In the end, it never got the run support it needed.
"We can't complain about the bullpen," manager Brad Ausmus said. "We just need to try to really push one more run over the last few innings of the game."
It was another instance in which Ausmus had to use his bullpen based on the situation and not by his preference. Alex Wilson, who had been taking more setup opportunities recently with Joba Chamberlain having been designated for assignment, instead had to be called upon for his old long-relief role, delivering 2 1/3 innings of four-hit, one-run ball over 44 pitches before finishing out the fifth.
Al Alburquerque pitched so effectively in the sixth inning that he delivered another, tossing two innings for the fourth time this year along with three strikeouts. This was the first time he delivered two perfect innings since last September.
Blaine Hardy and Bruce Rondon delivered a solid inning apiece, Rondon showing some development along the way once he had a runner in scoring position with one out in the ninth inning. Rondon battled Franklin Gutierrez for eight pitches, only one of them a fastball. The rest were sliders, including the 3-1 and 3-2 pitches Gutierrez swung over.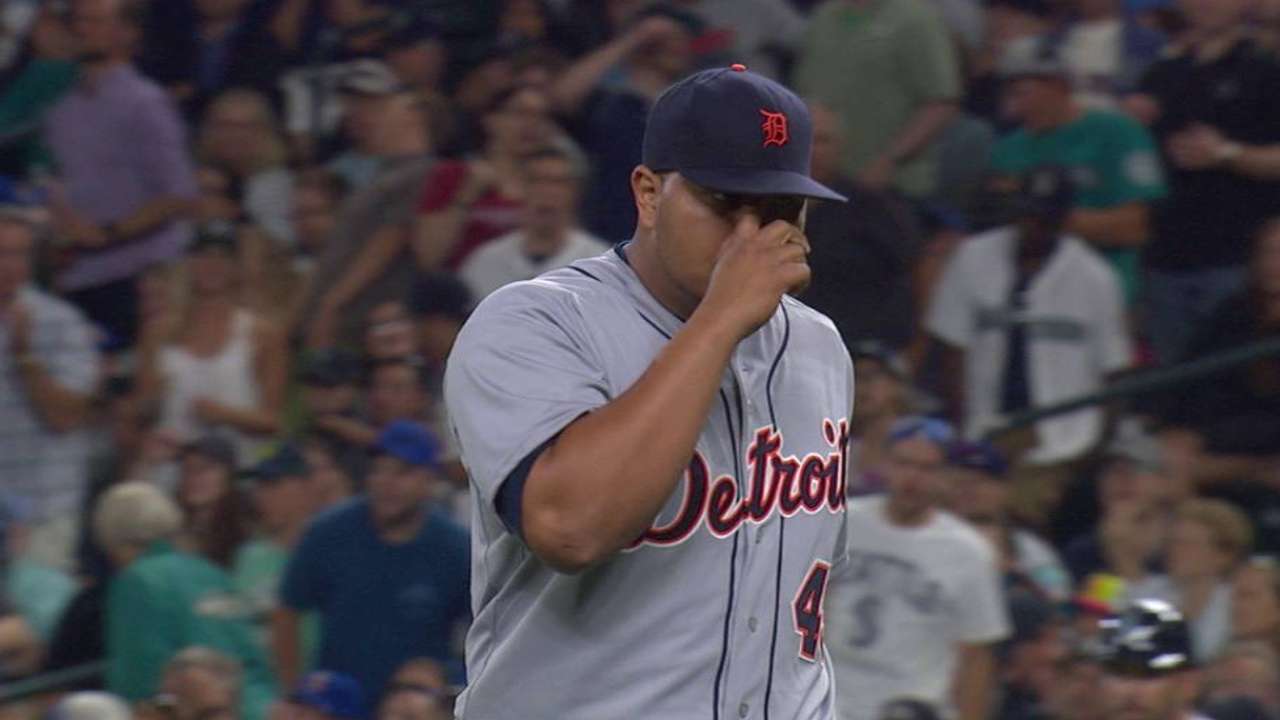 With Gutierrez finished off, Rondon went back to his fastball and went at Cano, firing three pitches that registered 101 mph on the Safeco Field radar gun. Cano flied out on the third.
"A lot of times when Rondon is pitching, guys gear up for the fastball," catcher Alex Avila said. "But the thing about Rondon is I have confidence he can throw his offspeed for strikes. That's what's going to make him, I think, separate himself from being good to really good, being able to throw his offspeed stuff for strikes."
Jason Beck is a reporter for MLB.com. Read Beck's Blog, follow him on Twitter @beckjason and listen to his podcast. This story was not subject to the approval of Major League Baseball or its clubs.