Offensive woes continue to vex Mets
New York tallies four hits in season's 10th shutout loss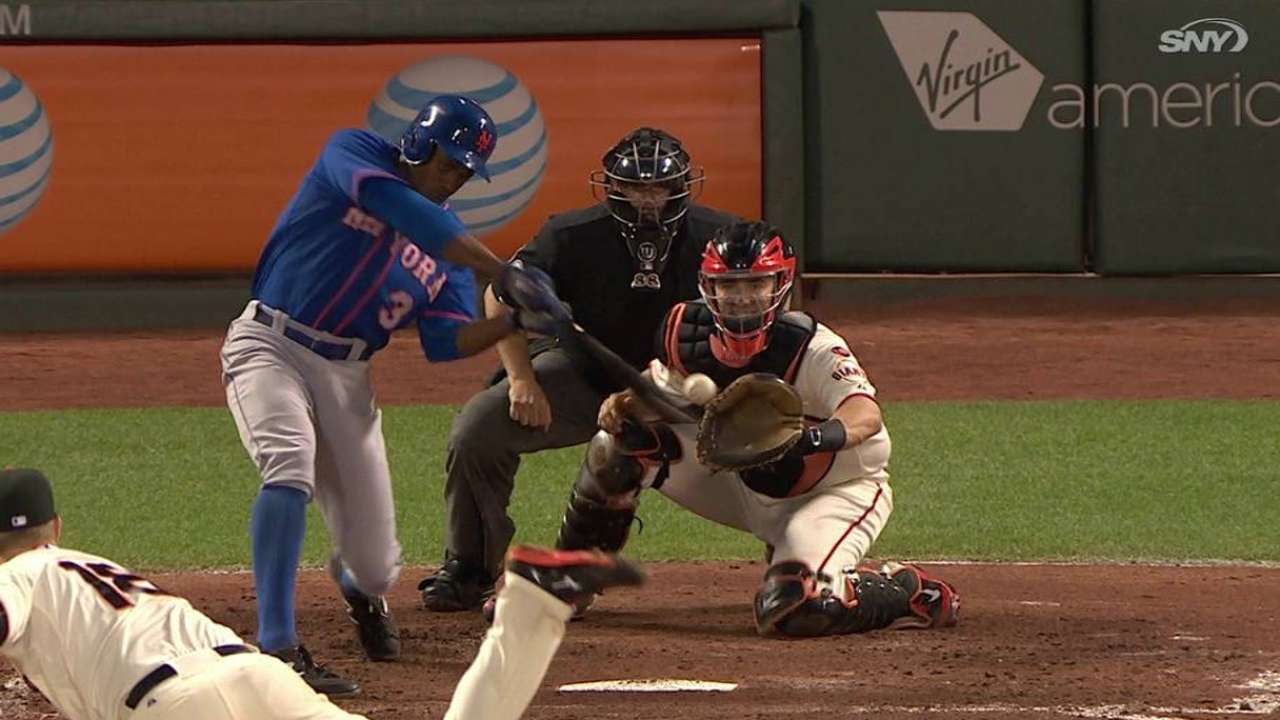 SAN FRANCISCO -- For the 10th time in their last 61 games Tuesday, the Mets did not score.
Such is the state of their season; every time they start to show some promise offensively -- a four-hit Wilmer Flores game here, a game-winning double by a backup catcher there -- they invariably fall back into their doldrums at the plate. So it was Tuesday at AT&T Park, when the Mets mustered just four hits in their 10th shutout of the season, a 3-0 loss to the Giants.
"We didn't amount much offense," manager Terry Collins said.
In terms of runs scored, the Mets didn't amount any -- zip, zilch, zero. But they did have chances.
The first of them came in the third inning, when Giants starter Matt Cain's control deserted him after Kevin Plawecki hit a one-out double. With two outs, Cain walked both Curtis Granderson and Ruben Tejada to load the bases. But Daniel Murphy struck out on six pitches en route to an 0-for-4 night.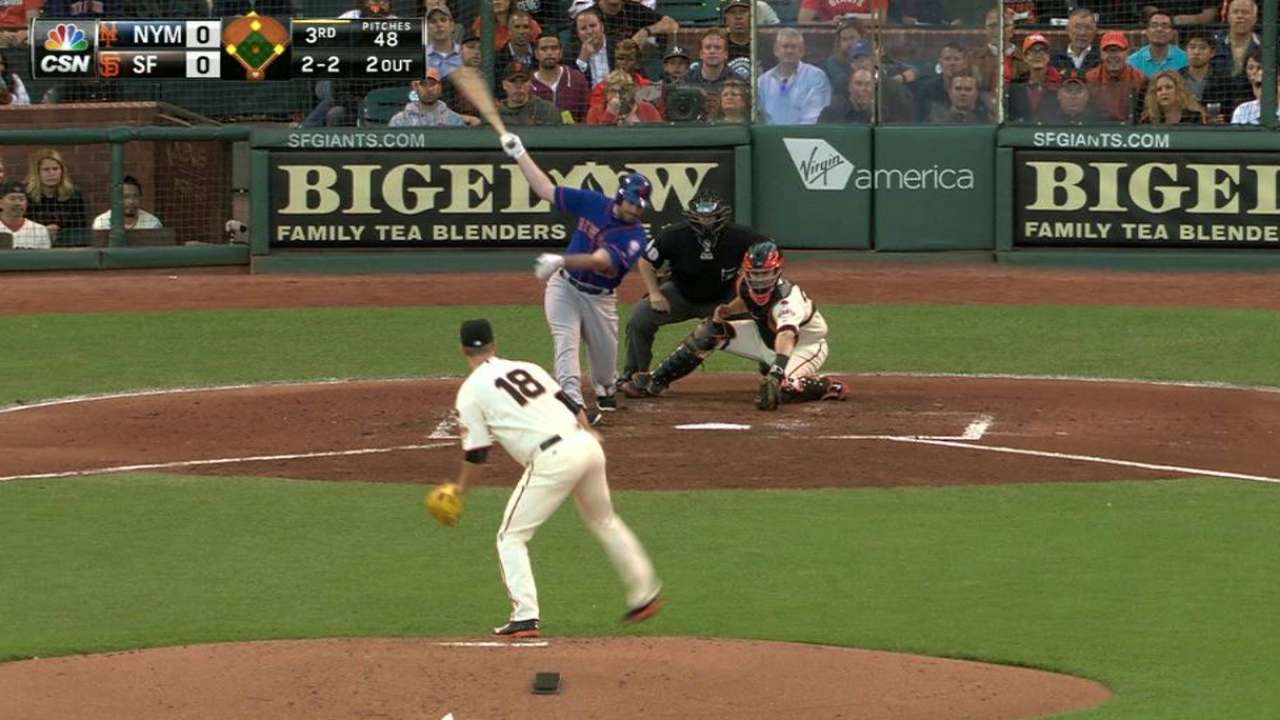 The Mets' next-best chance came in the sixth, when Granderson led off with a triple. The next batter, Tejada, lifted a popup to shallow right field, where Hunter Pence dove, snared it and popped to his feet in time to throw out Granderson at the plate.
"It was just a situation of him having to go to the ground," Granderson said, explaining that the Mets' offensive struggles did not play into his decision to try to score. "No matter what the score happened to be ... anytime a guy's going to dive to the ground, you take your chances with it."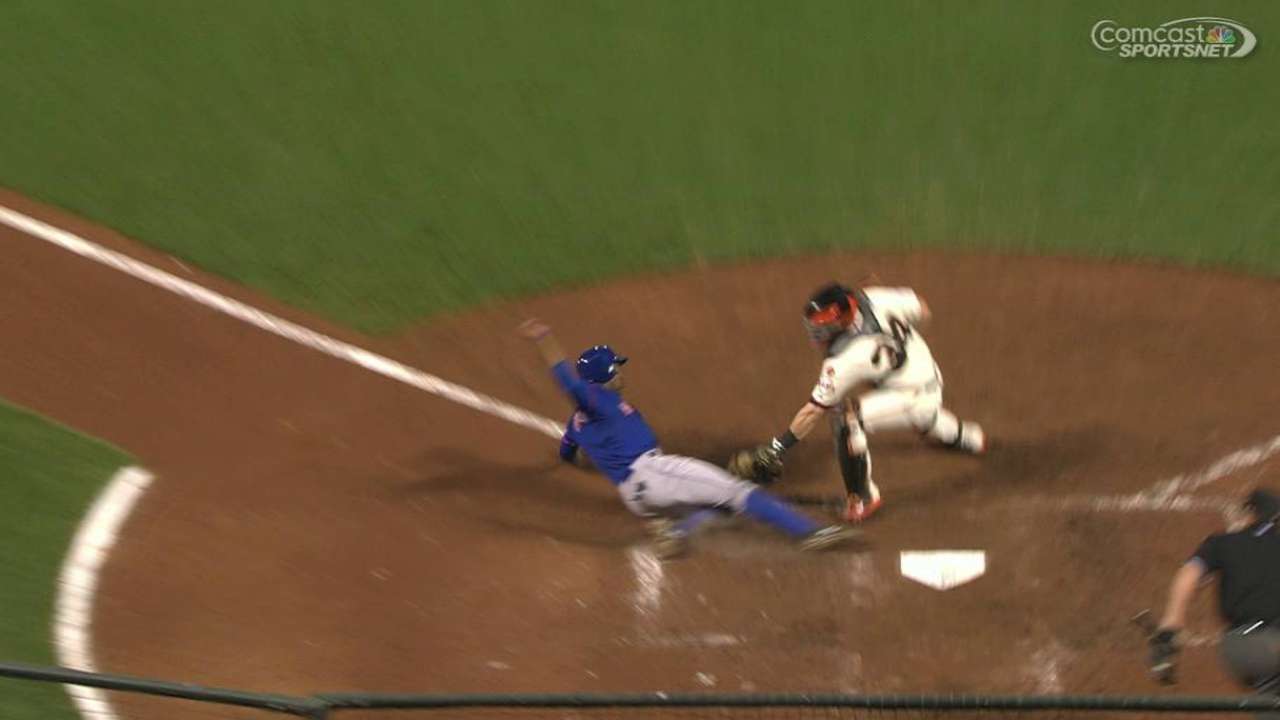 Calculated risks are something the Mets have taken more and more of in recent weeks, from Granderson's dash to the unsuccessful suicide squeeze they employed last week at Citi Field. Right now, the Mets are willing to try just about anything -- Collins recently joked about hiring a witch doctor -- with their offense stalling the way it has.
Since May 2, the day they recorded the first of their 10 shutouts, the Mets rank last in the Majors with 192 runs scored. They are the only team in baseball with fewer than 200 runs over that span.
For a while, Granderson was hot. Now it's Plawecki and Flores. But rarely have the Mets had more than two players hitting consistently at the same time.
"It takes everybody to contribute, not just one or two guys here or there," Collins said. "We've got to use all nine guys for us to be a good team."
Anthony DiComo is a reporter for MLB.com. Follow him on Twitter @AnthonyDiComo and Facebook, and listen to his podcast. This story was not subject to the approval of Major League Baseball or its clubs.