Pierzynski's pop, presence paying off
Hot-hitting backstop guiding young Braves hurlers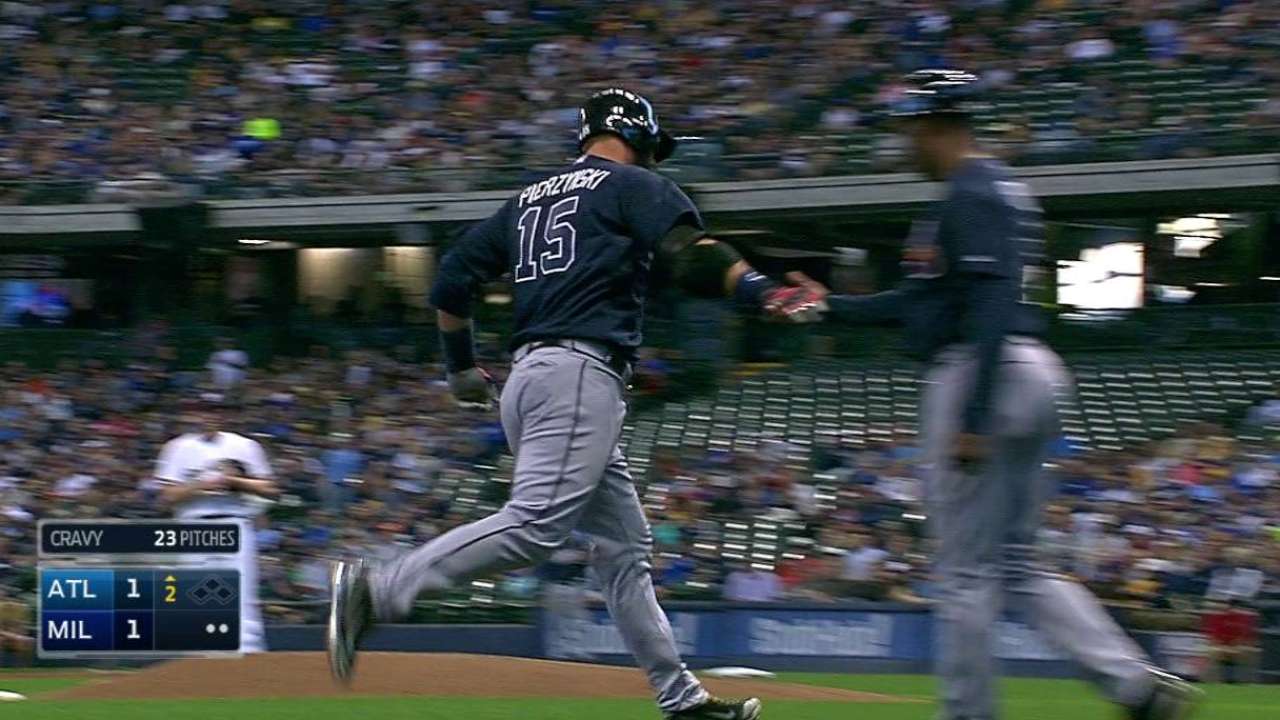 MILWAUKEE -- When the Braves signed A.J. Pierzynski in the offseason, they did not plan on him serving as their starting catcher in more than 50 games before the All-Star break. But given how this season has developed, it is hard to imagine where they might be without the consistent contributions provided by the 38-year-old veteran.
With more than half the season complete, Pierzynski has not shown any signs of physical or mental fatigue. Tuesday, he swatted a second-inning homer, notched his third consecutive three-hit game and guided rookie pitcher Manny Banuelos toward his first career win while helping the Braves claim a 4-3 victory over the Brewers at Miller Park.
"I'm upset that we have to play a day game [Wednesday] and we have to give [Pierzynski] a day off," Braves manager Fredi Gonzalez said. "He's swinging about as hot of a bat as you could want. But we have to remember, he's 38 years old and we have to take care of him."
Since Christian Bethancourt lost his starting job less than two weeks into the season, Pierzynski has handled the grueling aspect of the catcher's position and accepted the responsibility of getting to know each of the 28 pitchers the Braves have used. Banuelos is one of the 10 members of this group who have made their Major League debut this year.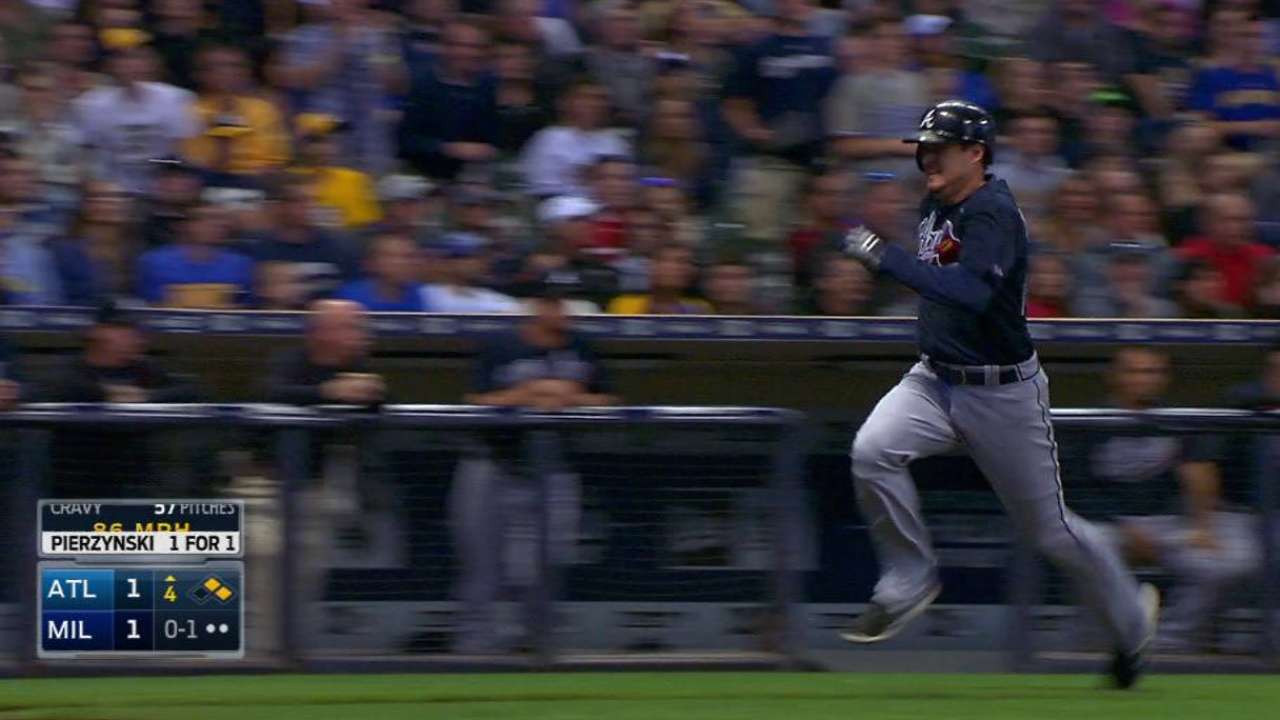 "I have a lot of confidence with A.J. behind the plate," Banuelos said after limiting the Brewers to one run over 5 1/3 innings.
Pieryznski is producing every bit as much confidence when he is at the plate. Dating back to Sunday's loss to the Phillies, he has 10 hits, including three doubles and a homer, in his past 13 at-bats. He's going so well that he did not know he had hit a changeup until he returned to the dugout after his second-inning homer Tuesday off Tyler Cravy.
"I'm just going up there trying to hit the ball, I'm not even thinking about anything else," Pierzynski said. "The first at-bat, I hit a home run on a changeup. I thought it was a fastball. I don't even know what I'm doing. I'm literally just trying to get a good pitch and put a good swing on it. Whatever happens, happens."
Though he still possesses an intense competitive spirit between the white lines, Pierzynski's sense of humor has been a hit in the clubhouse, especially since he has been joined by former White Sox teammate Juan Uribe.
After Tuesday's game, Pierzynski and Uribe entertained their teammates as they took playful shots at one another, including some aimed at the fact that the veteran catcher will get a much deserved chance to rest Wednesday.
"I'll take [Wednesday] off proudly," Pierzynski said. "Some of us 38-year-old guys need breaks every once in a while. I'm not Uribe's age, where I duck all of these [good pitchers]."
Mark Bowman is a reporter for MLB.com. This story was not subject to the approval of Major League Baseball or its clubs.