Johnson among 10 top prospect performers Tuesday
White Sox No. 4 prospect goes 4-for-6 with a home run; records his seventh career four-hit game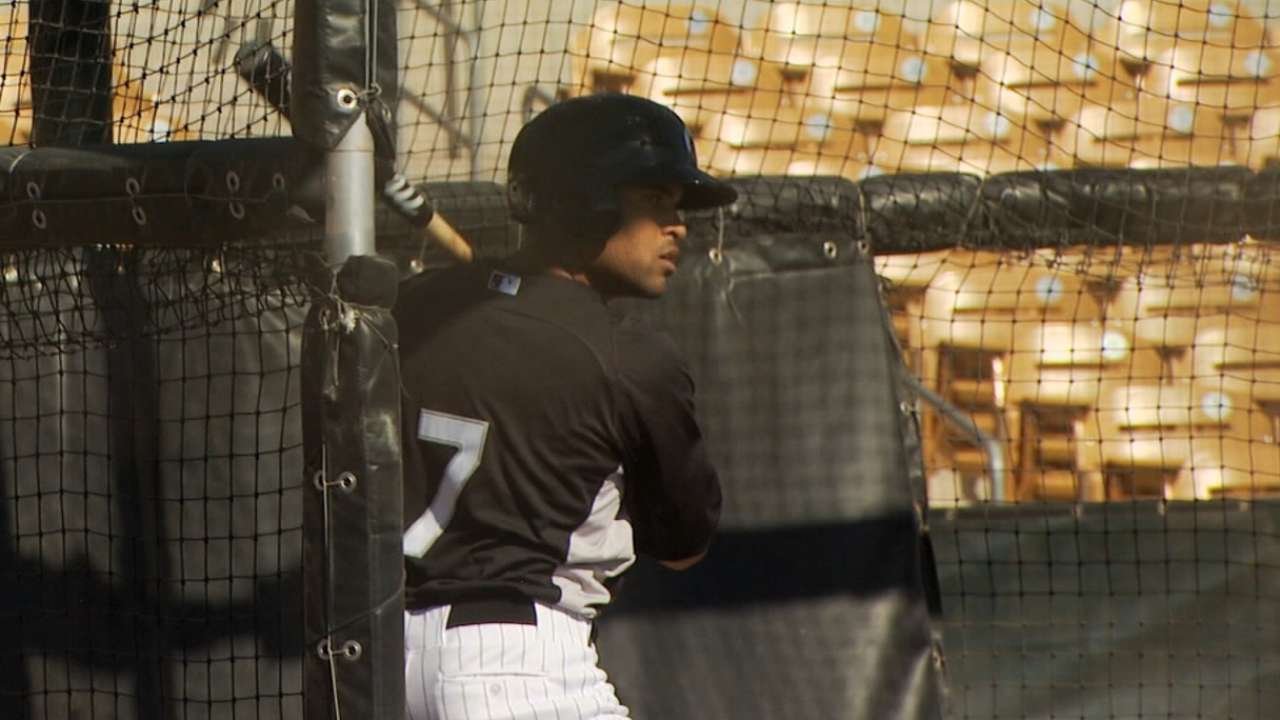 White Sox No. 4 prospect Micah Johnson and No. 9 prospect Matt Davidson teamed up to power Triple-A Charlotte to a 17-6 blowout win over Durham.
Johnson notched his seventh career four-hit game, going 4-for-6 with a homer and two RBIs. The second baseman has collected at least three hits in three of his past seven games and is hitting .309/.368/.436 with four homers and 23 RBIs on the season.
Meanwhile, Davidson broke out of a power slump by swatting his first home run since June 21. The designated hitter went 1-for-3 with three walks and three runs on Tuesday and has 14 homers on the year, along with 13 doubles and 46 RBIs.
At Class A Kannapolis, No. 3 prospect Spencer Adams spun a solid line, scattering eight hits while allowing one unearned run and striking out six -- a new season-high -- in 5 2/3 innings. The win was his third straight and boosted his record to 5-4 in 14 starts.
Drafted in the second round last summer, the 19-year-old has given up just 14 walks against 107 strikeouts in 112 career innings.
The rest of the 10 best performances from top Minor Leaguers
• Cubs No. 2 prospect (No. 40 overall) Kyle Schwarber has been hitting consistently for Triple-A Iowa since getting sent down from the big leagues on June 23, but the 2015 All-Star Futures Game selection had yet to provide a monster day at the plate until Tuesday. That's when the former Indiana star went 3-for-5 with two doubles, a home run and two RBIs in Iowa's 8-3 win over New Orleans. Schwarber has moved quickly through Chicago's ranks since being drafted in the first round last summer. He coasted through three levels in 2014 and hit .320/.438/.579 with 13 homers and 39 RBIs in 58 games for Double-A Tennessee before the Cubs came calling. After a successful six-game stint (.364/.391/.591), the big league club sent him down for his first taste of Triple-A ball in late June.
• Nationals No. 10 prospect Austin Voth was nearly perfect for Double-A Harrisburg. The right-hander gave up just two hits while striking out seven in seven shutout innings. While he didn't pick up a win in the Senators' 2-1, 13-inning triumph over Richmond, he cut his ERA from 3.44 to 3.19 in 96 innings this season. Tuesday matched his longest outing of the year and he has 90 strikeouts against 84 hits in 16 starts.
• Pirates No. 23 prospect Stephen Tarpley delivered a no-hitter by giving up just one walk in six otherwise clean innings before rain ended the contest early for Class A West Virginia. The Power picked up a 3-0 win over Delmarva, which atoned for a team no-hitter on April 15 that resulted in a 1-0 loss to Hagerstown. Oh, and Tarpley came through against his former organization -- Baltimore -- which traded him to Pittsburgh in January. "I had faced these guys a lot in Spring Training in the past and instructs, and during the season, I got to see them play a whole bunch, so I knew a lot of these guys," Tarpley told MiLB.com. "A lot of them are my buddies. That was a mini scouting report within itself."
• Rangers No. 6 prospect Lewis Brinson helped Class A Advanced High Desert to a 9-6 win over Lake Elsinore, going 2-for-4 with a home run, triple and three RBIs in the victory. The left fielder has been hot lately. He's hit in five straight games, going 9-for-20 (.450) with two homers and five RBIs. On the season, Brinson is hitting .309 with 11 doubles, four triples, eight dingers and 24 RBIs and has also stolen 10 bases for the Mavericks.
• Rockies No. 1 prospect (No. 12 overall) Jon Gray tossed six scoreless innings for Triple-A Albuquerque. The right-hander struck out eight while allowing three hits and two walks. Gray, who picked up his fourth win of the season, has not lost since May 26, and he has cut his ERA from 6.22 to 4.58 since then. He's recorded at least eight strikeouts in four of his past five outings and has 84 punchouts against 33 walks in 96 1/3 innings for the Isotopes.
• Yankees No. 5 prospect Robert Refsnyder homered for the second straight game. The Triple-A Scranton/Wilkes-Barre second baseman jacked his seventh of the year as part of a 2-for-3 night as the RailRiders took down Syracuse, 5-1. Refsnyder has hit in five straight games and 12 of the past 13. He's been with Scranton/Wilkes-Barre all season and has collected 16 doubles along with 36 RBIs and 10 stolen bases.
• Gary Sanchez is on fire for Double-A Trenton. The Yankees' No. 7 prospect went 2-for-4 with a solo home run in the Thunder's 8-6 win over New Hampshire on Tuesday. While that line might not seem impressive on its own, consider this: Sanchez has homered and picked up at least two hits in four straight games. This is a stark change from the beginning of the season, when the 22-year-old catcher hit one homer in the first 21 games of the year. Sanchez has picked up tremendously since then and has 12 dingers this year -- he's on pace to pass his career-high of 18 -- along with an invitation to the 2015 All-Star Futures Game next week.
Alex M. Smith is a reporter for MLB.com. This story was not subject to the approval of Major League Baseball or its clubs.