Anderson's win streak snapped after miscues
Short outing hurt by Dodgers' defensive, baserunning mistakes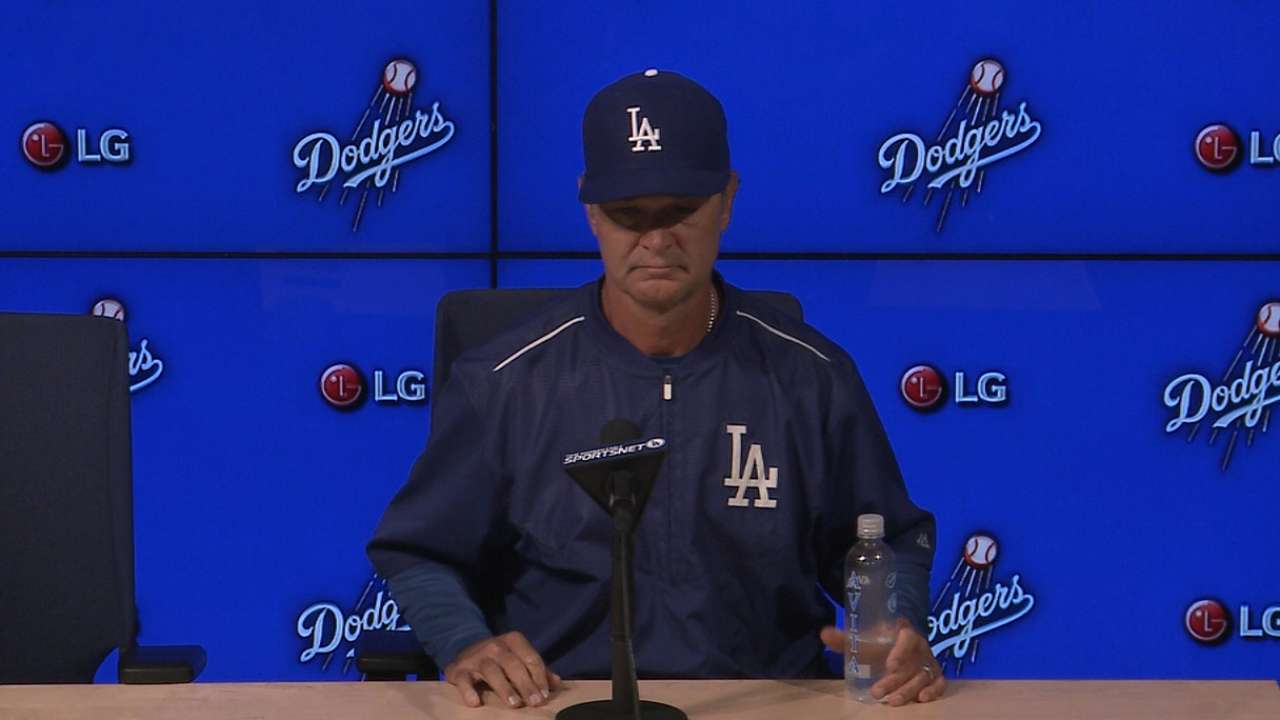 LOS ANGELES -- Brett Anderson said he beat himself on the mound Tuesday night, but he wasn't the only Dodger with self-inflicted mistakes.
The Phillies capitalized on multiple Dodgers miscues early, leading to a 7-2 Los Angeles loss, at Dodger Stadium.
Anderson threw five innings, allowing four runs (three earned) for Los Angeles, which was just the second time in his past 10 outings that he's been unable to reach at least the sixth inning. Entering Tuesday's start, Anderson was riding a three-start winning streak during which he allowed just one run in each start.
"It's one of the more frustrating starts I've had in a while," Anderson said. "A couple pitches here and it cost us the game. I wasn't able to be efficient against a pretty free-swinging team, but that's what happens sometimes."
Anderson, who lead the Majors in groundball rate coming into the game, was snakebit early with softly hit ground balls.
In the first inning, Ben Revere reached on an infield single, then Anderson issued a two-out walk to Darin Ruf. Jeff Francoeur hit a bouncer to third, but Justin Turner's throw to first base was well wide of the base for an error. Finally, Freddy Galvis hit a grounder off Anderson's glove but no one could make a play, allowing the unearned run to score.
"It's always frustrating when you make a good pitch, but all of a sudden, they're on first with a hit," catcher Yasmani Grandal said. "We sequenced them perfectly, but we made a few mistakes and they made us pay."
In the third, Anderson walked the leadoff hitter on three pitches before allowing a single to Ruf. Of the pitches that were hard-hit, none was more damaging than a two-run double from Francoeur to left-center in the third inning to put the Phillies up 3-0.
"Just threw a tremendously bad breaking ball to Francoeur that he hit," Anderson said. "That string of three hitters, it's pretty much game over from there."
Anderson's night ended after just 87 pitches as Kiké Hernandez pinch-hit in the fifth, despite Anderson retiring seven of the final eight hitters he faced.
"The last two innings were my best two innings," Anderson said. "I would've liked to keep going to give us a chance, but that's what happens in the National League sometimes."
The Dodgers had a pair of runners thrown out from the outfield early in the game. Turner was doubled off first base in the first inning on a flyout to right field that appeared as though it might get over Domonic Brown's head. Then Grandal was also thrown out by Brown in the second inning trying to go first to third on a single by Yasiel Puig.
"You have 27 outs, you give two away, now you're playing with 25. You're giving those guys an advantage," Dodgers manager Don Mattingly said. "You give little things away, you never know, those could turn into four-, five-run innings."
Steve Bourbon is an associate reporter for MLB.com. This story was not subject to the approval of Major League Baseball or its clubs.