Polanco comes through at perfect time
Young outfielder delivers tie-breaking RBI triple in win over Padres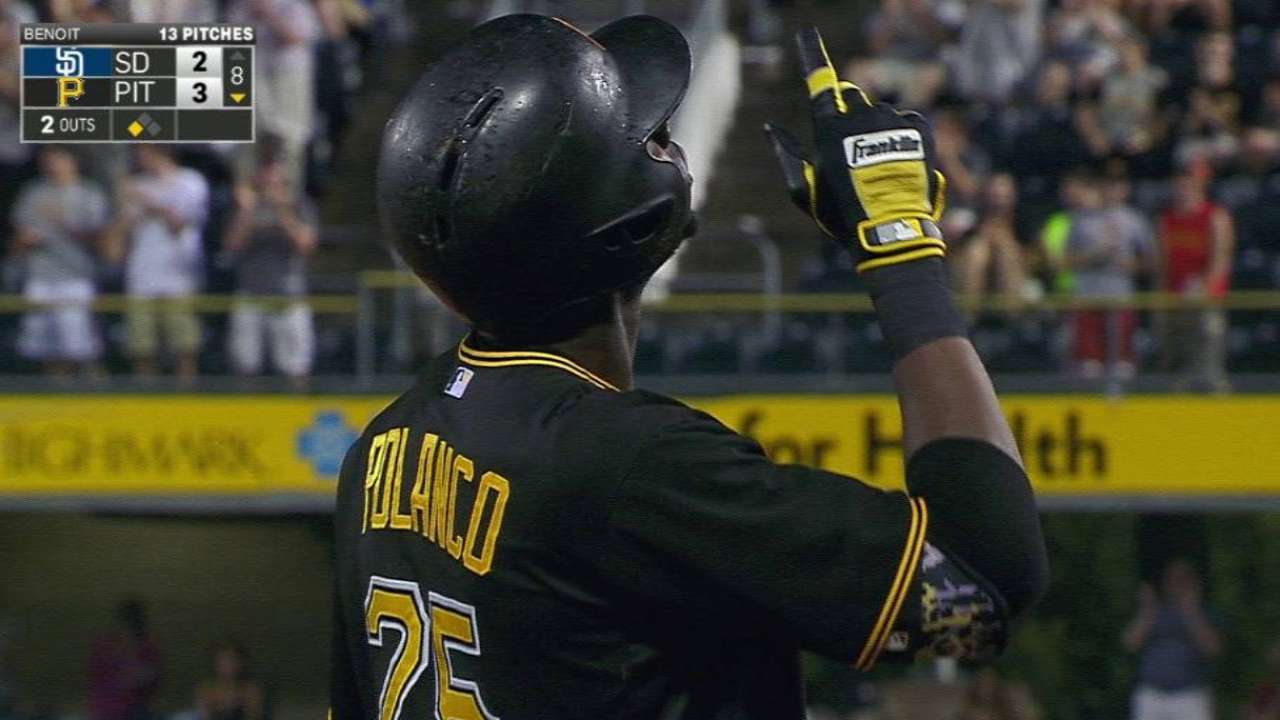 PITTSBURGH -- By now, some people probably cringe when the Pirates drop on them their "next man up" mentality. They have heard it enough that it qualifies as a cliché. It may be trite, but, man, does it work.
Regarding the freshest situation calling for the next man: Josh Harrison's left thumb injury. Two men, not just one, stepped up to key the Bucs' 3-2 win over the Padres on a rainy Tuesday night.
Jung Ho Kang, now the permanent replacement for Harrison at third base, tripled in the tying run in the fifth. Gregory Polanco, replacing Harrison atop the lineup, tripled in the winning run in the eighth.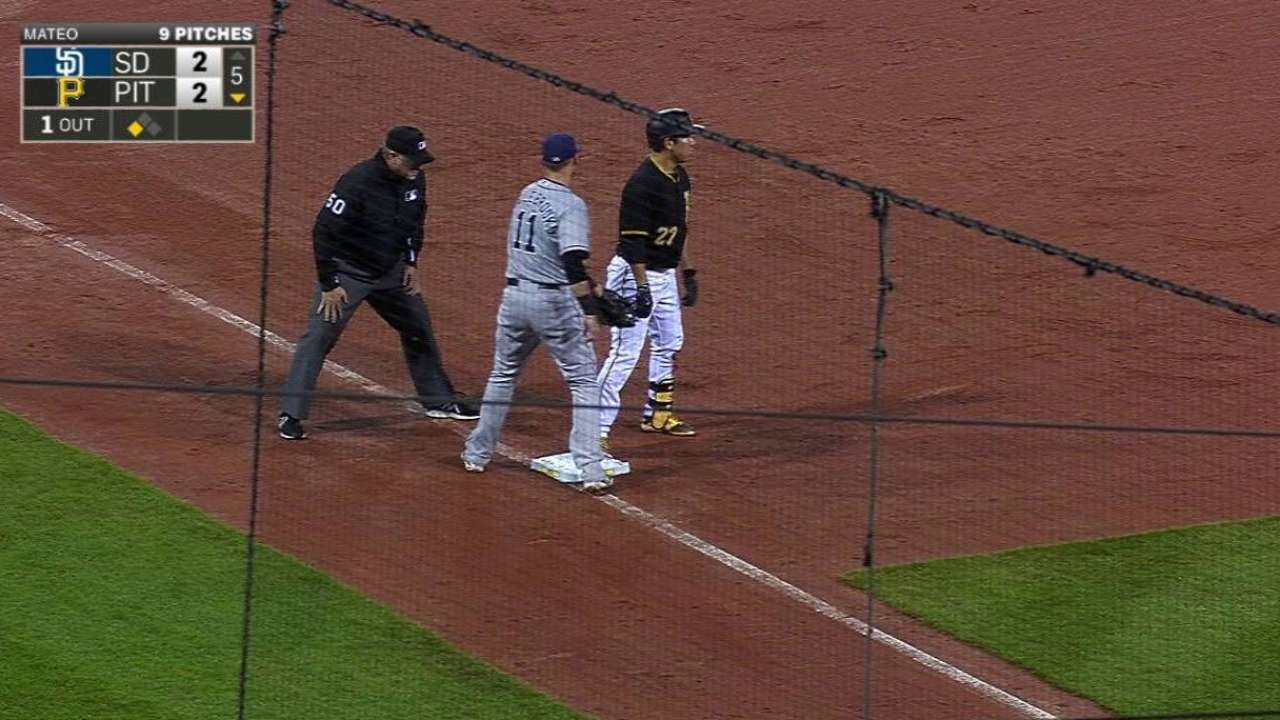 Polanco's knock up the left-center alley seemed and felt more pivotal, and not only because it broke the 2-2 tie. The young outfielder's latest struggles spawned another round of talk of whether he would be better served with more Minor League seasoning. That might have been one of the things in Polanco's subconscious that prompted him to exuberantly applaud his arrival atop third base.
"It was the right time. The perfect time, the right moment," Polanco said about drilling a two-out, two-strike pitch so hard it beat both the left and center fielders to the warning track.
"He hit that ball really hard," said Sean Rodriguez, the runner who scored from second base on the hit. "That ball got all the way to the wall, and on that grass, that's not usual."
"He laced that ball. A big hit, a really sweet swing off a really good relief pitcher [Joaquin Benoit]," Pirates manager Clint Hurdle said. "It was a real good night at the plate for Gregory."
He has not had many of those. Only the night before, Polanco snapped an 0-for-15 drought. But the daily work he has been doing may be paying off.
Polanco said he has been working on "being shorter to the ball, putting my foot down, being ready to hit."
"I'm happy I did my job. I'm going to keep playing hard, like always," he added, "and not think too much up there. I was just excited to get it done. I want to help the team."
That one big hit can always open the floodgates because, as Hurdle recited another of his stock expressions, "nothing breeds confidence like success."
"Time will tell, but he has to feel better about himself," the manager said. "And good for him. We've got to get him back to that comfort zone where you're relaxed, ready to hit, and are aggressive in the strike zone. He's another guy who's got to settle into the mindset of looking for the pitch you want to hit, and owning it once it's out of the pitcher's hand."
Tom Singer is a reporter for MLB.com and writes an MLBlog Change for a Nickel. He can also be found on Twitter @Tom_Singer and on his podcast. This story was not subject to the approval of Major League Baseball or its clubs.