3 hard-hit balls a welcome sign for Brantley
Indians outfielder blasts first home run since May 14 in win vs. Astros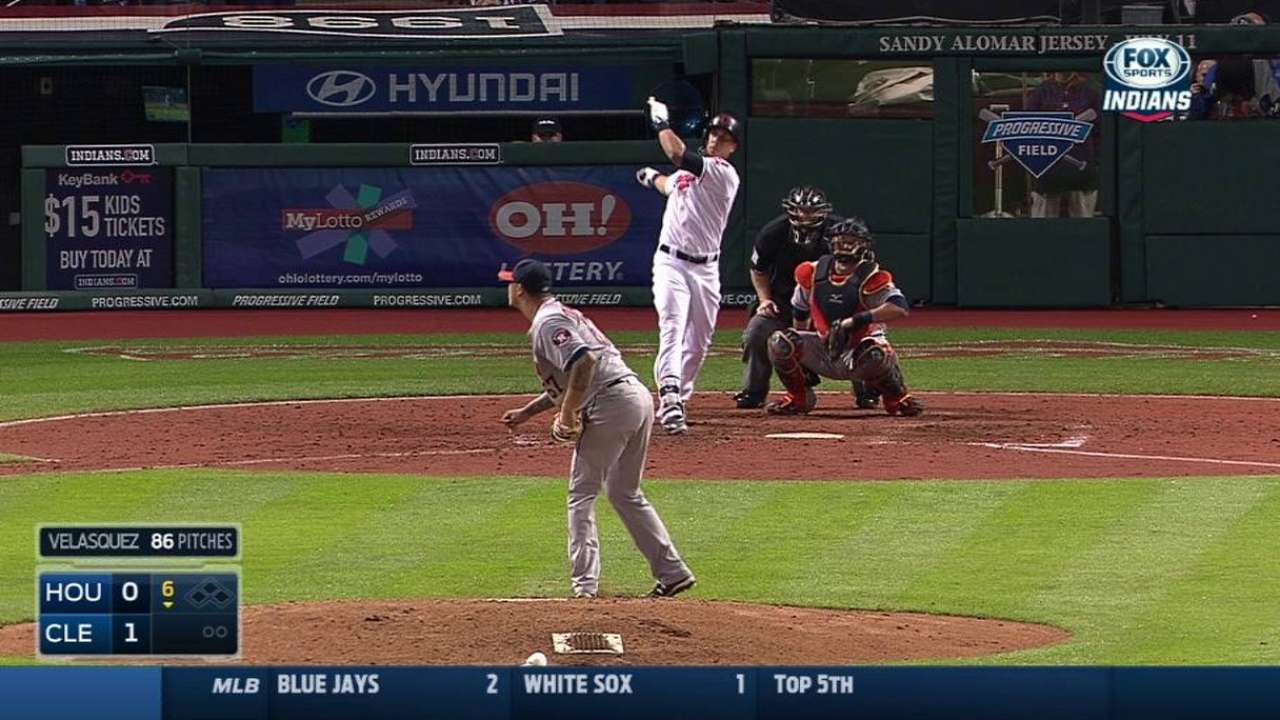 CLEVELAND -- Michael Brantley has earned the reputation of a slump-proof hitter. His ability to consistently make contact and avoid strikeouts, his sweet line-drive swing that earned him the nickname "Dr. Smooth" and his knack for using the whole field made it seem impossible that the 28-year-old left-handed hitter could experience an extended cold spell.
Of course, no hitter is safe from the occasional slump. When Brantley hit a homer to lead off the sixth inning in Tuesday's 2-0 victory over the Astros, it was the first time he'd gone deep since May 14. That stretch of 46 games spanned 206 plate appearances, making it the longest in-season homerless drought of Brantley's career.
"It felt good," Brantley said. "It was a big swing at the time of the game. To go up 2-0 instead of 1-0; and one swing away, now they're two swings away."
The ball came off Brantley's bat at 107 mph, per Statcast™ data, tying the hardest-hit ball Brantley's had all season. He also had a single off the bat at 98 mph in the first, and another single that clocked in at 104 mph in the eighth.
For a hitter who carried a slugging percentage of just .317 over the 30 games prior to Tuesday's contest, those three hard-hit balls would be encouraging no matter the outcome of the balls in play might have been.
Brantley has been plagued all season by a sore lower back that first crept up in Spring Training. While he hasn't spent any time on the disabled list, he's been spelled with off-days and starts as the designated hitter -- as he was on Tuesday.
"It's just very important to make sure that I stay on top of it," Brantley said. "It's the little things. The great medical staff we have has a great plan each and every day when I come to the field. We sit down and talk about it and execute it, and we're doing a great job with it."
For years, Brantley has been the rock in the Indians' lineup, never wavering in his production. This year, though, Brantley hit a bump in the road, seemingly for the first time. If Tuesday night is any indication, perhaps he's inching back toward his typical, slump-proof self.
"Everybody in here knows we've got to finish this homestand strong before we go into the All-Star break," Brantley said. "And then when we come back from there, we'll start from day one just like we've been playing lately. We've been playing good, competitive baseball, we've been pitching well, and we've got to continue to do that to be successful in our division."
August Fagerstrom is an associate reporter for MLB.com. This story was not subject to the approval of Major League Baseball or its clubs.