MLB.com Columnist
Barry M. Bloom
Bumgarner should start All-Star Game for NL
Giants manager Bochy has unique opportunity to give his own pitcher the ball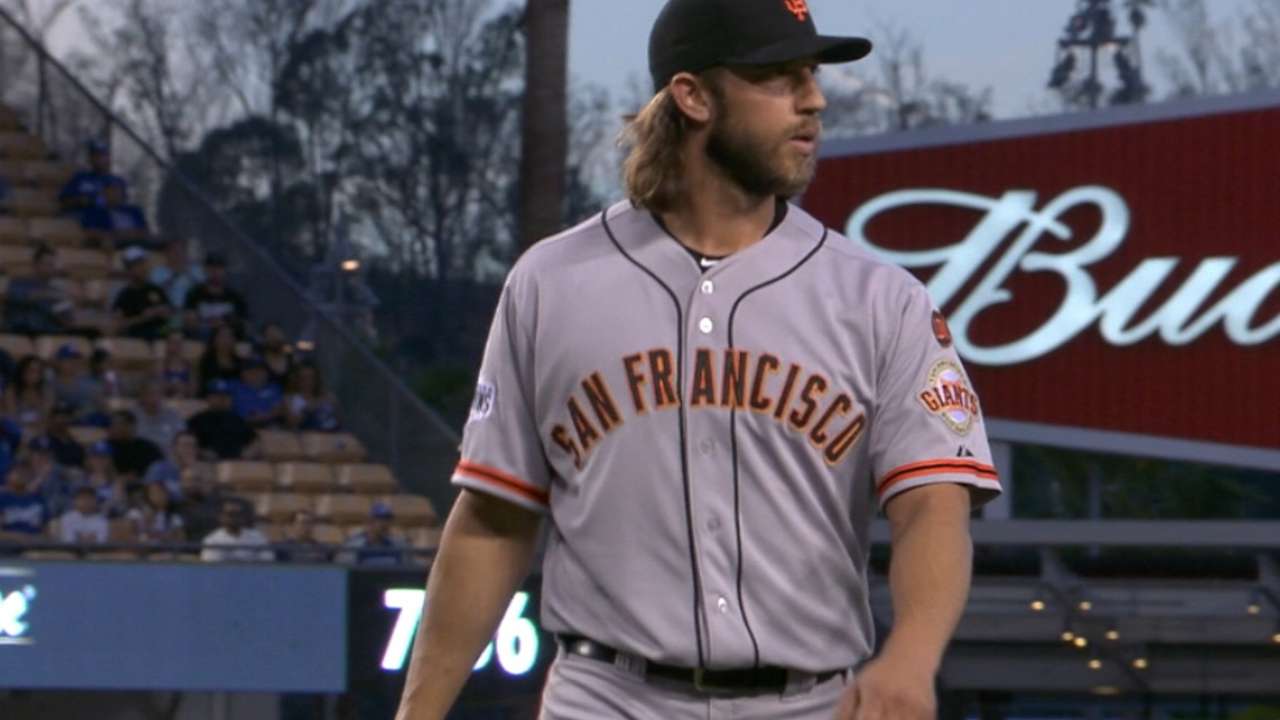 SAN FRANCISCO -- Madison Bumgarner should be the starter for the National League against his American League counterparts next Tuesday in the All-Star Game presented by T-Mobile at Great American Ball Park in Cincinnati. It's as simple as that.
Bruce Bochy, his manager with the Giants, is managing the NL team and can use his own discretion to make that selection.
"It would definitely be an honor," Bumgarner said before the Giants' 3-0 win over the Mets on Tuesday night. "But there are a lot of guys more than deserving of it. I certainly don't feel like I'm owed that or whatever. That's all I'm saying."
Bochy said on Tuesday that he's considering it, but has yet to make a decision. If he goes strictly by the first-half numbers, Gerrit Cole of the Pirates would ice out Bumgarner. The Pittsburgh right-hander has a 12-3 record and a 2.28 ERA, the most wins right now in Major League Baseball. Zack Greinke of the Dodgers has the best ERA at 1.48.
Bumgarner (8-5, 3.34 ERA) is tied for seventh in the NL in wins and is 20th in ERA. The left-hander pitches on Friday at home against the Phillies, so he's in a prime position to start on Tuesday. And what pitcher aside from Bumgarner has had a more profound affect on baseball and his own league over the last five years?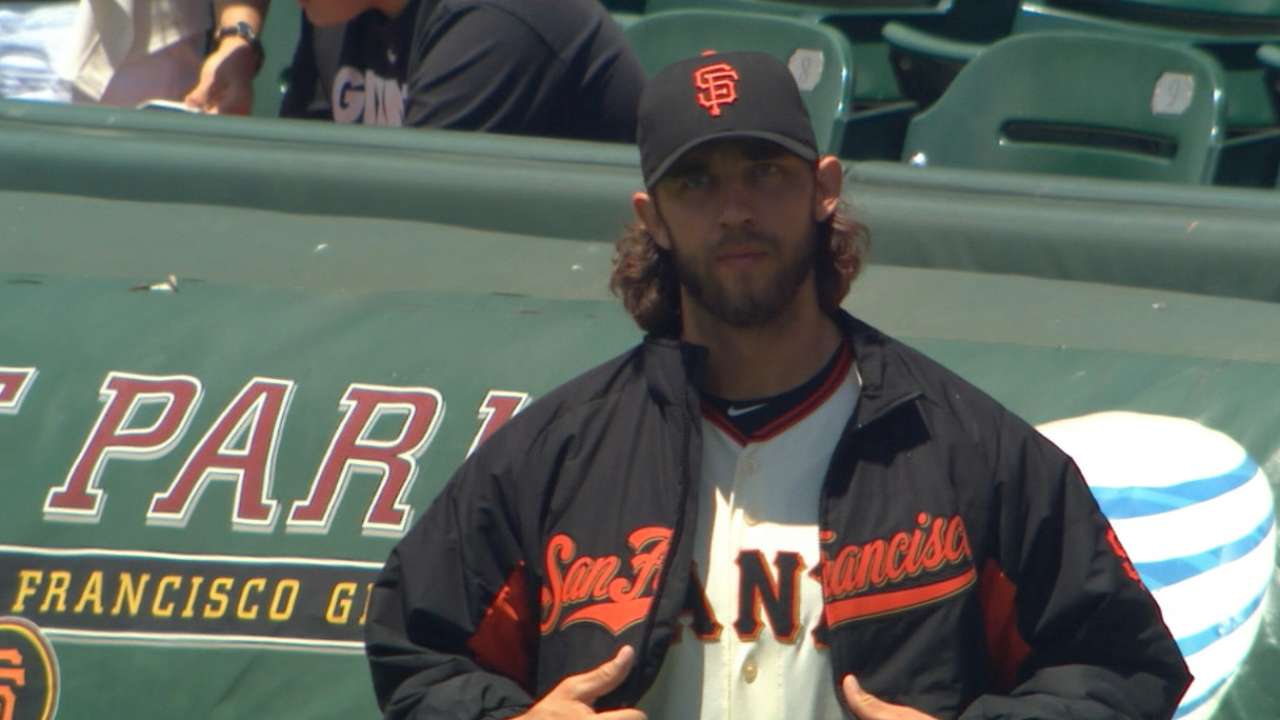 The Giants have won the World Series three times during that period, and in those Fall Classics, Bumgarner is 4-0 with a save, having allowed just one earned run in 36 innings. The save was epic, coming on Oct. 29, 2014, in Game 7 at Kansas City as Bumgarner pitched the final five innings on two days' rest and allowed the Royals just two hits. He also started and won Games 1 and 5. He was named MVP of both the World Series and NL Championship Series.
As Bumgarner said, he isn't owed anything, but Bochy is in a rare position to give his own player what would at best be a ceremonial nod for a job well done by letting him open the game and pitch the first two innings. Everything else can fall into place after that.
"It's great to have that choice," Bochy said on Tuesday. "There's no question about that. But a lot of it has to do with the first-half stats. That's how the players decided it."
Bochy already used his own discretion to add Bumgarner to the squad after the players didn't elect him to the pitching staff, going instead with Cole, Greinke, Max Scherzer of the Nationals, Shelby Miller of the Braves and Jacob deGrom of the Mets.
Bochy also added Michael Wacha of the Cardinals and A.J. Burnett of the Pirates, sending Clayton Kershaw of the Dodgers, Carlos Martinez of the Cardinals and Johnny Cueto of the Reds to the Esurance MLB All-Star Game Final Vote ballot.
Jake Arrieta of the Cubs and Bartolo Colon of the Mets each have nine wins and didn't make either the team or the Final Vote ballot, which reveals just how tough these decisions can be.
Bochy, though, called adding Bumgarner a "no-brainer," saying the same thing about picking his own Joe Panik when the players opted for DJ LeMahieu of the Rockies to back up Miami's Dee Gordon at second base. Gordon won the fan vote.
This is Bumgarner's third All-Star selection, and Bochy noted on Monday that he hadn't pitched when he was on the NL team in 2013 and '14. Bochy also managed the team in '13.
"He hasn't pitched in the All-Star Game yet, but trust me, I'm going to do all I can to make sure he pitches," Bochy said.
The question remains, at what point in the game?
"Just being named an All-Star is plenty good enough for me," Bumgarner said. "It would be a lot of fun to pitch in the game, but the only thing I'm focused on right now is finding a way to beat the Mets."
Bochy mused that the sands will probably shift a little by Sunday before his decision about a starter has to be finalized. It will be announced on Monday. The Final Vote will end at 4 p.m. ET on Friday, meaning that another starting pitcher could be thrown into the mix.
Cueto is scheduled to pitch for the Reds on Sunday, and Scherzer's turn for the Nationals is slated for the same day. That usually knocks a pitcher out of the running to pitch in the All-Star Game. According to the current rules, anyone who can't participate in the All-Star Game can certainly attend, but he must be replaced on the active roster.
Bochy also says teams put restrictions on their pitchers and ask that they only be used for an inning.
"And that further ties my hands," he said.
Like Bumgarner, Cole should make his final start before the break on Friday night against the Cardinals. Greinke is slated to make his last start against the Phillies on Thursday. Kershaw makes his final start on Wednesday against Philadelphia, but Bochy said flatly that the left-hander who won 21 games and the Cy Young Award and MVP in the NL last season won't start the All-Star Game if he should make it. Neither will Wacha nor Burnett.
That leaves Bumgarner, Cole and Greinke still standing.
"They all have one start left," Bochy said. "Everything will be taken into consideration."
Bochy ought to take only one thing into consideration: He has the unique opportunity to start his own guy -- who more than deserves it -- and that's the decision he should make.
Barry M. Bloom is a national reporter for MLB.com and writes an MLBlog, Boomskie on Baseball. Follow @boomskie on Twitter. This story was not subject to the approval of Major League Baseball or its clubs.