Orioles option Gausman following rocky start
Right-hander allowed eight runs, seven earned, over 3 2/3 innings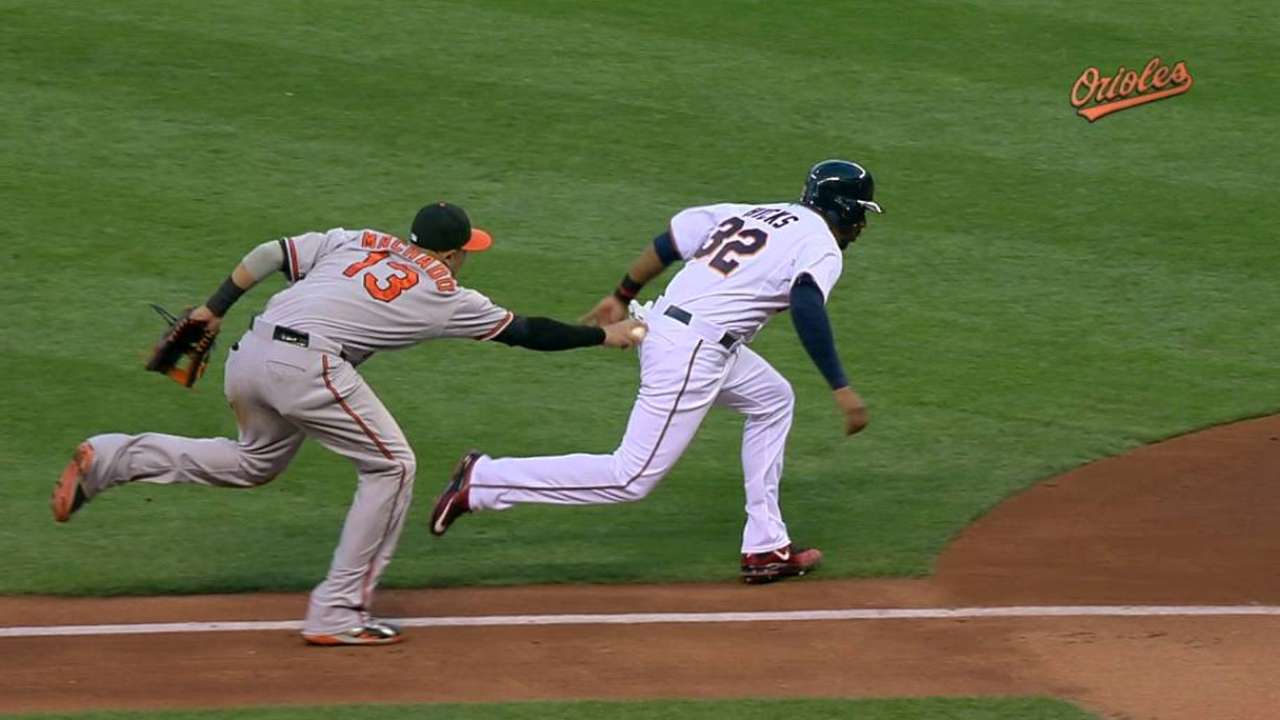 MINNEAPOLIS -- Before Tuesday's 8-3 loss, Orioles manager Buck Showalter reiterated a vote of confidence for his starting pitcher Kevin Gausman, who was making his second start since being recalled from Triple-A Norfolk.
"Kevin's one of our best five right now," Showalter said. "We'll see if the Twins cooperate. I kind of doubt it."
They didn't. The Twins chased Gausman out of the game after just 3 2/3 innings, tagging him for eight runs, seven earned, as the struggling Orioles lost the seventh of their last nine games.
Gausman was optioned to Triple-A Norfolk shortly after the loss, potentially to get a start there during the All-Star break before another call up after the break.
Tuesday, Gausman had problems with his fastball control, but Showalter said he was an astute guy who could learn from a loss like this.
"Sometimes people think command just shows up in walk totals. He was wild in the strike zone," Showalter said. "Last time out, he was down when he needed to be and he was up when he needed to be, and he was in between those two tonight."
The Orioles had a prime opportunity to stake Gausman to a lead in the first inning with runners on second and third and one out, but they've been unable to deliver in such situations recently.
"We let them wiggle out there without scratching one off of him. And sometimes your aggressiveness gets in the way of your selectiveness," Showalter said. "We surely would like to push a run across there and try to create a little margin of error and some positive feelings with a young pitcher out there. "
Instead, Gausman headed out to the mound tied and gave up three runs in the first inning -- including a two-run home run to Miguel Sano on a fastball.
"They were definitely swinging and I felt every fastball I threw they were really swinging at today. I left a couple pitches up, definitely, but there were definitely some really good pitches that they got hits on," Gausman said. "Their report was that they were going to swing at my fastballs and I had some trouble locating it tonight, and I think I threw maybe one too many."
Gausman said he wishes he had mixed in more off-speed pitches in his start. The Twins added a run in the third and in the fourth after giving up another, he left with the bases loaded. All three runners scored.
"This is my shortest outing of my career, obviously something I'm not proud of, but it's going to happen. Talking to [Chris] Tillman and them, they kind of joked with me that it's probably not going to be your shortest either," Gausman said. "It's one of those things. Growing pains."
Betsy Helfand is an associate reporter for MLB.com. This story was not subject to the approval of Major League Baseball or its clubs.