Why is Santana slumping so far this season?
First baseman struggling with outer third, RISP; Francona confident he'll break out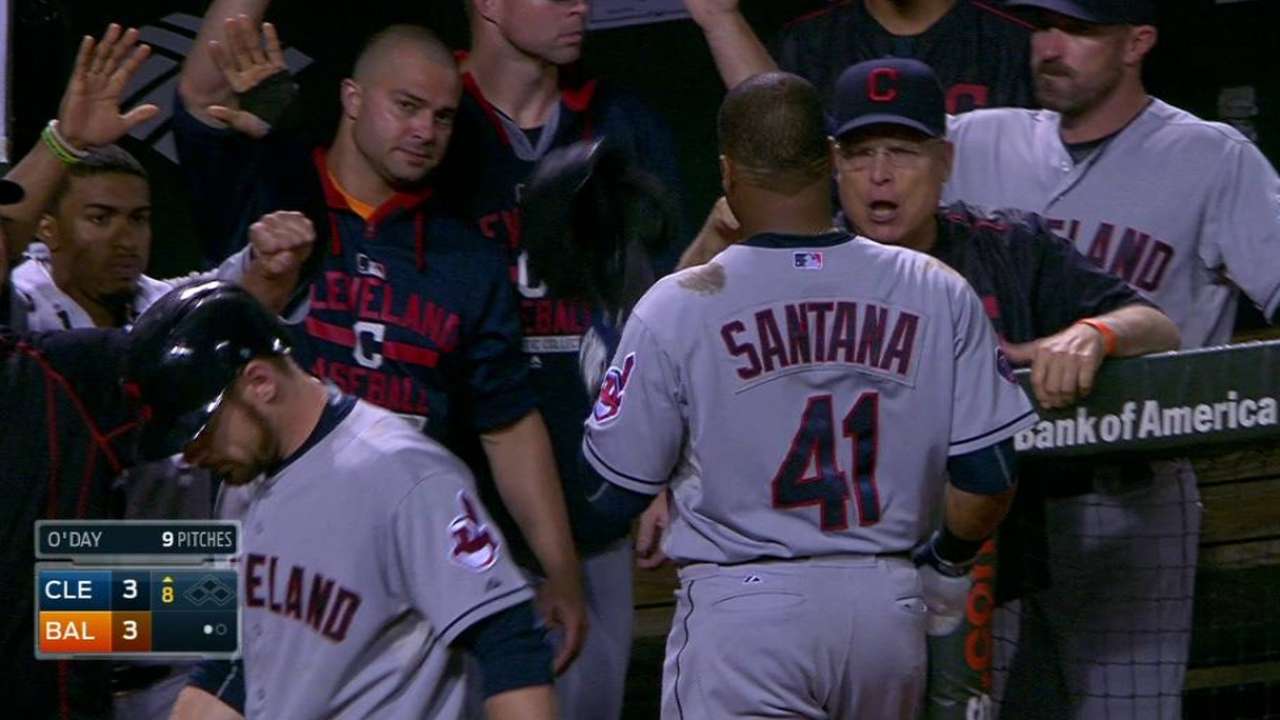 CLEVELAND -- Carlos Santana was again bumped down in the Indians' lineup for Tuesday's 2-0 win against the Astros, batting seventh as he continues to struggle at the plate.
Santana began the year as the team's cleanup hitter, and has also batted second, third and fifth as manager Terry Francona attempts to find a way to get his slugger back in a groove.
While Santana went 2-for-3 at the plate Tuesday, a batter's position in the lineup isn't alone what busts slumps. Santana did admit he wasn't entirely comfortable batting second, but adjustments need to be made at the plate for the results to change. Before an adjustment can be made, the root of the issue must first be diagnosed.
So what's been plaguing Santana this year?
For starters, his usual hot zone at the plate has gone cold. Santana's strength, from the left side of the plate, has always been the away pitch. Santana has a long, looping swing, and he has always covered the outer-third of the strike zone well.
"Sometimes you see the pitches that he hits out, he'll pull the ball but they're either on the edge or even off the plate a little bit," Francona said. "Last year when he got hot, he didn't necessarily hit the ball to left field, he was just hitting the ball so hard to right field."
For his career, Santana's slugged .570 against pitches on the outer third, with the ability to pull them over the fence. This season, he's batting just .370 against outer-third pitches. Santana has a complex swing with an exaggerated leg kick, and a foot coming down just a split-second early or late is enough to throw a hitter into a slump.
There's also the issue with Santana's approach when runners are in scoring position. It hasn't been a problem through his career -- his OPS of .798 with runners in scoring position is actually better than his bases-empty OPS of .776. But through 107 plate appearances with RISP this season, that OPS has plummeted to just .614.
The Indians, as a team, have inexplicably struggled to hit with men on scoring position all season and, perhaps, it's caused Santana to alter his approach at the plate, becoming too aggressive despite finding success with patience in the past.
"When he gets in hitter's counts, he's been getting a little bit long, probably trying to do too much," Francona said. "When there's been runners in scoring position he's been real aggressive, probably real aggressive on offspeed pitches as opposed to trying to get a fastball he can handle."
That being said, Francona is confident Santana will return to his usual, productive ways. He's proven himself as a run producer in the past, and one extended slump isn't enough for the skipper to change his opinion of his switch-hitting first baseman. After all, Santana endured a similar first-half slump last season before putting together one of the best second halves in baseball.
"Guys usually get to their level," Francona said. "Last year, we were talking kind of the same thing, and then he had a three-week stretch where I want to say he hit like 10 home runs. The numbers aren't always as consistent as you want, but he usually finds a way to get there."
August Fagerstrom is an associate reporter for MLB.com. This story was not subject to the approval of Major League Baseball or its clubs.