Maness ejected, Cards not happy over key call
CHICAGO -- The Cardinals' lead in Game 2 of Tuesday's doubleheader evaporated in a seventh inning that saw the Cubs score the tying run on a single that never appeared to pass through fair territory and reliever Seth Maness receive his first career ejection because of his reaction to it. The three-run frame turned out to be the difference, too, in the Cardinals' eventual 5-3 loss in the Wrigley Field nightcap.
Maness, on the mound to preserve a one-run lead, was facing Addison Russell with one out and runners on the corners when Russell skipped a ball down the first-base line and into the right-field visitor's bullpen. First-base umpire Pat Hoberg called the ball fair, allowing Russell, who didn't initially break from the batters' box, to reach first and Miguel Montero to score the tying run.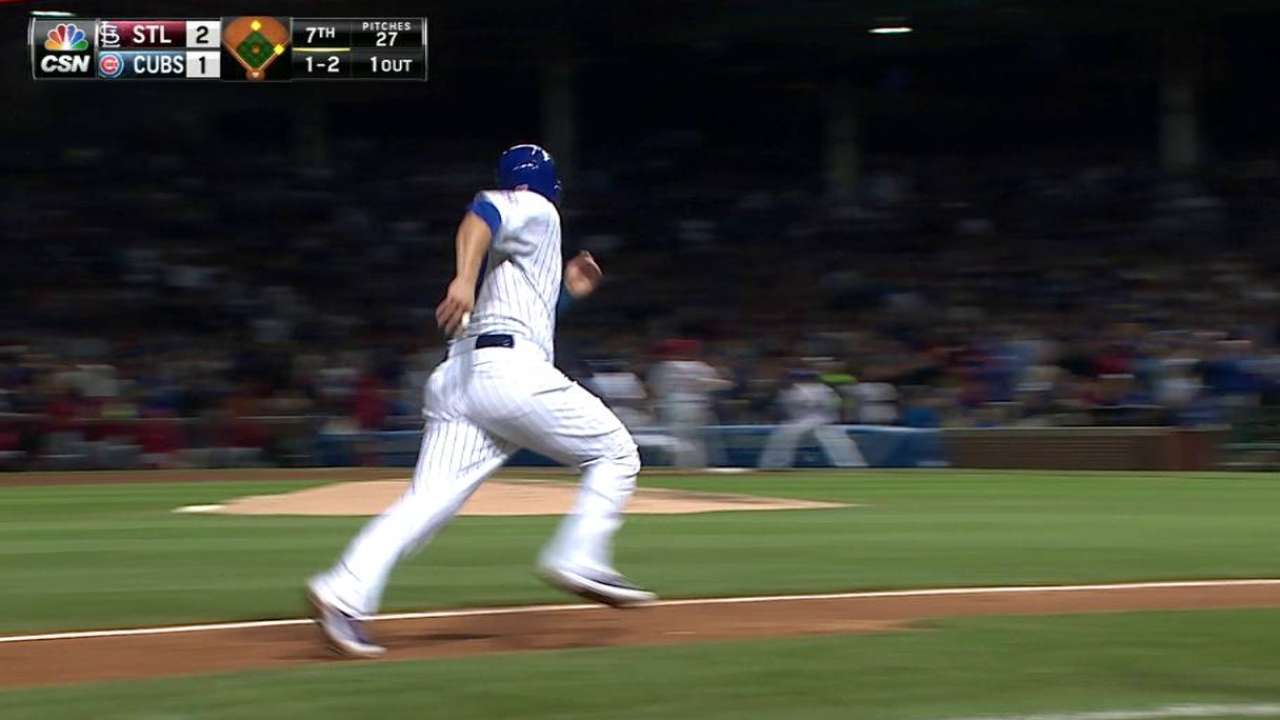 Maness immediately headed toward Hoberg, who quickly ejected the right-hander. Manager Mike Matheny came out to argue that the ball was foul, an opinion backed up by replays that showed the ball bounce foul on the dirt near home plate and then never cross back into fair territory as it bounced beyond first base and down the line.
"I saw it hit two [feet] foul right in the dirt," Maness said. "Then I saw it hit foul again. I'm really no physics major, but I don't know how it hits foul and curves back, but it could."
While Maness, who couldn't recall ever being ejected before, tried to hold back from further postgame judgement on the call, first baseman Mark Reynolds, who had also reacted demonstratively when the call was made, didn't mince his words.
"There was no doubt in my mind it was foul," Reynolds said. "It was foul. No question. Big spot in the game. Huge series. Division [rival]. You can't make that call."
He was also none too pleased with Hoberg's quick ejection of Maness.
"I thought it was [uncalled for]," Reynolds said. "He didn't say anything to get thrown out. I think the guy just overreacted in the heat of the moment. He's probably not used to people questioning him. You know, I just thought the call was bad and the call to throw him out was terrible."
Though Matheny asked Hoberg to elicit help from the other umpires on his crew, he could not request a replay review. By rule, any fair/foul call involving a ball that first lands in front of the umpire is not reviewable.
"It's a shame that we have this technology, and if there is a play that can change the course of the game, why not use the technology to the best we can?" Matheny said. "If it's inconclusive, it's inconclusive. But if it's a blatant miss -- which I have two players over there screaming and yelling that it's a blatant miss. ... I took a quick look at one angle, and I couldn't tell. I get it. It's a tough play. It's just a shame that there's not something allowed in the system in case of human error, and if we have enough technology to show it, why not take a look?"
It wasn't until after Matheny returned to the dugout after huddling with the umpires that he realized his reliever had been ejected. As a result, Maness, who likely would have faced just one more batter in the inning anyway, handed the game over to Kevin Siegrist. The inning further unraveled from there with Siegrist throwing the ball away on a potential inning-ending double play. The Cubs scored three times in the inning to take a 4-2 lead.
Miguel Socolovich had made the same throwing error in the team's 7-4 loss in Game 1. That error, too, led to an unearned run.
"That's twice today and that's something we haven't been accustomed to seeing, whether it's from our position players or our pitchers," Matheny said. "We've been a very good defending team and we haven't been giving a lot of extra outs. We haven't been giving a lot of extra bases. We haven't been throwing the ball away. Today was one of those days where it was just uncharacteristic."
Jenifer Langosch is a reporter for MLB.com. Read her blog, By Gosh, It's Langosch, follow her on Twitter @LangoschMLB, like her Facebook page Jenifer Langosch for Cardinals.com and listen to her podcast. This story was not subject to the approval of Major League Baseball or its clubs.