Sharp again, Heaney gives Angels a nice dilemma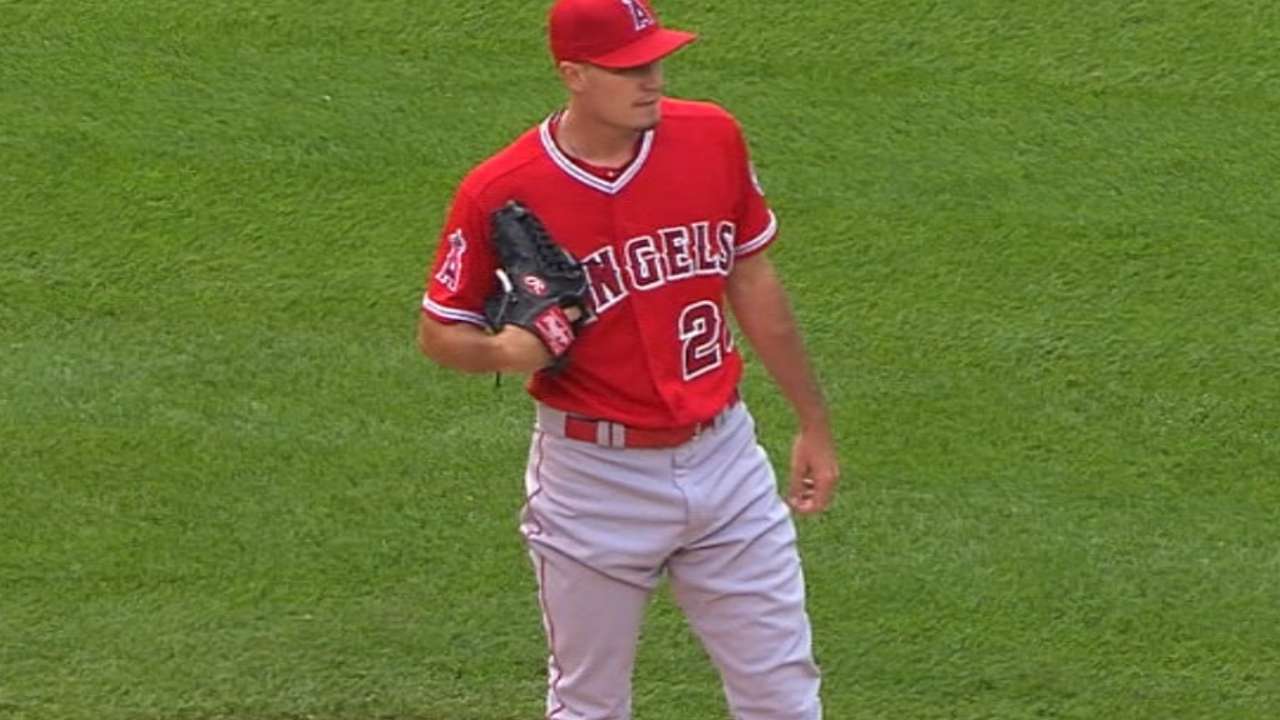 DENVER -- The Angels are running into the kind of problem they love to have: Too many starting pitchers.
It's a byproduct of Jered Weaver nearing his return from the disabled list and Andrew Heaney continuing to pitch well in his place, the latest example coming amid a 10-2 Angels victory Tuesday night in the notoriously hitter-friendly Coors Field.
Heaney allowed just two runs and zero walks in 7 1/3 innings, making him 2-0 with a 1.77 ERA in his first three starts with the Angels.
The 24-year-old left-hander -- ranked first in the Angels' system and 19th in the Majors by MLB.com -- is finally displaying the talent the Angels envisioned when they parted ways with Howie Kendrick to acquire him in December.
He's forcing the Angels into a tough decision.
"I do my thing, I go out there and pitch, and whatever happens, happens," Heaney said. "I'd like to think I've given myself an opportunity, but there's five other pitchers that made the team for a reason, and there's a reason I didn't."
Heaney is referring to Spring Training, when he posted a 7.03 ERA in six starts and lost the battle for the fifth spot in the rotation.
Late in spring, though, Heaney worked out some mechanical issues that gave him more of a direct line toward home plate with his delivery. His slider and changeup got better, he started spotting his fastball more precisely, and he showed much better command -- albeit inconsistent numbers -- in the unforgiving Pacific Coast League.
He's allowed just four runs, 14 hits and three walks in 20 1/3 innings since getting called up, striking out 17 batters.
"I'm just comfortable with what I'm doing," Heaney said. "I'm confident in what I'm doing and being able to just be aggressive with what I've got."
Angels manager Mike Scioscia said, in no specific terms, that "when a guy is throwing the ball like Andrew is, there's no doubt he's got the opportunity to win a spot long-term in our rotation."
Whose spot he takes, exactly, is still uncertain.
Weaver is 4-8 with a 4.75 ERA and a diminishing fastball velocity that makes it difficult for him to dominate. But his sparkling track record, not to mention his encouraging five-start stretch in May, means he isn't going anywhere.
Garrett Richards (9-5 with a 3.35 ERA) stays in the rotation, of course. C.J. Wilson (7-6, 3.82 ERA) has been shopped in the Angels' pursuit of another bat, but he's a mainstay in the rotation while he's here. Hector Santiago can be a weapon out of the bullpen, but his 2.40 ERA is the fourth-lowest in the American League. Matt Shoemaker has a 4.71 ERA, but he finished second in AL Rookie of the Year Award voting last year and has given up just four runs in his last 11 2/3 innings.
"We'll take it one game at a time," Scioscia said. "It would be a nice problem to have."
Alden Gonzalez is a reporter for MLB.com. Read his blog, Gonzo and "The Show", follow him on Twitter @Alden_Gonzalez and listen to his podcast. This story was not subject to the approval of Major League Baseball or its clubs.