Eovaldi gets early hook despite solid effort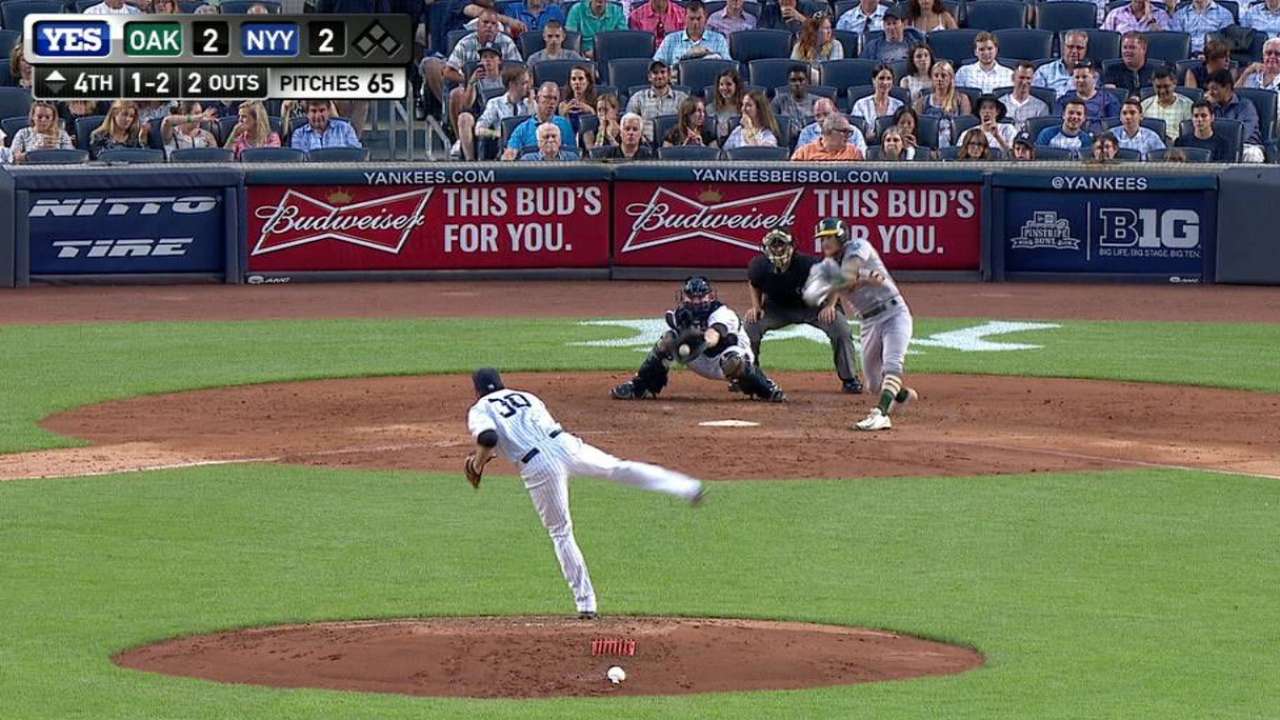 NEW YORK -- The hook arrived after just 86 pitches for Nathan Eovaldi on Tuesday evening, and manager Joe Girardi's decision to turn the game over to the bullpen loomed large in the Yankees' 4-3, 10-inning loss to the Athletics at Yankee Stadium.
Girardi opted to pull Eovaldi after he recorded the first out of the sixth inning, fearing the matchup against Oakland's Josh Reddick. Chasen Shreve entered and retired Reddick, but then served up a game-tying home run to designated hitter Billy Butler.
"Reddick had hit him pretty hard, and I had a fresh bullpen," Girardi said. "The way my bullpen's been throwing, I thought I would go to Shreve, and then I knew I had Adam Warren, and then continue to roll out the guys."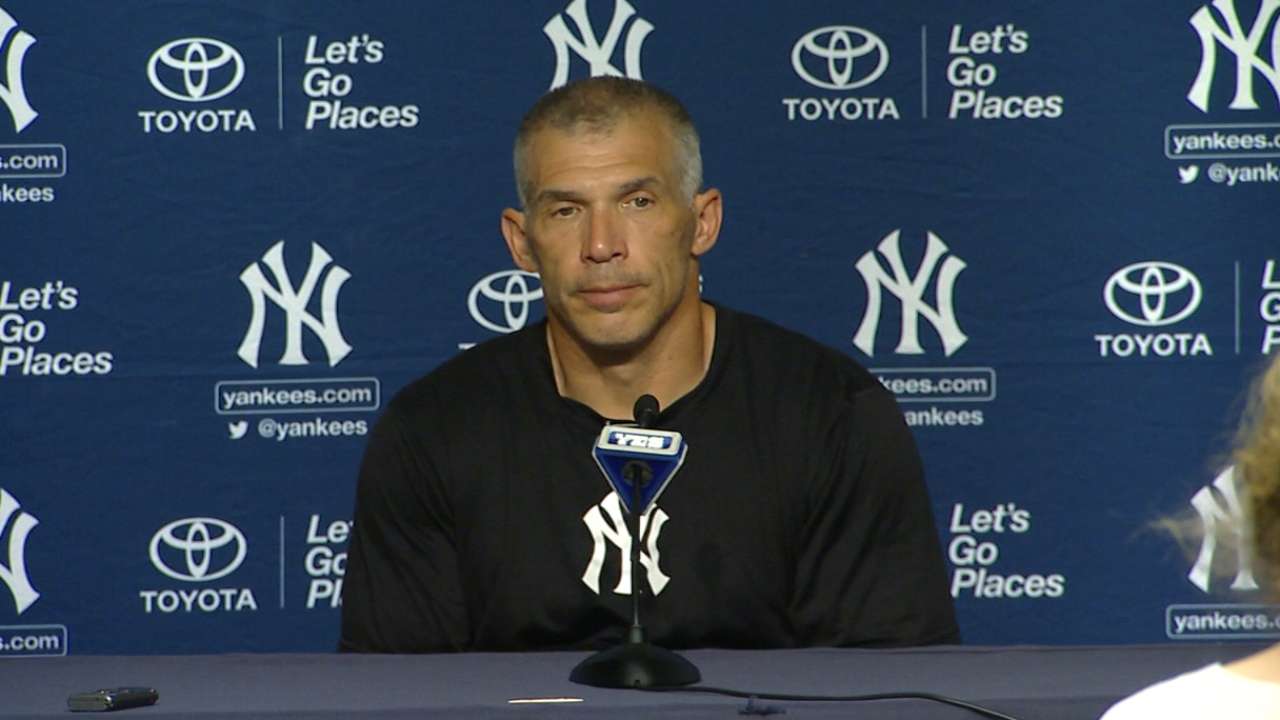 It did work largely according to that plan, as the bullpen permitted just two hits the rest of the way. Unfortunately for the Yankees, they were costly ones: after Butler's game-tying shot in the sixth, Oakland didn't have a hitter reach base until Brett Lawrie's go-ahead homer off Dellin Betances in the 10th.
For Eovaldi, it marked the 10th time in 17 starts that he was unable to complete at least six innings, though he limited the Athletics to a pair of runs on six hits over his 5 1/3 frames. Eovaldi walked one and struck out four, throwing 60 pitches for strikes.
"I feel like I threw the ball pretty well tonight," Eovaldi said. "My split felt good tonight. I've just got to do a better job of going deeper into ballgames. I didn't feel like I attacked the hitters as well as I should have, getting first-pitch strikes. It's just one of the little things I've got to do better."
Girardi's decision to pull Eovaldi for Reddick made sense on a split basis; Eovaldi entered Tuesday's game having permitted a .352 batting average and a .902 OPS to left-handed hitters. Reddick stroked a RBI single to center field off Eovaldi in the first inning and lined into a double play that ended the third.
"With a fresh bullpen, I would do it again -- especially lefty on lefty in that situation," Girardi said.
"I was surprised, but our bullpen has been outstanding this year," Eovaldi said. "I understand the situation and stuff, it was a close ballgame and they had the heart of the lineup coming up there."
With the Yankees viewing Eovaldi as a long-term project, there are reasons for encouragement. For the fifth straight start, Eovaldi did not permit a home run, one shy of his career high, and he is 3-0 with a 2.38 ERA (22 2/3 IP, 6 ER) over his last four starts since June 20.
"He threw all right," Girardi said. "He was in some trouble tonight a couple of different times. He managed to get out of it. It was first and third [in the third] inning and there was one run in and he got out of it with no more. So he did a pretty decent job."
Bryan Hoch is a reporter for MLB.com. Follow him on Twitter @bryanhoch, on Facebook and read his MLBlog, Bombers Beat. This story was not subject to the approval of Major League Baseball or its clubs.