Shaking off rust after layoff, Gray shows grit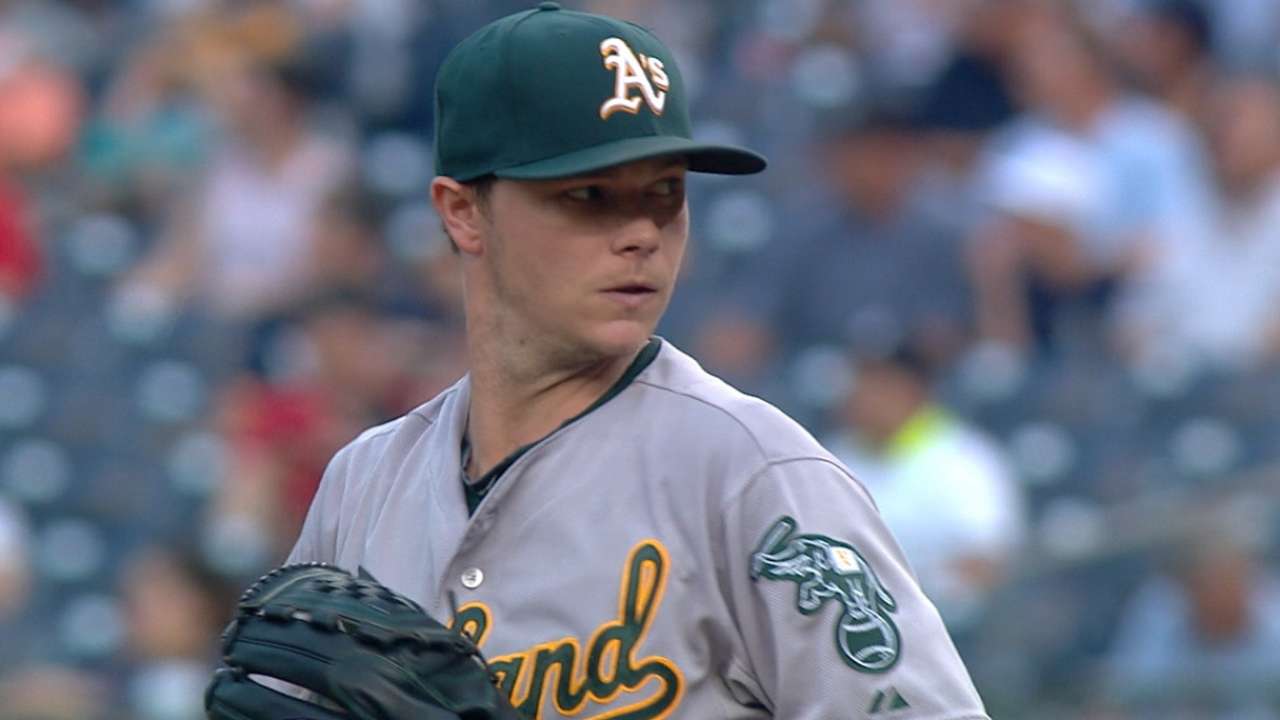 NEW YORK -- Following an 11-day layoff after a bout with salmonella, Sonny Gray struggled to regain his form in the early going at Yankee Stadium on Tuesday. Once he did, the A's right-hander was his typically dominant self.
"Taking a big break can kind of make it all feel foreign when you get back out there, but I just felt like as the game went on I was getting better and better, which was good for me to feel," said Gray, who completed seven innings, allowing three runs in Oakland's 10-inning, 4-3 victory.
Oakland's ace, making his first career start at Yankee Stadium, needed 26 pitches to get through a laborious first inning, allowing three hits and a walk that resulted in two runs. He threw 84 over his final six frames.
"Coming off what he's been dealing with, it was outstanding for him to re-get it," catcher Stephen Vogt said. "He was trying to fight it in the first inning, and he was still making good pitches, and for him to do what he did and go seven for us was huge -- especially with how he looked early. He made such good adjustments and threw more changeups today than he ever had, and they were working."
Gray, who was named a first-time All-Star on Monday, has tossed at least six innings in each of his last seven starts and in 15 of his 17 outings on the season, allowing three earned runs or fewer in 15 of them. His ERA stands at 2.20, third best in the American League.
A's manager Bob Melvin was ready to go to his bullpen after the sixth, until Gray changed his mind.
"Really, after six, I was open to doing whatever, and he said he felt as strong as he had all night to go out for the seventh," Melvin said. "It's good that we did get his pitch count back up some and get him going again in the fashion before he had the layoff."
"I had a really good sixth inning, felt like I was getting better, I was throwing a lot more strikes," Gray said. "I told him I was good to go back out for the seventh, and I'm glad he sent me back out there."
Gray walked three batters, two of which scored, but he struck out five and didn't allow an extra-base hit.
"I felt a little rusty there early, but I felt I was still making good pitches, and as the game went on and on I was getting better and better," he said. "I was just trying to keep us in the game. It was nice to be able to do that."
Jane Lee is a reporter for MLB.com. This story was not subject to the approval of Major League Baseball or its clubs.