Handed lead, bullpen can't close door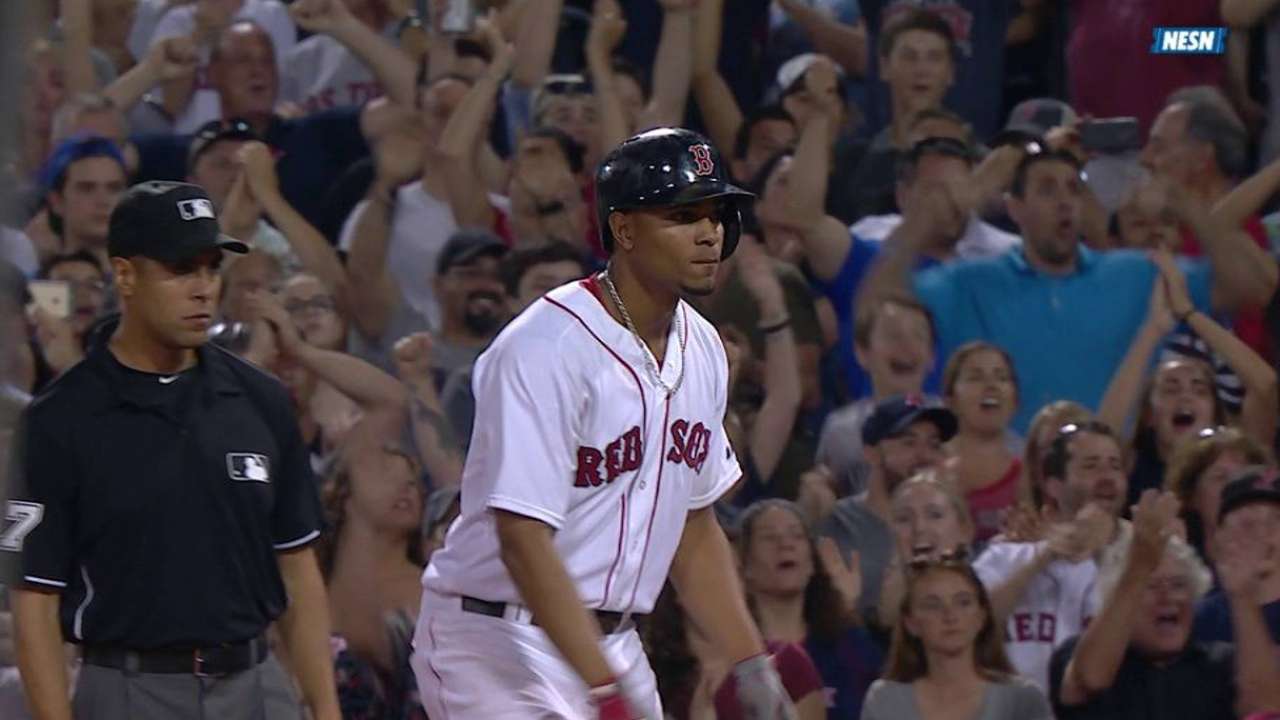 BOSTON -- One more strike was all the Marlins needed before taking a 4-3 loss to the Red Sox on Tuesday night at Fenway Park.
Staked a two-run lead minutes earlier, the Marlins appeared in control heading into the home half of the seventh. And even after a costly error and spotty command from Steve Cishek loaded the bases, reliever Carter Capps had Xander Bogaerts at a full count with two outs.
Then, with a crack, the ball jumped off Bogaerts' bat and into the outfield, scoring all three baserunners to put Boston ahead for good.
Capps, who fell behind 3-0 before working himself back into the at-bat, fired a 99-mph fastball on the outer half of the plate that Bogaerts tattooed into right-center. Bogaerts hung in on a pitch that had a perceived velocity of 105.55 mph, the highest number of any pitch in the Major Leagues this season, according to Statcast™. The pitch looked that fast to Bogaerts, thanks to an extension of 9.5 feet by Capps.
With designated hitter David Ortiz standing in the on-deck circle, there was precious little room for error.
"That's his job right there to put the ball in play, and it's my job to make him put it in play at somebody," Capps said. "I wasn't going to change anything I was doing. I'm not going to walk him to face Big Papi. Obviously I know who's on deck right there, so I'm going to challenge him. Got behind early. I think if I start him off with a strike on a fastball it might've been a different at-bat. I just got in the hole early."
Capps likely never faces Bogaerts in their game-changing duel, however, without an uncharacteristic mistake from third baseman Miguel Rojas, who booted a routine grounder that allowed Boston to load the bases with one out.
"The guy's a magician with a glove," Miami manager Dan Jennings said. "It's just one of those plays where I think he tried to front the ball versus backhand, and then doing that kind of kicked off of him. If we could've recovered and got one out, it would've been fine. But it didn't turn out that way.
"But you can't fault the kid. He's really a [heck] of a fielder. He can make difficult plays very easily. Tonight it didn't happen."
Cishek, who allowed a one-out single to Travis Shaw and then walked Ryan Hanigan on five pitches, left the game and was charged with three unearned runs over one-third of an inning. The right-hander had only given up one run in his previous 8 1/3 innings since being recalled from the Minors in June.
"I was having a hard time locating [my fastball] down and away," Cishek said. "I think that's really what got me. I think I've been feeling pretty good lately. Just sticking that pitch there. Today was one of those days where I just couldn't find that arm slot to get that pitch down in the zone. That came back and haunted me for sure."
The defeat, their third in a row, dropped the Marlins to 14-27 in road games this season and left several within the clubhouse frustrated at the missed opportunity.
"The two things that have been our strong suits, the back end of our bullpen and our defense, let us down in that seventh inning tonight," Jennings said.
Alec Shirkey is an associate reporter for MLB.com. This story was not subject to the approval of Major League Baseball or its clubs.