Krauss homers in first Tigers at-bat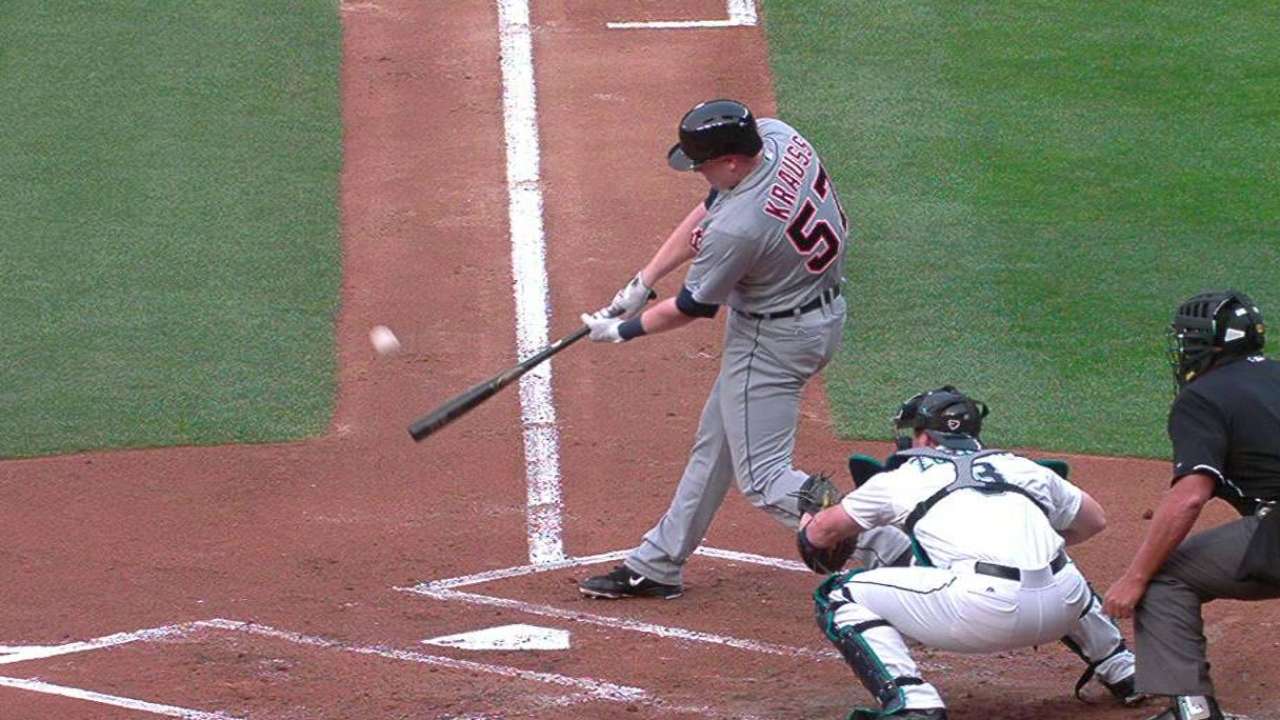 SEATTLE -- Marc Krauss, who homered in the second inning of Tuesday night's 7-6 loss to the Mariners in his first Tigers at-bat, might finally have his best shot in the big leagues, and it comes close to home with an organization that normally employs two-time MVP Miguel Cabrera at first base. With Cabrera out for six weeks with a strained left calf, Krauss has a chance to prove himself, and he hopes to take advantage.
Krauss grew up a couple of hours south of Detroit in Deshler, Ohio, a town with a population of about 2,000 on the other side of Toledo. He grew up an Indians fan, but went to games at old Tiger Stadium and Comerica Park while he was growing up. He still lives in Deshler, and was back home with his wife -- who's expecting their second daughter soon -- when his situation changed.
"I went home to check on her, make sure everything was all set, and then I found out the news that [the Rays] had designated me," said Krauss, who went 1-for-4 with three strikeouts in his Tigers debut. "So I thought, 'Well, at least I'm at home.' I had a couple days of waiting, and then the good news came [Monday] with the Tigers claiming me, so I was really excited about that."
In the last seven months, he went from the Astros to the Angels on waivers in December, was outrighted to Triple-A Salt Lake in January, got the call to Anaheim in May, was designated for assignment two weeks later, traded to the Rays last month, was designated for assignment again last weekend, then claimed by the Tigers on Monday. He hasn't even been able to find a regular uniform, let alone regular at-bats.
"Obviously there are a lot of good hitters in this clubhouse," Krauss said. "I'm just going to try to rub elbows and mix in and see what I can learn, see routines, see what they do, hopefully learn a lot from them and maybe turn my year around like [J.D. Martinez] has."
Krauss was a teammate of Martinez in the Astros' system in 2012 and '13 before Martinez was released and got his shot in Detroit. He's headed to the All-Star Game. To expect Krauss to make that much of a step forward might be a bit much. But to write him off as a Cabrera fill-in before he gets some regular at-bats might not to be unfair, too.
"I've had stretches where I've had success, never have maintained that through the course of a couple months, which I hope to change," Krauss said. "I hope I can find something that clicks. That's something you hear a lot from guys, and I'm sure J.D. can attest to that. You learn something or hear something from somebody that changes the way you think about things and maybe take off. So that's what I'm hoping for.
"Maybe some consistent playing time will help. I've never really had a role with any organization I've been in, where I've had consistent at-bats. I'm just thrilled to be able to put on the 'D' and play for a team close to home and in the thick of things."
For now, the Tigers plan to start him at first base against right-handed pitching, and use Jefry Marte against lefties, with Andrew Romine possibly getting some starts in between. Catcher Alex Avila's starts at first base are likely over, according to manager Brad Ausmus, despite his play over the weekend.
Jason Beck is a reporter for MLB.com. Read Beck's Blog, follow him on Twitter @beckjason and listen to his podcast. This story was not subject to the approval of Major League Baseball or its clubs.