Lindor robs fellow SS prospect Correa of hit
Astros shortstop originally ruled safe, but call is overturned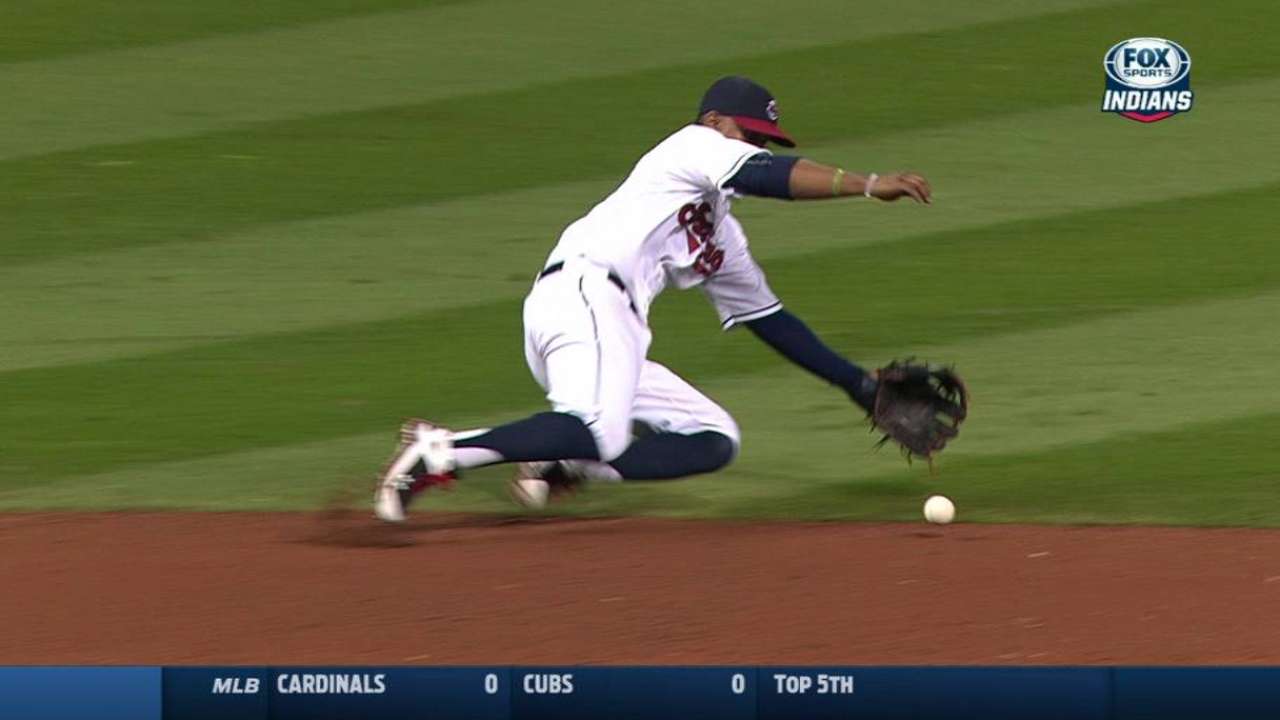 CLEVELAND -- It was a battle between the two top shortstop prospects in baseball on Tuesday night at Progressive Field. The Indians' Francisco Lindor vs. the Astros' Carlos Correa. In this instance, it was Lindor who came out on top.
With the Indians leading, 1-0, in the sixth inning, Correa hit a ground ball up the middle. Lindor ranged to his left, dove, spun and delivered a strong throw to first baseman Carlos Santana, who finished things off with a nice scoop. Cleveland won the game, 2-0.
Correa was originally ruled safe at first, though the call was overturned after a brief replay review.
"That's what playing good defense does, it keeps you out of those big innings and it takes the momentum from their side to ours," outfielder Michael Brantley said. "And keeps it on our side."
Lindor, ranked as the No. 2 shortstop prospect in baseball by MLBPipeline.com, has long been revered for his defense at shortstop. His MLBPipeline scouting report states that he was "considered by many scouts to be the best defender in the Minor Leagues. He makes difficult plays seem routine thanks to his strong arm, impressive range and flashy glove work."
"I think we've seen it from the get-go," starting pitcher Corey Kluber said. "We've seen it the last couple years in the spring as well. I don't think any of us were doubting how good he was, or is."
Correa, on the other hand, has long been revered for his offense. Correa, ranked No. 1 on the top shortstop prospects list, led all shortstops (minimum 100 plate appearances) with a .571 slugging percentage entering Tuesday, and he has already slugged seven homers in his first 27 big league games.
August Fagerstrom is an associate reporter for MLB.com. This story was not subject to the approval of Major League Baseball or its clubs.