Phillies closer to bringing up right-hander Nola
Club gives Buchanan the nod for Saturday's start in San Francisco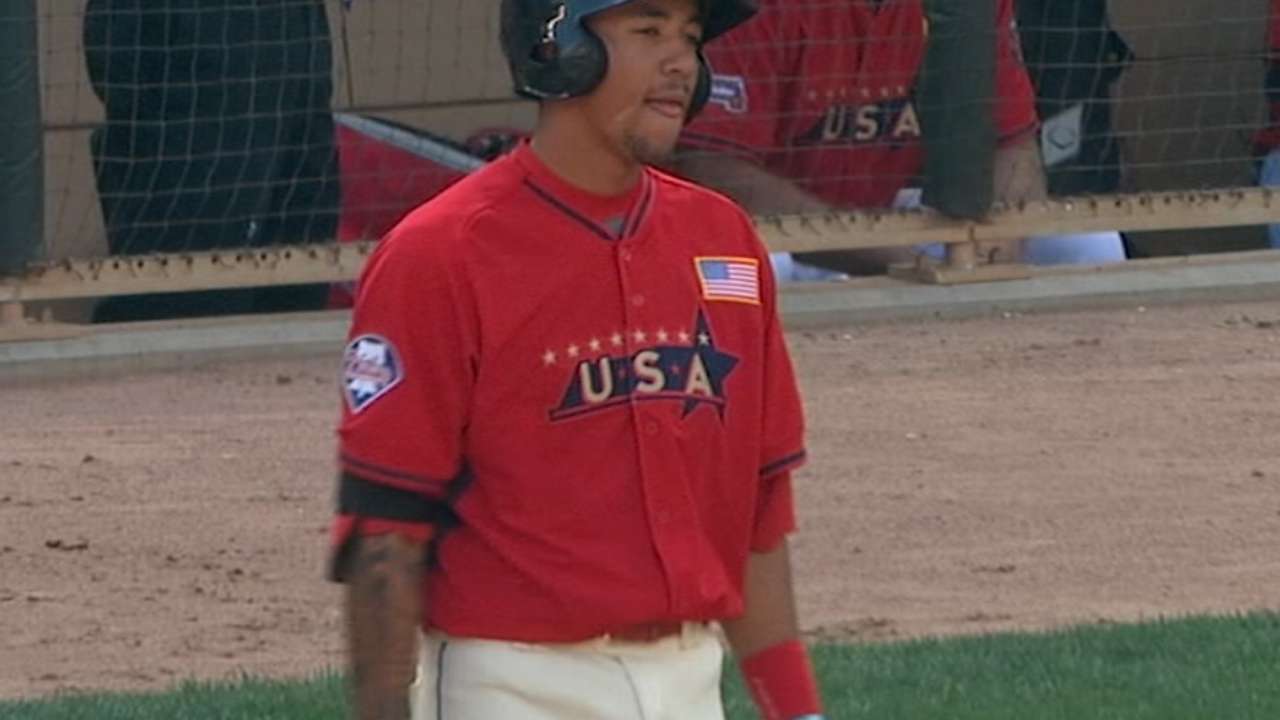 LOS ANGELES -- The Phillies named Triple-A right-hander David Buchanan their Saturday starter vs. the Giants. They said they never considered Triple-A right-hander Aaron Nola, who is the organization's top pitching prospect.
But it sure sounds as if Nola will be in the big leagues before the end of the month.
"He's getting closer," Phillies general manager Ruben Amaro Jr. said Tuesday afternoon at Dodger Stadium. "At some point after the All-Star break, yeah."
Of course, that could mean anytime between July 17 and the end of the regular season, but Phillies interim manager Pete Mackanin said he expects more changes to the rotation following the All-Star break. That could mean injured right-handers Jerome Williams and Aaron Harang rejoin the team, but with Cole Hamels expected to be traded before the July 31 Trade Deadline it almost certainly means Nola, too.
"We have a plan in place, and we'll execute it," Amaro said. "We have a good thought about when he's going to be pitching for us."
The Phillies outrighted right-hander Sean O'Sullivan following Monday's 10-7 loss to the Dodgers at Dodger Stadium. They recalled right-hander Hector Neris to take his place on the roster. Neris will help in the bullpen until Saturday, when Buchanan will be added.
The Phillies also designated right-hander Kevin Correia for assignment. Rookie right-hander Severino Gonzalez will pitch in his place Thursday. Of course, Gonzalez has not exactly pitched well. He is 3-2 with an 8.28 ERA in six starts. He has not pitched more than 5 1/3 innings in any of those starts. The inability to pitch six or more innings has been a big problem for the rotation.
"I would rather give the young man an opportunity," Amaro said, explaining the difference between Correia and Gonzalez. "He's throwing better. His stuff's better. I'd rather give the young man an opportunity to do it at this stage of the game and see how he fares."
"It's time to do something. It's past [time]," Mackanin said. "We're happy about getting something changed, I am at least. We got a fresh arm in the bullpen, which is huge. I don't like to keep starters on the field longer than they should, but we've been forced to do that. So we'll see. Hopefully we'll get Williams healthy and Harang healthy. Now Seve. There probably will be more changes down the road. So down the road, just get through the All-Star break and regroup, start over."
The Phillies also promoted Double-A Reading left-hander Jesse Biddle to Triple-A. He will pitch Wednesday night.
Todd Zolecki is a reporter for MLB.com. Read his Phillies blog The Zo Zone, follow him on Twitter and listen to his podcast. This story was not subject to the approval of Major League Baseball or its clubs.