Dodgers recall Thomas, option Surkamp
Club has not committed to a starter for Saturday's game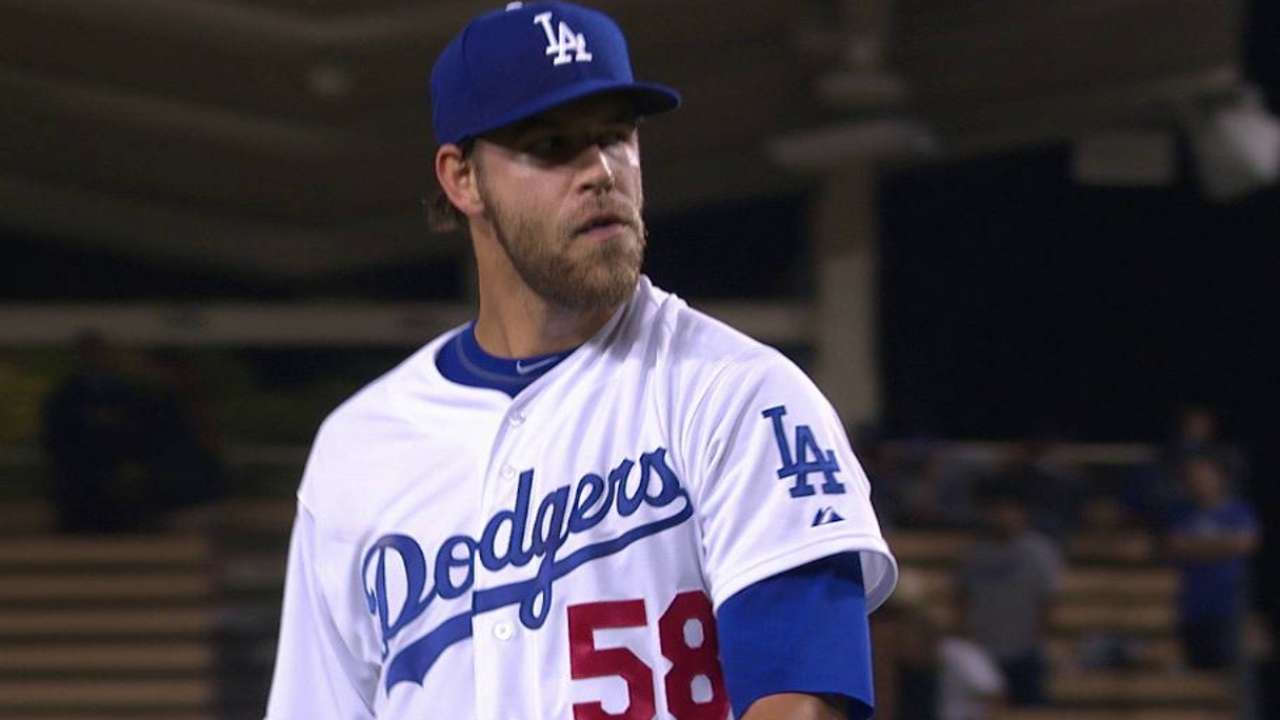 LOS ANGELES -- After the Dodgers used seven relievers in a bullpen game Monday night against the Phillies, Los Angeles will face a similar decision when the fifth spot in the rotation comes around Saturday.
After Yimi Garcia and Eric Surkamp were stretched out Monday night, the Dodgers recalled Ian Thomas for a fresh arm in the bullpen, optioning Surkamp back to Triple-A. Thomas pitched two scoreless innings, striking out two and walking one in Tuesday night's 7-2 loss to the Phillies.
The Dodgers have a hole in their rotation since Carlos Frias was placed on the disabled list Sunday. The club gave Garcia the nod for his first career start Monday, although he lasted two innings by design, followed by Surkamp who has been a starter in the Minors.
"It's not that much different. If you switch Yimi and Surkamp yesterday, it's the same game," manager Don Mattingly said. "It just lets us pinch-hit the first time through the order and you have a DH."
The plan worked, in theory, as Alex Guerrero pinch-hit for Garcia with a runner on second base in the second inning, but he lined out.
Surkamp lasted 3 1/3 innings, allowing four runs in his Dodgers debut.
"Ian gives us length as a guy that, last time out, threw 100 pitches," Mattingly said. "He's a guy that can protect us depending on if we get into a crazy game."
This is the second time that the Dodgers have used the reliever first, starter second approach this season. Juan Nicasio threw two innings on June 2 before being replaced by Thomas, who allowed four runs in three innings. The Dodgers lost that game, 6-3, and allowed seven runs Monday using seven different relievers.
The Dodgers were tight-lipped on naming the starter for Monday's game, waiting until just a few hours before the first pitch to reveal Garcia as the starter. Expect more of the same this weekend as Mattingly wouldn't commit to anyone for this weekend's start.
"It's a number of guys again. We haven't really sat down and thought about it yet," Mattingly said. "But I'm sure Andrew [Friedman] and Farhan [Zaidi] are thinking about different guys and different combinations and possibly the same kind of game we saw yesterday."
One option for Saturday's starter could be rehabbing right-hander Brandon Beachy. The 28-year-old has been rehabbing his second Tommy John surgery in the Dodgers Minor League system and threw six innings for Triple-A Oklahoma City Monday night, allowing five runs, three earned and throwing 93 pitches.
"He's thrown the ball well. We haven't really gotten into the candidates for this weekend but I know he's feeling good," Mattingly said. "That's one of the things that we talk about with Brandon, is giving him the time to be physically ready, but also give him the time to be mentally ready to compete. He could be a guy that's considered."
Mattingly said Beachy touched 93 on the radar gun Monday night, which was the norm when Beachy last saw action in the Majors with Atlanta in 2013. He has a career 3.23 ERA in the Majors.
Steve Bourbon is an associate reporter for MLB.com. This story was not subject to the approval of Major League Baseball or its clubs.