Back-to-back days behind plate big for Wieters
Veteran catches consecutive games for first time since having surgery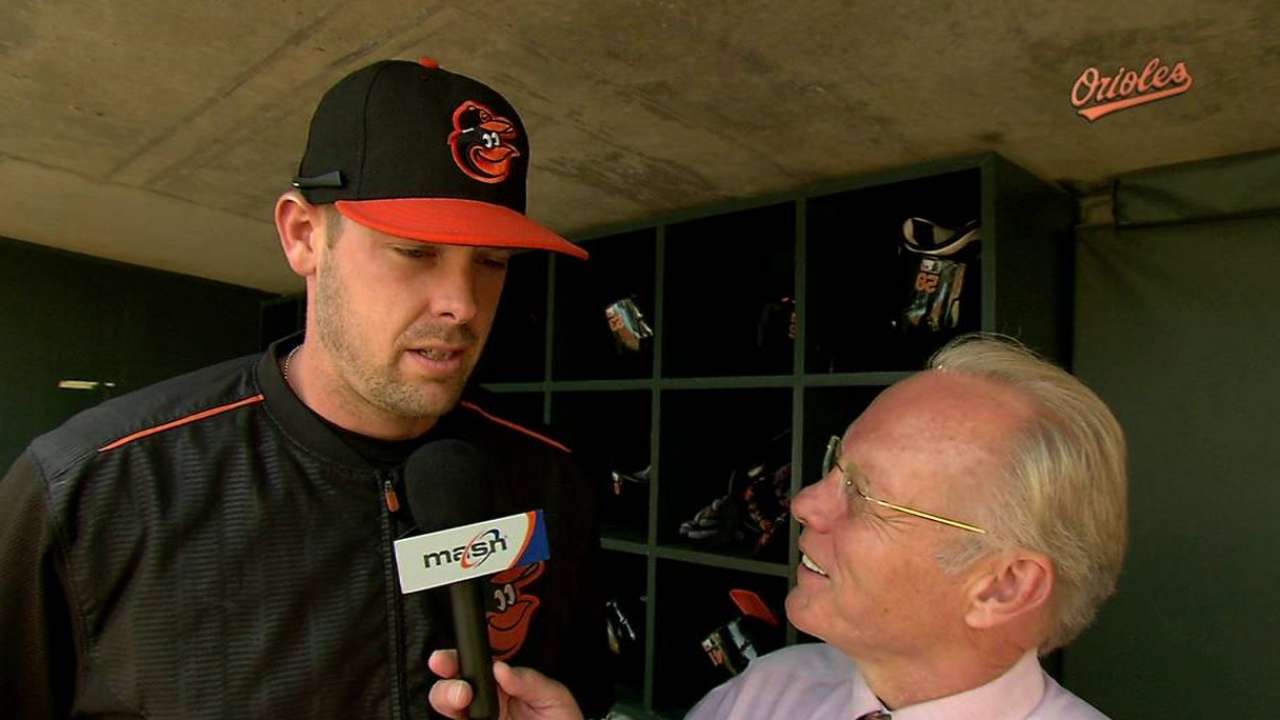 MINNEAPOLIS -- Matt Wieters took a big step in his recovery on Tuesday, starting back-to-back games behind the plate for the first time since having Tommy John surgery last year, representing another hurdle on his way back to starting every day.
Wieters, a two-time Gold Glove winner, missed most of last season after undergoing surgery last June. He returned just over a month ago and has caught 16 times since then, as the Orioles have eased him back in.
With a day game on Wednesday and an off-day on Thursday, Wieters will have an extra day of rest, making Tuesday a good day to test his right elbow in back-to-back games.
"We were hoping that this would be a good time, but at the same time, we never wanted to set an exact date because you still are going to have to see how the arm feels," Wieters said. "We always looked at just the way the schedule's set up, that this might be a good place if everything goes well to try and do a back-to-back."
Manager Buck Showalter said Tuesday was a "real soft target date." Wieters won't catch Wednesday, and after Thursday the Orioles will play the Nationals, so he could catch back-to-back games again before getting a break on Sunday.
Wieters had looked at the schedule through the All-Star break and bullet pointed a time where if his arm had felt good enough, he'd try to catch on back-to-back days.
"We don't want to be able to try back-to-back days for the first time and then have one day off and then go back to catching back-to-back days," he said. "We want to have a little bit of a break built in there."
Showalter said it was "kind of important," to get Wieters back-to-back starts behind the plate before the team has a four-day break next week, but the Orioles weren't pushing it.
"If he was still a little tentative with it, we wouldn't have," Showalter said. "I think it was as much a kind of a mental hurdle as a physical hurdle."
Wieters also came through at the plate on Monday, going 3-for-4 after four straight hitless games, another step in the right direction for him.
"I'm excited about the progression. It's something to where it's still going to be a progression throughout the whole year. You want to be able to get out to three games in a row, four games in a row, whenever it happens, it happens," Wieters said. "But being able to catch back-to-back games is a good progression. We're still going to have to look at it each day we come in."
Betsy Helfand is an associate reporter for MLB.com. This story was not subject to the approval of Major League Baseball or its clubs.