Cespedes' Final Vote nod could lead to Derby
Two-time champ, J.D. Martinez give Tigers two worthy potential participants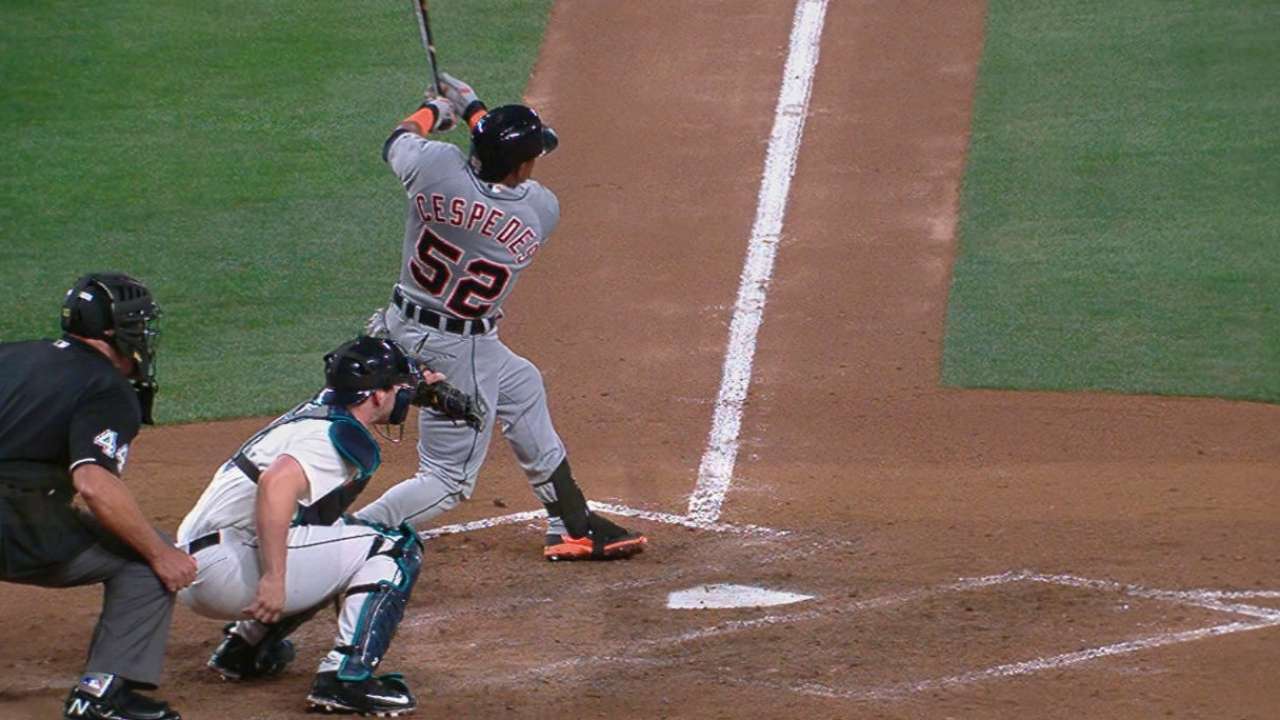 SEATTLE -- J.D. Martinez became an All-Star with a two-week hitting barrage that has resembled a home run contest. It only makes that sense that he takes his swings at the actual event, now known as the Gillette Home Run Derby presented by Head & Shoulders.
Yoenis Cespedes knows the feeling. He's the two-time defending champion with a chance to defend, but he wants to be in the All-Star Game presented by T-Mobile if he's going to take part, and he'll need fans to punch his ticket via the 2015 Esurance MLB All-Star Game Final Vote.
Voting is open now at MLB.com, and fans can cast their votes from a list of five players from each league until 4 p.m. ET on Friday. If Cespedes gets the nod on the American League ballot, there might be more of a bonus for the Tigers than a fifth All-Star. Detroit could feasibly have two of the eight Derby participants. For now, though, that's up in the air for both sluggers.
"I definitely would have to think about it a little bit more," Martinez said.
The Tigers' twitter community began picking up Cespedes' cause in earnest Tuesday, from teammates David Price, James McCann and Alex Wilson to Michigan governor Rick Snyder.
Everyone vote @ynscspds for the final vote!!!!! He has been mashing all year long...oh and his defense is phenomenal!!! #VOTEYO #please

— David Price (@DAVIDprice14) July 7, 2015
VOTE YO!!!!

— Alex Wilson (@WillyWilson18) July 7, 2015
#VOTEYO NOW! pic.twitter.com/q5ieCgCsUe

— Ian Krol (@IanKrolTKB) July 7, 2015
#VoteYo. Vote often. Let's send @ynscspds to the 2015 @AllStarGame! Go @tigers --> http://t.co/oyGyuVeSM9 pic.twitter.com/tVaV9ClT68

— Governor Rick Snyder (@onetoughnerd) July 7, 2015
Considering Martinez entered Tuesday's matchup with the Mariners ranked second in the AL with 24 home runs, his Derby invite is widely expected. As of Tuesday afternoon, he hadn't heard anything other than a preliminary inquiry asking if he'd be interested.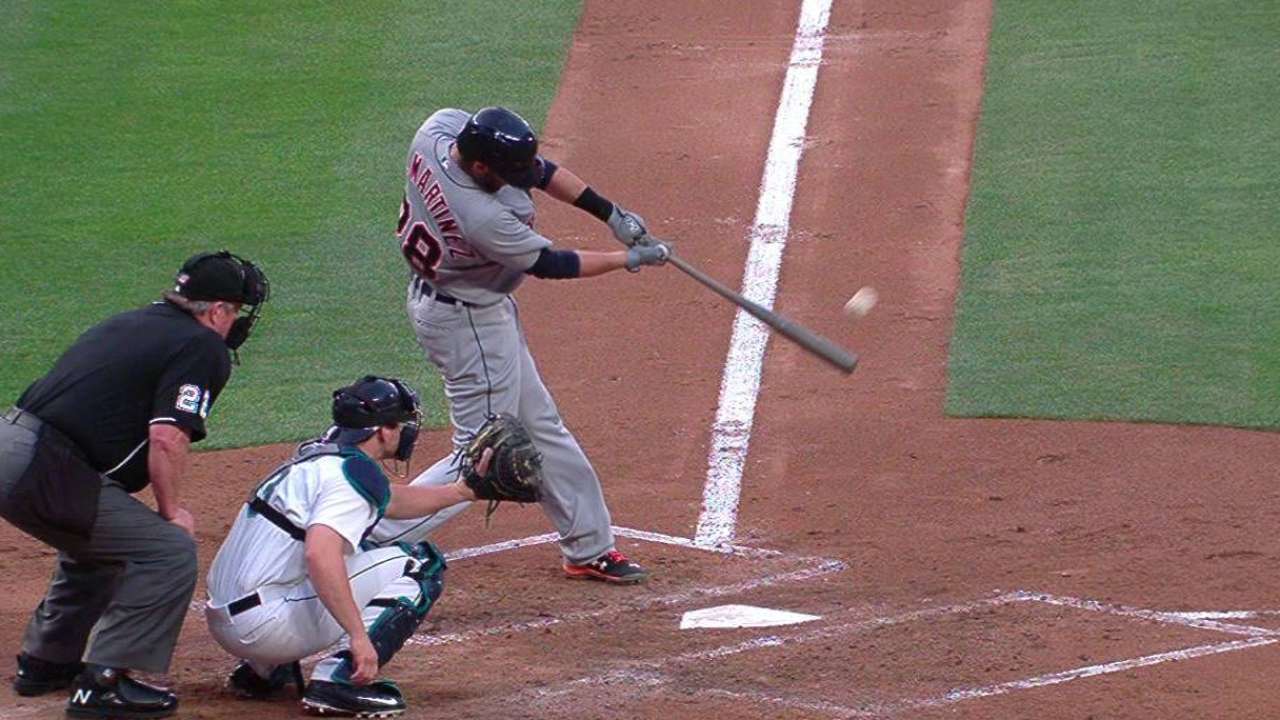 Martinez spent some time reading up on the new format, including timed rounds, trying to figure out how much of an adjustment it would be for him.
He does not believe in the idea that it would mess with his game swing. If anything, he wants to treat it as much like regular batting practice as possible, something others have tried to do over the years.
"It's kind of different now," he said. "I think if I were to do it, I'd just go out and take normal BP. If they go out, they go out. Really not just go out there and change my swing, just try to hit the ball."
In other words, the new timed format wouldn't force him to pick up the pace, and wouldn't mess with his swing. And that's fine with manager Brad Ausmus.
"I believe that if a player thinks it can mess with his swing, then that's enough reason not to do it," Ausmus said. "But I don't know that it actually effects the swing."
Cespedes clearly has the process down. Now he needs the votes.
During the Midsummer Classic in Cincinnati on Tuesday, July 14, fans can once again visit MLB.com to submit their choice for the Ted Williams Most Valuable Player Award presented by Chevrolet. Voting exclusively at MLB.com, online and via their mobile devices in the 2015 All-Star Game MVP Vote presented by Chevrolet, the fans' collective voice will represent 20 percent of the overall vote that determines the recipient of the Arch Ward Trophy.
MLB.TV Premium subscribers will be able to live stream the All-Star Game via MLB.TV through FOX's participating video providers. Access will be available across more than 400 supported MLB.TV platforms, including the award-winning MLB.com At Bat app. MLB.com will provide extensive online coverage of the All-Star Week festivities, including the 2015 Gillette Home Run Derby presented by Head & Shoulders, part of Gatorade All-Star Workout Day on Monday, July 13. The Derby will feature a new format with brackets and timed rounds and will be broadcast live by ESPN and MLB.com beginning at 8 p.m. ET.
The 86th All-Star Game will be televised nationally by FOX Sports (7 p.m. ET air time, 8:15 first pitch), in Canada by Rogers Sportsnet and RDS, and worldwide by partners in more than 160 countries. ESPN Radio and ESPN Radio Deportes will provide exclusive national radio coverage of the All-Star Game. MLB Network and SiriusXM will also provide comprehensive All-Star Week coverage. For more information, please visit allstargame.com.
Jason Beck is a reporter for MLB.com. Read Beck's Blog, follow him on Twitter @beckjason and listen to his podcast. This story was not subject to the approval of Major League Baseball or its clubs.