After long wait, O'Rourke called up by Twins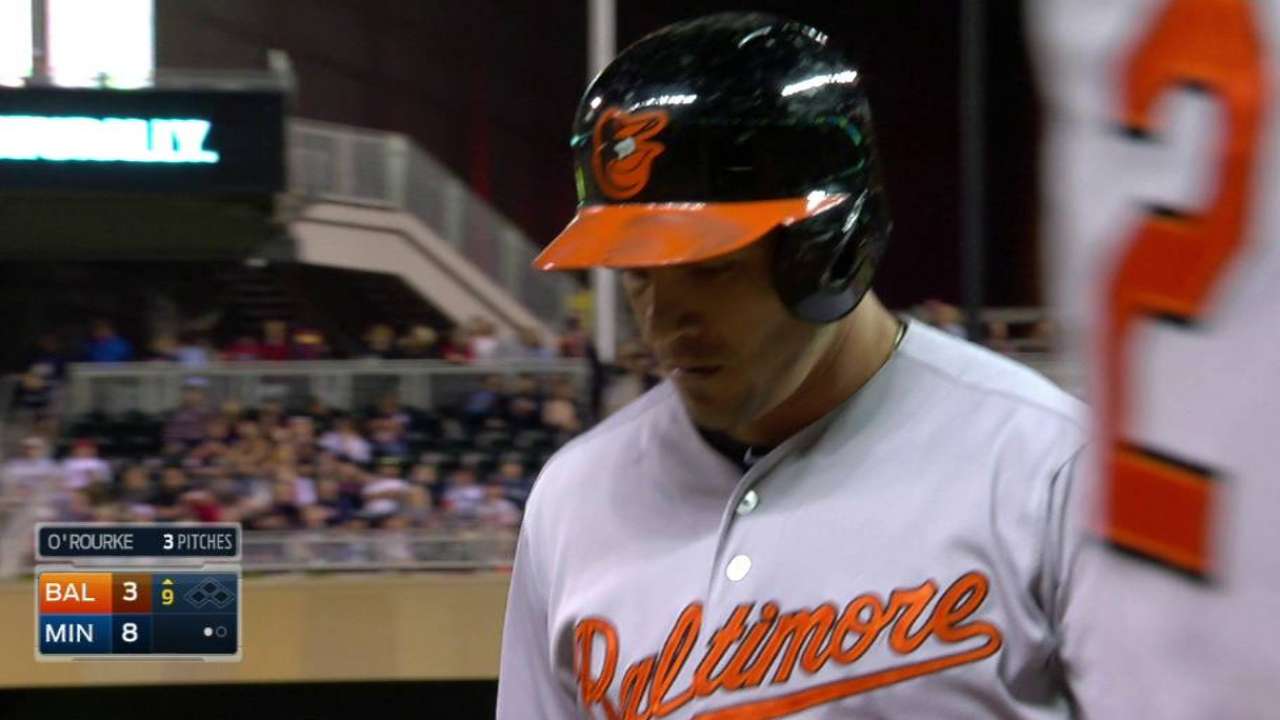 MINNEAPOLIS -- After pitching in the Minors for six years in the Twins organization, lefty reliever Ryan O'Rourke said his emotions got the best of him when he found out Monday night that was coming up to the big leagues for the first time in his career.
After getting the call, O'Rourke made his Major League debut on Tuesday night, tossing a 1-2-3 ninth inning in the Twins' 8-3 win over the Orioles.
The 27-year-old O'Rourke, who had his contract purchased from Triple-A Rochester with fellow lefty Aaron Thompson optioned to Rochester, said it was an emotional moment when manager Mike Quade called him into this office to tell him the news.
"I didn't think he was serious," O'Rourke said. "A rush of emotion came over me. It's something I won't forget. I think I'm man enough to say there was a little bit [of tears] there. When I called my dad, it was tough telling my dad. He's been around the whole time since Little League until I made the call yesterday."
O'Rourke had a 5.93 ERA with 22 strikeouts and seven walks in 13 2/3 innings at Rochester, but dominated lefties, as they hit .125 against him with 18 strikeouts. He also struck out 42 of the 74 lefties he faced last year.
Twins manager Paul Molitor said he'll use O'Rourke primarily against lefties, while left-hander Brian Duensing will take over Thompson's role as a late-inning lefty.
"I've known Ryan for a long time and I've seen him pitch I don't know how many times over the years," Molitor said. "He's become more and more of a short-stint guy over the last couple years. You look at his numbers and what he can do and what the reports are, and he's probably going to be used to get one out."
O'Rourke said he uses his curveball and slider effectively against lefties and isn't afraid to change his arm angle. O'Rourke, a 13th-round pick in the 2010 First-Year Player Draft, moved to relief in 2012, and has limited lefties to a .151 average with 115 strikeouts and 19 walks since the move to the bullpen.
"I'm going to come at guys with a lot of different stuff," O'Rourke said. "Change my arm angle a little bit. Come at them with fastballs and try to spin it."
Rhett Bollinger is a reporter for MLB.com. Read his blog, Bollinger Beat, follow him on Twitter @RhettBollinger and listen to his podcast. This story was not subject to the approval of Major League Baseball or its clubs.