Late hiccup can't keep win off Arrieta's ledger
Cubs righty labors during seventh, but six clean frames set tone for victory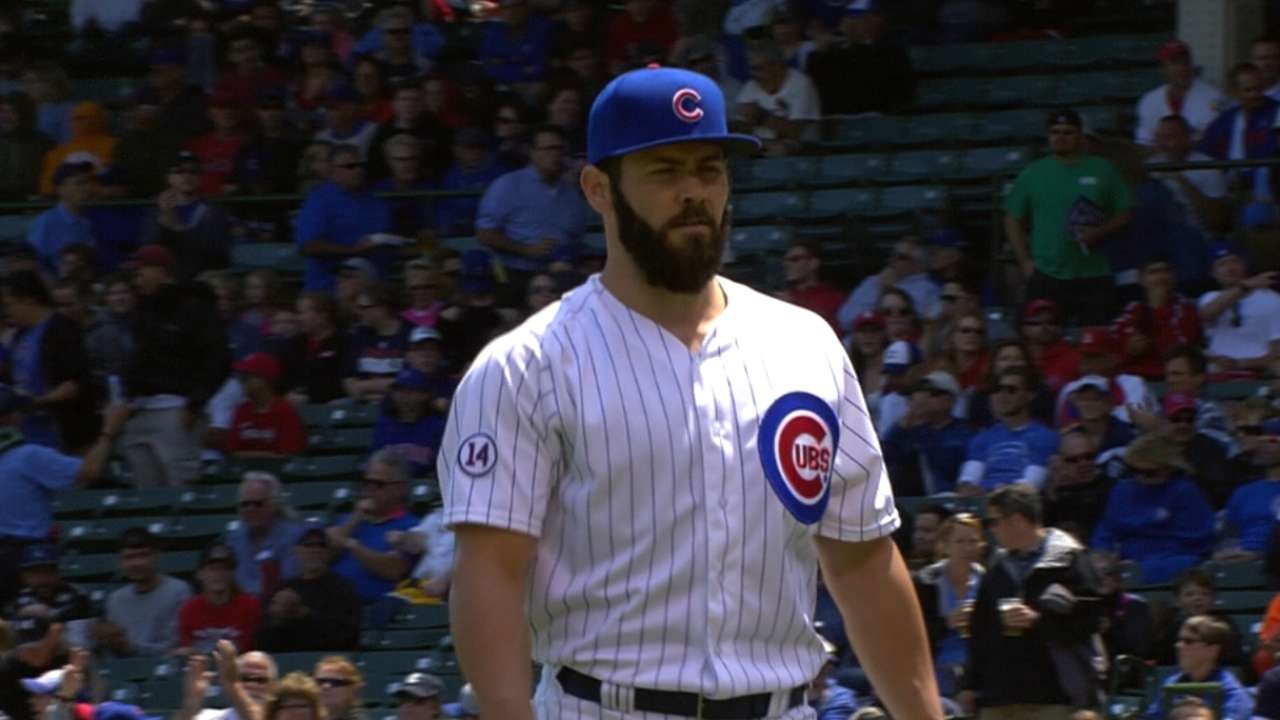 CHICAGO -- Cubs right-hander Jake Arrieta recorded his fourth straight quality start and his ninth win of the season in Tuesday afternoon's 7-4 victory over the Cardinals, but it was all overshadowed by three straight hits in one inning.
Though Arrieta otherwise finished with another strong outing, the day felt different for someone who has been one of the National League's best pitchers as the All-Star break nears.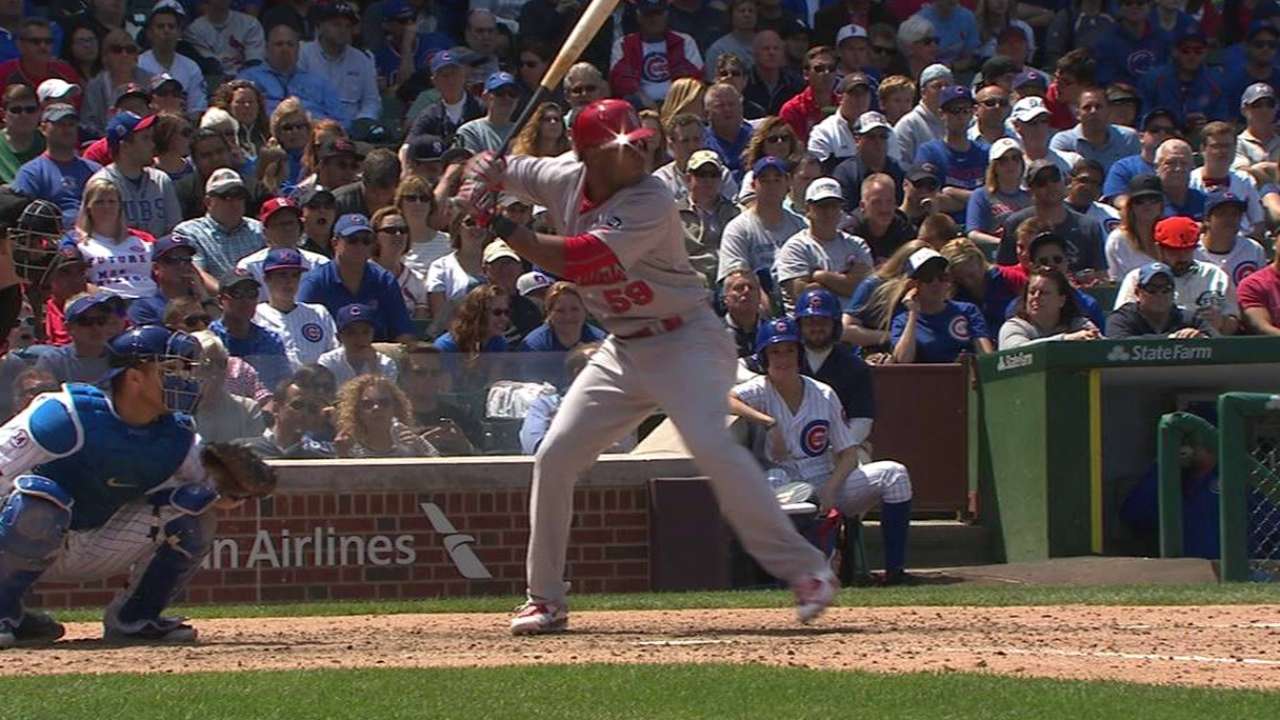 With two outs in the seventh inning, Arrieta threw 24 pitches and allowed two runs, leaving a pair of runners on base for the bullpen to inherit. Despite Matt Carpenter's lifetime 0-for-16 line against Arrieta, Cubs manager Joe Maddon pulled his starter to let the 'pen take over.
"I just think that Jake was not being 'Jake-esque' at that moment," Maddon said.
The Cubs starter had worked efficiently and quickly through the first six frames, though, keeping one of the Majors' best offenses off the board. In all, the right-hander allowed seven hits, walked two and struck out four over 6 2/3 innings, pitching to contact and keeping the baserunners he did allow from advancing past second.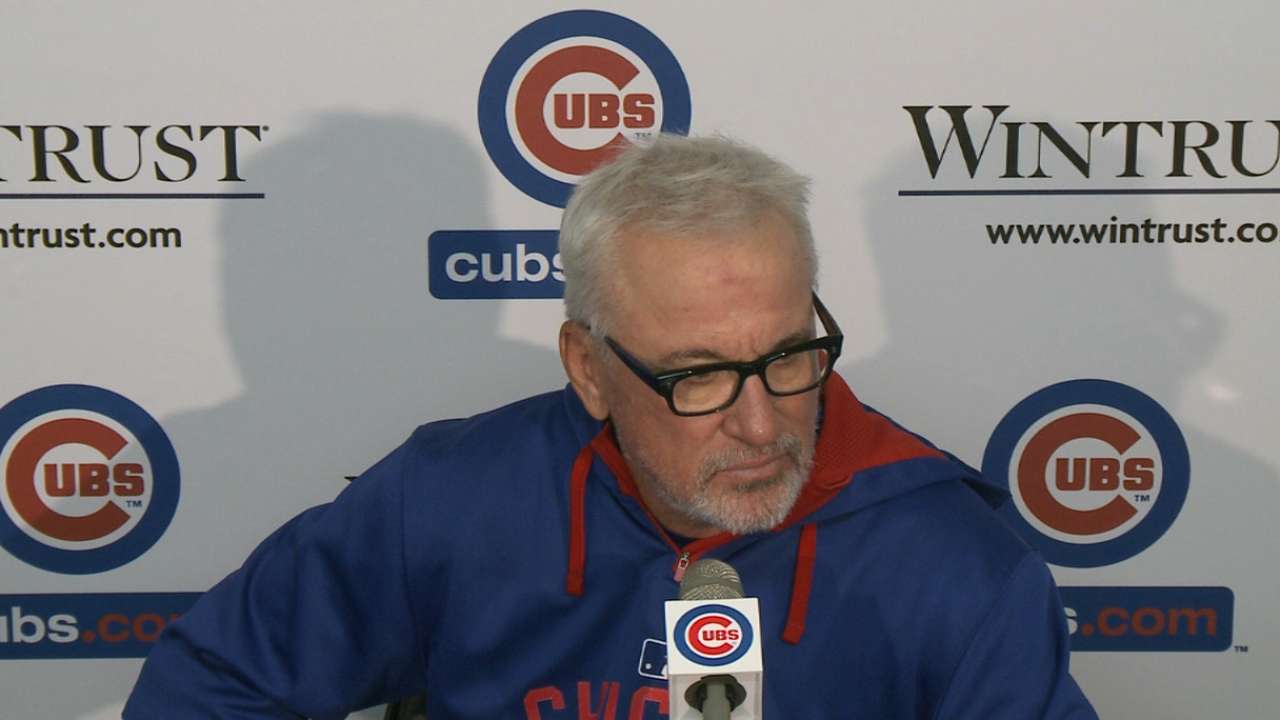 It was a long stretch in the bottom of the sixth inning that might have been the toughest part for Arrieta to overcome. The righty had reached base for a third time and was worn down by spending more than 10 minutes on the basepaths before scoring. Yet after he had made it all the way to third base in the fourth inning, Arrieta pitched a 1-2-3 top of the fifth.
"I think more so I was maybe trying to be too precise, trying to do more than I had to," Arrieta said of his seventh-inning struggles.
Tuesday marked the first time since June 16 that Arrieta had worked fewer than seven innings; he averaged eight innings per start over his previous three trips to the hill. It was also the first time since June he had allowed more than one run in a game.
Still, most pitchers would be satisfied with such a performance. This season, Arrieta holds a 2.80 ERA and leads his team in quality starts, which prompted Maddon to call him "an elite pitcher."
Arrieta's next outing will come on Sunday at Wrigley Field -- not on Tuesday in Cincinnati at the All-Star Game. Despite placing among the top 10 in the NL in ERA, WHIP, strikeouts and wins, the five-year veteran was not named to the Senior Circuit's roster when reserves and pitchers were named on Monday night.
"I figured I had a shot," Arrieta said. "I just knew that there are a lot of guys this year, especially in the National League, that are putting together tremendous years.
"Everybody that was chosen is having tremendous years. There were some guys left off that could have easily been in there, but it's just about the amount of spots they have."
Greg Garno is an associate reporter for MLB.com. This story was not subject to the approval of Major League Baseball or its clubs.