Miller improving at plate by keeping it simple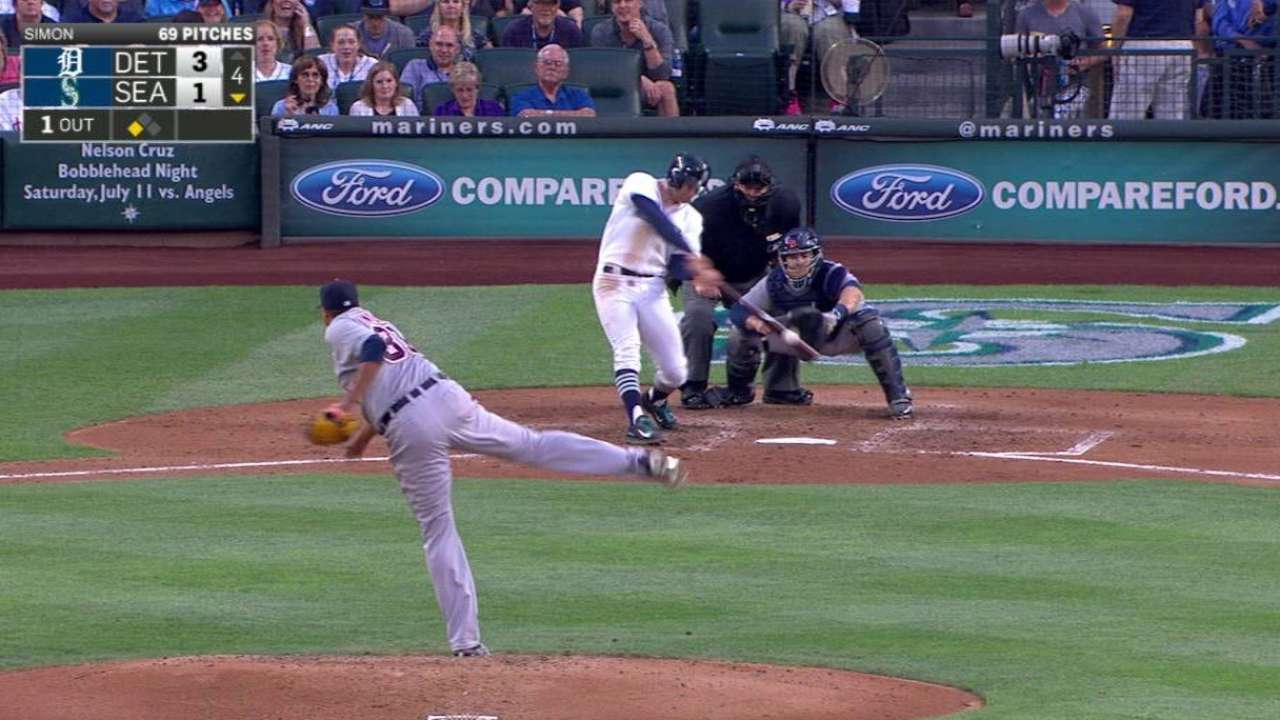 SEATTLE -- Brad Miller has seen his average rise 26 points and he has hit the ball with greater authority since late June, but the Mariners' shortstop said he's taking the recent uptick in stride.
"I think throughout the course of the year, it's pretty constant. You're trying to go with the ebbs and the flows and find what's working for you," Miller said. "I think that's huge to kind of get out of your own way."
Though it has largely been against right-handed pitching, the 25-year-old has gotten out of his own way plenty over the last 12 games and has instead made things difficult for opposing pitchers. After going 1-for-1 in Tuesday night's 7-6 win over the Tigers, Miller has 15 hits in his last 39 at-bats, with four doubles, two home runs and six RBIs. His batting average had gone from .221 to .247 in the process.
Miller has five multi-hit games since June 26 and has shown an improved ability to drive the ball to all parts of the field.
"If you look, a lot of the complete hitters around the league use the whole field. It's pretty simple and it's something I think is a focus," Miller said. "If I'm driving the ball to left-center, I'm usually in a pretty good spot."
Even with his recent success, Miller is still hitting .157 in 51 at-bats against left-handed pitchers this season. Miller was not in the starting lineup against Tigers lefty Kyle Ryan on Tuesday, with right-handed-hitting Chris Taylor getting the nod at short, but Miller entered as a pinch-runner in the ninth inning and singled in the 11th.
The Mariners will face three additional left-handed starters before the All-Star break, but bench coach Trent Jewett said Tuesday's lineup was more about setting up a favorable matchup for Taylor.
"He's seen time against lefties. The one thing you have to keep in mind is generally when X sits against Y, or Z sits against X, it doesn't necessarily have to do with that guy," Jewett said of Miller. "You're looking for the premier stage for all your players."
In his first few weeks working with new Mariners hitting coach Edgar Martinez, Miller said he and Martinez have been keeping things fairly simple, working to establish a rhythm at the plate. While not much has changed mechanically or in Miller's approach against left-handed pitching, he said he is taking to Martinez's positive reinforcement.
"He realizes how hard it is, and he's not trying to make it harder on anybody. Kind of just taking that positive attitude from him has really helped," Miller said. "There's no doubt there."
Andrew Erickson is an associate reporter for MLB.com. This story was not subject to the approval of Major League Baseball or its clubs.