Span trying to curb lingering back spasms
Nats OF undergoes MRI, will see specialist; Barrett strikes out side in rehab outing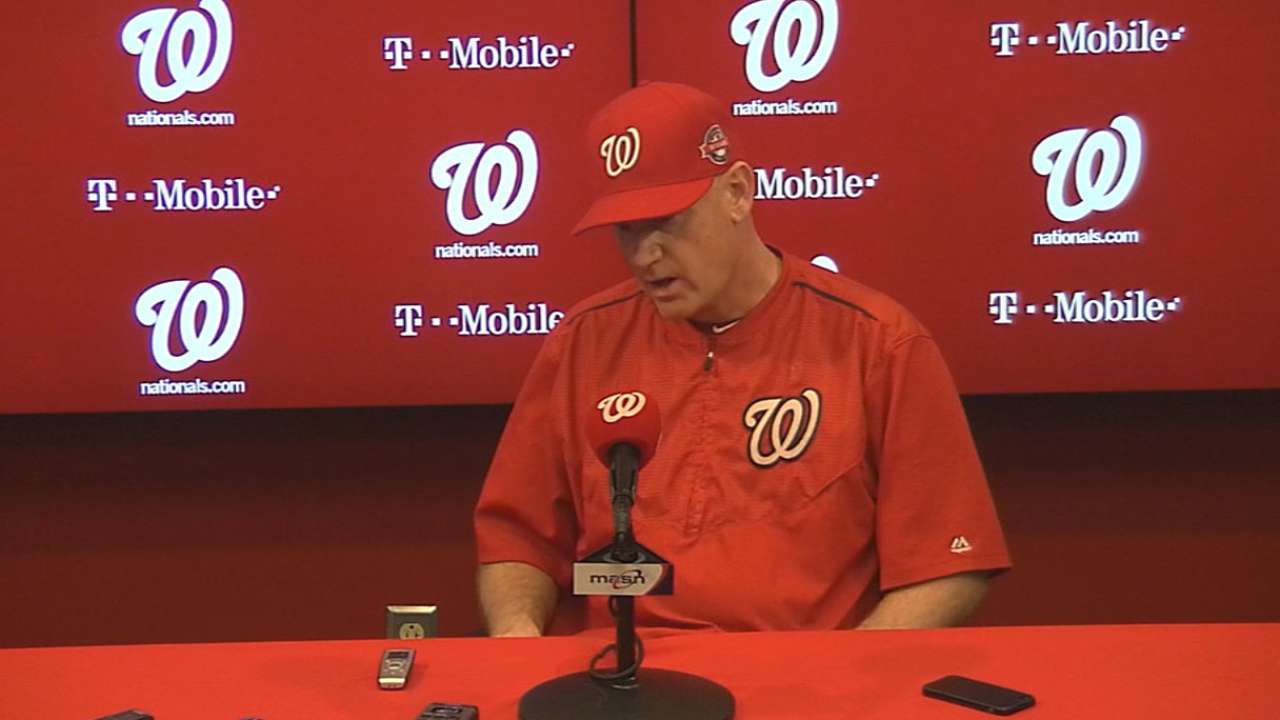 WASHINGTON -- Nationals outfielder Denard Span experienced yet another back spasm Monday night, an issue that has hampered him on and off since early June. He did not play in Tuesday night's 5-0 loss to the Reds.
Span underwent an MRI on Tuesday, but a back specialist, who Span hopes can diagnose "the root of the problem," was not available to offer an opinion by the end of Tuesday night. Span hopes that he will have an answer by Thursday at the latest.
"I'm very anxious right now," Span said. "I want to know what's going on. I was trying to push and see if he can read it and tell me, but couldn't do that [Tuesday]. Hopefully tomorrow I can push again to see if I can get done before I get up there on Thursday."
The center fielder felt his back lock up on him in his first at-bat of Monday's 3-2 loss to Cincinnati and spent much of the 29-minute rain delay trying to get in shape to play. He returned to the field for the top of the second inning, but, still in discomfort, pulled himself after that half-inning.
"I've tried to play through it for the last month," Span said. "I don't think I'm doing myself or the team any good. I've been playing every four days and then getting a day off here and there. I can't do that. I can't do that to the team. It puts the team in a bad spot. I've definitely toughed it out. Nobody can question how tough I am. Point blank, period."
Span said he doesn't know if he will end up on the disabled list, but given the potential severity of lingering back injuries, he didn't rule it out.
"It ain't about being smart, because I've been dumb, I think, for the last month," he said. "Now I've gotta finally be smart and listen to my body and find out what's going on before I go any further. I don't want to mess around with my back. That could be a career ending-type injury. I don't want to mess around with my back."
Worth noting
• Relief pitcher Aaron Barrett made his third rehab appearance with Class A Advanced Potomac on Monday, pitching one inning and striking out the side. Barrett, recovering from a right bicep strain, did not pitch Tuesday, but he is expected to pitch in back-to-back games -- a requisite step before his return to the Nationals -- in the next few days.
• Infielder Yunel Escobar, who left Monday's game with tightness in his left hamstring and is considered day to day, was also not in Tuesday's lineup.
Jacob Emert is an associate reporter for MLB.com. This story was not subject to the approval of Major League Baseball or its clubs.